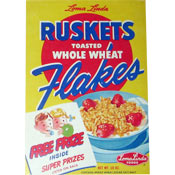 All Comments For
Average Rating = 5 (out of 5)
45 comments



By aw

I could be imagining this but if I remember right the Ruskets flakes commercial had a line-up of circus animals in it.

Comment submitted: 4/7/2020 (#25042)



By Jack I




Rusket breakfast bars (compressed flakes) were my favorite as a kid of the 50s. It was simple cereal without a bunch of sugar and other junk. You could actually taste the cereal. Whoever bought out the Loma Linda company please bring that cereal back. I no longer live in southern Calif. like I did when I was a kid and most people outside of Calif don't seem to be familiar with Ruskets.

Comment submitted: 3/12/2020 (#24986)



By P. Finn

Where can I buy Ruskets? Is it possible?

Comment submitted: 10/19/2018 (#23624)



By MikeandCarol




Ruskets would blow the fenders off of any cereal out there today if the company would bring them back! No contest!

Comment submitted: 11/20/2017 (#22451)



By T. Goode




One of the memorable cereals from my youth. LOMA LINDA also made a hot cereal in the 1950's which I am unable to find now. It is my all time favorite. Can anyone help?

Comment submitted: 4/10/2017 (#21606)



By DJFitz




I remember them well. They were the best. What I wouldn't do for a bowl of the Ruskets bricks. Is there anyplace to still buy this delicious cereal?

Comment submitted: 1/21/2017 (#21272)



By RusketsFan-3




Please bring them back. I have to eat Weatabix. They are OK, but not as good as Ruskets Flakes.

Comment submitted: 4/28/2016 (#20238)



By Thomas P




PLEASE bring this amazing cereal back!!!

Comment submitted: 11/14/2015 (#19668)



By Trixter808




Please bring the biscuit ones back. It was the best cereal ever.

Comment submitted: 4/16/2015 (#18902)



By loyaltubist (Team Breakfast Member)




If you notice the pictures here, not only Ruskets Flakes but so are Ruskets. They were made by the Loma Linda Food Company in Riverside, California. (Loma Linda was a town that was almost entirely Seventh Day Adventist, home of Loma Linda University, near San Bernardino which is now a city that still has a large SDA population.) The Loma Linda Food Company was more famous for such products as VegeBurger and Linketts (vegetarian hot dogs). A few decades ago the company was sold to Worthington Foods and the Riverside factory closed down. Worthington is now owned by Kellogg's so Kellogg's could reintroduce Ruskets and Ruskets Flakes. They were everything Weetabix want to be but never were.

Comment submitted: 3/26/2015 (#18810)



By Great Grandma66




I remember the Ruskets Bricks. For some reason for the past week or so, I have been remembering how good the cereals of the 50''s and 60''s were. No additives, preservatives, vitamin fortified, and as close to natural as possible. Ruskets Bricks was one of my favorite non-sugared cereals. Now that I have great-grandchildren, I do wish that cereal experts would bring back some of the favorites. As they were, the originals.

Comment submitted: 7/3/2014 (#17279)



By Fenwick




I would get to eat the Ruskets compressed-brick cereal when ever I slept over at my friend's house. I LOVED Ruskets! This was back in the early 60s, around 1963 or 64. I would add raisins and, extra sugar :) when his mom wasn't looking. I don't remember the commercial probably because we didn't watch much TV. No rules against it, TV was just boring, we would rather be out riding our bikes.

Comment submitted: 6/27/2014 (#17259)



By Greg11




I remember that animated commercial from a local kids cartoon show. A tiger ends it by saying "And remember kids, there's a prize in every package!"

Comment submitted: 6/19/2014 (#17210)



By L.Wlli




I have thought about this cereal many times over the years, and so want them back! Wow... it's great to finally read some of these comments of you that also loved the little awesome breakfast biscuits. Yes, why can't they just make these again? They have brought back a lot of other favs from "the day". Hopefully maybe sometime. I distinctly remember the flavor. Nothing they have that resembles it stacks up to the original.

Comment submitted: 3/29/2014 (#16524)



By Austin C.




I loved Rusket Flakes. It would be great if they came back.

Comment submitted: 11/10/2013 (#15286)



By Ron11




I sure wish they would bring Ruskets back to the U.S. Wheetabits is similar but not the same.

Comment submitted: 10/3/2013 (#14586)



By B.O.B.




I really enjoyed Ruskets - best cereal ever. Post Grape Nut Flakes is close, but just not there.

Comment submitted: 9/16/2013 (#14080)



By Lauren4




These were the best of the cereals. My kids and I loved them.

Comment submitted: 11/25/2012 (#10012)



By grandma241




I read some where that Kellogg's bought them out but I could not find anything much except Ruskets were made by Loma Linda Foods. My 9 kids all loved Ruskets and so did my husband. Me Too! So why did they quit making them when everyone loved them and has such fond memories of them. My 59 year old son started this conversation with me this afternoon so I started searching on the internet for an answer. I really did not find one. Lets petition Kellogg's to make them with the exact recipe as original. No MSG & no high fructose corn syrup!

Comment submitted: 10/27/2012 (#9762)



By wazuzu




Please... somebody, somewhere... bring Rusket Flakes back. I loved them!

Comment submitted: 10/17/2012 (#9565)



By Mr. Rick




Sharon - Yes, I do remember the commercial! It seems like you and I are the only ones that do! None of my friends recall the commercial.

Comment submitted: 10/5/2012 (#9349)



By chris

Always loved it!

Comment submitted: 8/2/2012 (#8691)



By Sharon




Ruskets was one of my favorite cereals growing up in the 60s. I vaguely remember a TV commercial for Ruskets, with a cartoon circus parade. Looked for it online but couldn't find any reference to it. It was a lot of fun to watch. Does anyone else remember it?

Comment submitted: 6/16/2012 (#8034)



By Howgar




I grew up near Sacramento in the 50s and 60s and had Ruskets biscuits almost every morning. Too bad it's off the shelves now, probably all the shelf space in markets was bought by ADM or some other agribusiness conglomerate.

Comment submitted: 5/15/2012 (#7685)



By DrVideo2




I grew up the seventies. I loved the texture of Ruskets cereal. The prizes were nice too.

Comment submitted: 10/28/2011 (#5587)



By Tinkerbelle




I too have very fond memories of this cereal, & can recall no other dry cereals from my childhood. Vaguely recall that there was a prize in the box. Would love to taste it again!

Comment submitted: 10/6/2011 (#5428)



By julie

My father was the face on the box of Ruskets. He was born in 1938, and I think he was about 3 years old when they used him. I can't find a picture of that box on the internet.

Comment submitted: 6/20/2011 (#5157)



By Roger




The Ruskets Flakes breakfast became a family comfort food as it was always served to us by my Grandmother whom lived in Santa Cruz, CA. Now Weetabix from Canada allows the memories that tastebuds can bring to remind me of Grandmother.

Comment submitted: 5/4/2011 (#4780)



By shudobi




I remember Ruskets Flakes, when they came in long wafers like Graham Crackers, then they went to loose flakes. Great cereal. I wonder if I can still purchase it?

Comment submitted: 4/16/2011 (#4671)



By cd733




I remember these from the 60's. They were advertised on Cap'n Delta in Sacramento. They were in biscuits I think. As I remember they were damn good.

Comment submitted: 1/8/2011 (#3551)



By ChuckH

This was interesting, when I was a child I wouldn't eat anything but Rusket Flakes. When I got older, they tasted like cardboard to me. Was it my taste had changed or the prizes didn't matter anymore?

Comment submitted: 10/30/2010 (#3177)



By DAT




We loved Ruskets cereal in the 50's-60's. Outrageous with strawberries-the malt taste was great. I too would love to have them back. I thought Weetabix was a new version, but the malt flavor is less pronounced and they are less sweet. :-(

Comment submitted: 9/27/2010 (#2936)



By Remember This?

Rusket's had a TV commercial circa 1964 with a little girl yelling at the camera: "Rusket's are good for you, eat Rusket's & Rusket flakes! And there's a prize in every package!"

Comment submitted: 9/18/2010 (#2877)



By Whoosh




They stopped making this cereal right about 1963 or 1964? That's the last time I saw a commercial for it on the Micky Mouse Club in San Diego, CA.

Comment submitted: 9/16/2010 (#2865)



By RLW




rlwagner5169@yahoo.com I have missed being able to find and eat Ruskets cereal. Anymore cereals have turned into garbage food. Ruskets was my favorite breakfast cereal for many years, BRING IT BACK !!!!!!!!

Comment submitted: 8/24/2010 (#2714)



By Loretta




When my mom let me pick my own cereal, I always picked Ruskets, all crushed down into these rectangles and you would break the rectangles into chunks into a bowl and then put the milk and sugar on. I wonder when they stopped making them?

Comment submitted: 8/15/2010 (#2656)



By ladybug




I loved the Ruskets packaged in wafers about 2"x4" in size. Wish they would bring them back!

Comment submitted: 6/23/2010 (#2337)



By farmerman




I really miss Ruskets!! Was my favorite instant cereal as a kid.

Comment submitted: 6/7/2010 (#2244)



By Lenape




I remember them from the 50s. Can still taste them! They probably went out of business decades ago...

Comment submitted: 6/6/2010 (#2239)



By tubs




It was great. Can't find it anywhere.

Comment submitted: 11/8/2009 (#875)



By debbie97058




MMmmm been lookin' for the ruskets that were pressed into "bars"... they were so delicious! can't find 'em! ;o(

Comment submitted: 9/14/2009 (#563)



By mshuny




Can ruskets be found anywhere?

Comment submitted: 8/11/2009 (#302)



By Steve




Whatever happened to this great cereal? Maybe it wasn't as great as I remember from 50+ years ago. I'd like to taste it again tho'.

Comment submitted: 6/6/2009 (#202)



By PapaLarry




We preferred Ruskets (biscuits) to any other cereal when I was growing up (50s and 60s). They were a little more money than most though, so we didn't get them nearly as often as we would have liked.

Comment submitted: 4/29/2009 (#161)



By Dede




I grew up with this cereal and loved it way over another....

Comment submitted: 3/15/2009 (#81)