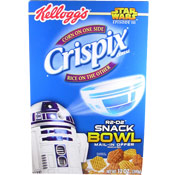 All Comments For
Average Rating = 4 (out of 5)
11 comments



By ReginaG




Comment under review by Mr Breakfast. Should appear within 24 hours.

Comment submitted: 9/29/2020 (#25539)



By Bendigo




I can't find this cereal in my area. Bendigo, Victoria, Australia. WHY?! It is such a good cereal!

Comment submitted: 2/23/2015 (#18595)



By Hercules




There are no stores in our area that I can find Crispix over the last 2 weeks. My area is Pinole and Hercules, CA. No one knew anything about its absence?

Comment submitted: 6/6/2014 (#17147)



By disappointed




When did they change the cereal size? I hadn't purchased a box in a year or two and just noticed. I like the bigger ones.

Comment submitted: 7/26/2013 (#12951)



By Skeeter




Please tell me where I can buy this cereal in the Owen Sound, Ontario area. BAMillar @aol.com

Comment submitted: 1/26/2013 (#10556)



By sadsack




They changed the size and quality of the cereal. Even the gluten free is smaller in size and had broken pieces. The last 3 boxes I purchased had a lot of broken pieces and I couldn't use it for my favorite mix because it looked bad. Poor quality. I will not spend money on poor quality cereal for my family.

Comment submitted: 1/15/2013 (#10387)



By BAMillar@aol.co

Why can't I buy Crispix in any of the grocery stores in my area? Having Celiac, it is one of the few cereals that I can eat, but I haven't been able to purchase it for almost a year now.

Comment submitted: 1/13/2013 (#10365)



By Ethan C.




This cereal is the best. How can it not be in the top 100. Urkle-o's ranks above it? That's not right. Crispix eaters need to rise up and vote this cereal into the top 10. For real.

Comment submitted: 11/29/2012 (#10052)



By MyEmptyCanvas (Team Breakfast Member)




Not the greatest... (myemptycanvasreviews.blogspot.com)

Comment submitted: 6/21/2012 (#8132)



By c-loc




Crispix is crispy times two!!

Comment submitted: 7/11/2010 (#2428)



By Goose




I could eat a whole box of Crispix... It stays crisp in milk!!!

Comment submitted: 4/26/2009 (#149)