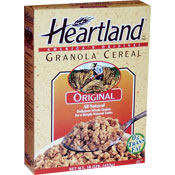 All Comments For
Average Rating = 5 (out of 5)
14 comments



By S.R.




Was the best cereal and I felt it was so wholesome too. Appeared to be less filled with junk than the others. Had my first bowl in the late 70s as a very young child. Sad it's no longer around.

Comment submitted: 7/28/2020 (#25376)



By Barrett




I'm so sad that this granola has been discontinued. I haven't been able to find it for a while and I was afraid of this bad news. Now I've been reading comments hoping for someone to have recommended something similar.

Comment submitted: 5/29/2020 (#25215)



By BO




I have eaten Heartland Granola for 20+ years. Why is it discontinued?

Comment submitted: 2/27/2020 (#24935)



By Tom P.




Sorry to see this has been discontinued. My grandmother introduced this cereal to me when I was a small child and I always loved having it for breakfast ever since. It was so hard to find in grocery stores so I obviously wasn't alone in my opinion of it which makes its demise questionable.

Comment submitted: 1/31/2020 (#24848)



By BMaura3245




This was by far my favorite granola. I have been looking everywhere for it at the stores and was ready to buy it online but see that it is discontinued. I am so upset. The search for good plain granola is never ending to have with my yogurt and fruit in the morning especially being pregnant I am only craving this kind :( So sad. Has anyone found a similar granola to the Heartland Original they could share?

Comment submitted: 1/23/2020 (#24825)



By Mark W.




How's the best granola cereal being discontinued? What's really going on?

Comment submitted: 9/15/2019 (#24508)



By Terri-Berry




Heartland was the best granola cereal ever! Loved it since my first box in the early 1970's. And suddenly it's gone. Why? Twinkies made a comeback. How about Heartland Granola making a comeback? Pretty please?

Comment submitted: 8/30/2019 (#24454)



By RoseCoral




I just found out Heartland Granola cereal was discontinued. I am so bummed! Went perfect with my yogurt and fruit.

Comment submitted: 8/19/2019 (#24432)



By Granolaluvr




Love this granola! At 150 calories 1/2 cup, it was a good calorie count for granola; others are much higher. I added 1/2 t. cinnamon and ate it straight up. Was a wonderful as a little dessert or snack. Sigh. So wha''s the closest thing on the market now?

Comment submitted: 8/18/2019 (#24427)



By saddened




I have eaten this granola since the 70s. Now, I eat it with my yogurt. The Original is a simple recipe that went perfectly with my yogurt. I have tried all others but nothing seemed to be as good as this. I am saddened that they have stopped making this. Apparently, people liked it because it was always selling out at my grocery store.

Comment submitted: 8/5/2019 (#24386)



By Granola Lover

What's going on, McKee Foods? Why shut down Heartland Brands and kill an excellent product, its cereal?

Comment submitted: 7/15/2019 (#24326)



By Mark B.




I love this cereal, either by itself or mixed with Grape Nuts. Did they really stop making it? Why oh why?! Please bring it back or a worthy substitute!

Comment submitted: 7/3/2019 (#24289)



By Mrs Moo




My husband loves this cereal. What can we get to replace this. Thank you so much.

Comment submitted: 6/20/2019 (#24255)



By Mr. T.




I have enjoyed Heartland Granola for years, as I have a violent allergy to peanuts and tree nuts, and it seems as all other makers of granola make theirs with nuts. I am profoundly disappointed and disheartened to learn that it is being discontinued, and do not know what I will acquire as a substitute.

Comment submitted: 6/18/2019 (#24254)