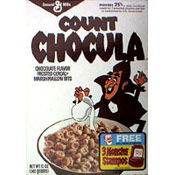 All Comments For
Average Rating = 5 (out of 5)
35 comments



By St.Micheal




I love Count Chocula cereal and it is one of my favorite monster based cereals. But I think they should bring back Fruit Brute! But I will always be a Count Chocula fan!

Comment submitted: 11/1/2018 (#23663)



By Howard




In the old version, the little pencil-eraser-shaped marshmallows exploded with flavor in your mouth, like little chocolate flavor crystals. The oat-corn pieces weren't that sweet. Chocula is still pretty good under the new "formulation", but the new Frankenberry is EXTREMELY disappointing compared to the old version. The strawberry taste of the old Frankberry was magical; it's just strawberry-flavored Lucky Charms now.

Comment submitted: 11/5/2013 (#15261)



By E.E.




I bought Count Chocula and Frankenberry a few years ago and they tasted horrible. I loved them when I was a kid and I knew there was something different about them. Now, I know from reading these comments that they no longer use oats to make the cereals and replaced it with corn. Bad marketing idea for those of us who remember the classic taste from the 80s.

Comment submitted: 10/21/2013 (#15182)



By Postman




I saw a box of Count Chocula at Kmart. Looked at the back of the box and it said this year there are 5 monster cereals available. There were pictures of Fruit Brute and Yummy Mummy along with Frankenberry and Booberry. I only saw Count Chocula at Kmart though. Maybe Walmart or Target will carry the others. Now if they would just make it in the oat based like it originally was.

Comment submitted: 9/16/2013 (#14054)



By K.Y.




Count Chocula is my favorite!

Comment submitted: 6/27/2013 (#12569)



By selfdo

This cereal was parodied by Matt Groening twice: First, in the Simpsons, at one point when Montgomery Burns deigns to go to the "food jobber" to get some grub for himself, he scrutinizes a box of Count Chocula and puts it in his basket, saying, "Well, it looks like me...". Some time later, a fave breakfast treat for Phillip J. Fry is Arch-Duke Chocula, presumably over 1000 years promoted from a lowly Count.

Comment submitted: 4/20/2013 (#11784)



By Postman




General Mills, please bring back the oat based cereal pieces for the 2013 Halloween season for all the Monster Cereals. It is much better than the corn based.

Comment submitted: 1/28/2013 (#10566)



By U2XMPatriot (Team Breakfast Member)




My favorite as a kid in the 70's. Since then, the tiny marshmallow shape and button like shaped cereal has changed as well as the flavor.

Comment submitted: 11/8/2012 (#9836)



By PattyCake




I miss my Count Chocula. This was my favorite childhood cereal and now it's been taken away. Please bring it back. I bought my 6 years old daughter her first box from target on Halloween and now I have her hooked on it. I would like for it to be her childhood cereal. I'm not sure why they took it off the shelf, but I was sadden when they did. - Pattycake

Comment submitted: 11/5/2012 (#9818)



By Ernie




One of the best chocolate cereals out there, up there with Cocoa Puffs and Cocoa Pebbles.

Comment submitted: 10/13/2012 (#9452)



By John John




I agree with YumYum14 - Count Chocula should be made all year round.

Comment submitted: 10/6/2012 (#9367)



By YumYum14




They need to have this available all the time - not just Halloween. I love it!

Comment submitted: 9/30/2012 (#9283)



By manofmystery




The all time king of the chocolate and/or marshmallow cereals, as far as I'm concerned.

Comment submitted: 9/4/2012 (#9039)



By Ruppthritis




They didn't change it in the 90s - they changed it in approx 2005. But you're right the marshmallows taste like bad Lucky Charms and they turn green. A shadow of it's former self.

Comment submitted: 7/28/2012 (#8627)



By andreas007 (Team Breakfast Member)




Can somebody get me a box? Please! I love Count Chocula!

Comment submitted: 2/15/2012 (#6515)



By Count Paul




Just had some for the first time in maybe 10 years. I agree that it tastes a little off from what I remember as a kid. It was still good though.

Comment submitted: 12/15/2011 (#5974)



By Tommywriter




If you were alive to eat this Cereal before the early 1990's, you'll quickly discover that this cereal is NOTHING like it was back in the 1980's. Back then, the cereal was a very lite chocolate oat cereal with CHOCOLATE tasting marshmallows in the shape of little squares. NOW this cereal is this glazed tasting oat crap that tastes like bad coco puffs, and the marshmallows are not even chocolate tasting. They taste like the marshmallows you would get out of Lucky Charms. Shame on you, General Mills for RUINING this once great cereal. And for those of you who want to know WHY they only sell it during the Halloween season, is because the SALES are DOWN because they CHANGED the cereal back in the early 90's to this crappy "NEW" taste. I feel sad for you young kids who never had the chance to taste this cereal when it was GOOD.

Comment submitted: 10/16/2011 (#5500)



By IcedEarthaholic (Team Breakfast Member)




There are three words I use to describe this cereal... off the hook! You really can't go wrong with the Count, and yes Franken Berry and Boo Berry are usually back during this time of year at my local Target too. So yes, I am so going to be getting my hands on these bad boys as soon as I can. But Count Chocula is awesome, still as good as I remember when I was a kid. In my books, it puts Cocoa Puffs to shame!

Comment submitted: 9/5/2011 (#5239)



By chicagosam




Count Chocula is lonely. In our grocery store (Chicago, IL), they don't carry Frankenberry anymore. They should be together always, not just Halloween... and then, seemingly, only at Target stores. Bring back all the monster cereals full-time everywhere please!

Comment submitted: 6/1/2011 (#4953)



By chocfan (Team Breakfast Member)




Can't get this in my area anymore. Why not? Live in Milan, TN

Comment submitted: 3/21/2011 (#4164)



By Postman

There has been a huge amount of votes for this cereal recently.

Comment submitted: 2/8/2011 (#3850)



By Meghan




I love it. I wish I could find it all year round.

Comment submitted: 10/30/2010 (#3176)



By Postman




Walmart did not carry the Monster Cereals this year, only Target did. Walmart did carry the Monster Fruit Rollups as well as Target but they were cheaper at Target.

Comment submitted: 10/28/2010 (#3155)



By wilt




Or you can just buy it now online from hometownfavorites.com. I have bought it several times from them. Go to the website then click on hard to find grocery. And select cold cereals. They always have them during Halloween at Target and Walmart.

Comment submitted: 10/4/2010 (#2973)



By littleone1022 (Team Breakfast Member)




Where do I buy it???

Comment submitted: 9/25/2010 (#2920)



By Derekdespie (Team Breakfast Member)




We have learned from General Mills that "Boo Berry" (blueberry-flavoured), "Count Chocula" (chocolate-flavoured), and "Franken Berry" (strawberry-flavoured) are finally returning to grocery stores and other fine retailers anywhere across the whole nation around 2011, and almost every year, they'll be available between late August and early December. The 12 spooky-fun marshmallow shapes will be contained in all three Monster-themed breakfast cereals, except that they come in each flavor, just like the corn cereal pieces are in that same shape of each one.

General Mills' "Monster Triple Pack" breakfast cereal will be finally available in fewer U.S. retailers nationwide - including Walmart, Target, Costco, and a couple of others. It will contain three bags of different Monster-themed breakfast cereals, and will also be available between late August and early December every year.

Comment submitted: 8/29/2010 (#2754)



By Brandiiiiii




I have very found memories of this cereal. I loved it when I was little! I loved the whole name of Count Chocula and the cereal tastes good to. I found this cereal a few years back around Halloween, but didn't have the chance to buy it. Too bad that you can't get this cereal all year round.

Comment submitted: 7/21/2010 (#2486)



By Tray




My favorite cereal as a child, and still is today as an adult. Nowadays, I find Count Chocula around October in time for Halloween at my local Target store, but I was able to find it at a Shoprite in June. It'll always be my favorite chocolate cereal.

Comment submitted: 6/20/2010 (#2323)



By Jessica




My all time favorite cereal, it's a shame I can only find it around Halloween, the rest of the year I have to make due with the generic versions Chocolate Marshmallow Mateys (Malt-o-meal) and Chocolate Marshmallow Cosmos (Kroger). I may get a vintage Chocula box off ebay just to put them in.

Comment submitted: 5/22/2010 (#2155)



By owen1 (Team Breakfast Member)

Love the boxes with the Count pouring milk on the cereal and while he's doing his nutty dance. The box is so funny.

Comment submitted: 5/11/2010 (#2096)



By CreepysFan (Team Breakfast Member)




The only chocolate cereal I still eat as an adult, this is the greatest of the coco bunch. Another one I eat regularly, just can't seem to get enough.

Comment submitted: 1/24/2010 (#1278)



By schweet (Team Breakfast Member)




My favorite monster cereals and my all-time favorite chocolate cereal. And he was the coolest of the characters too.

Comment submitted: 12/21/2009 (#1086)



By wheely (Team Breakfast Member)




Cabin... my thoughts exactly... it used to be a lot better! I said the same thing, it "was" just like chocolate Lucky Charms, now it's not the same, and not as good... too bad...

Comment submitted: 10/2/2009 (#677)



By CactusHeart




The greatest junk cereal on the market today. It's got it all: the multi-shaped marshmallow-y fun of lucky charms, but instead of lucky charms' bland oat pieces, it's got bits with all the chocolatey goodness of cocoa puffs. And though it's companion cereals boo berry and franken berry are also good, count chocula uses REAL COCOA FLAVOR unlike boo and franken, which uses all artificial flavoring. I would eat this cereal every day if I could. Put that down as part of my last meal *LOL*

Comment submitted: 9/23/2009 (#612)



By Cabin




I'm curious to know when this cereal changed its formula -- I seem to remember as a kid that it wasn't nearly as hard on the roof of my mouth as it is now! Does anyone else remember this? It seems now to be more puffed with air and coated in something, whereas when I was young it was more like the cereal pieces in Lucky Charms -- just chocolate.

Comment submitted: 4/17/2009 (#133)