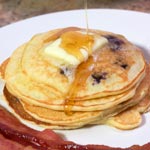 Basic Buttermilk Pancakes II
3 cups all-purpose flour
3 Tablespoons white sugar
3 teaspoons baking powder
1 and 1/2 teaspoons baking soda
3/4 teaspoon salt
3 cups buttermilk
1/2 cup milk
3 large eggs
1/3 cup butter - melted
A couple things to keep in mind before making this recipe: 1) This produces a lot of pancakes. It made about 20 for me using 1/4 cup of batter per pancake. Consider cutting the recipe in half if serving 4 people. 2) I found the batter just a bit runny for my liking. I suggest that you omit the regular milk completely and then use some at the end to thin the batter if needed. I'm keeping the ingredients as they were originally submitted since this recipe has received so many perfect reviews. (This recipe was submitted in 2003. It was tested and photographed in March 2014.)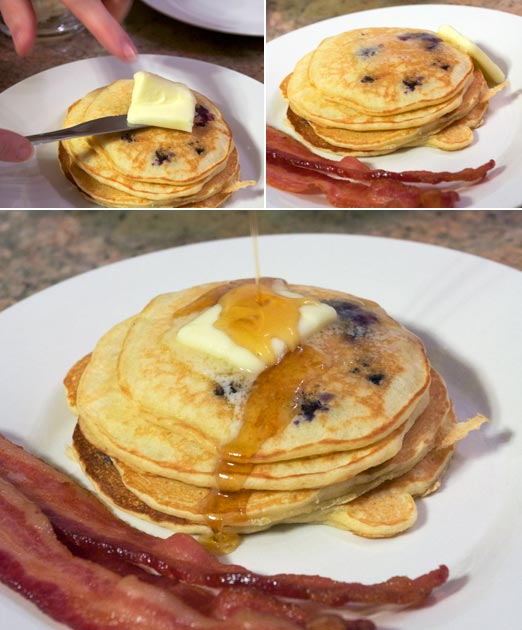 How To Make These Basic Buttermilk Pancakes
In a large bowl, combine flour, sugar, baking powder, baking soda, and salt. In a separate bowl, beat together buttermilk, milk, eggs and melted butter.
Heat a lightly oiled griddle or frying pan over medium high heat. You can flick water across the surface and if it beads up and sizzles, it's ready!
Pour the wet mixture into the dry mixture, using a wooden spoon or fork to blend. Stir until it's just blended together. Pour or scoop the batter onto the griddle, using approximately 1/2 cup for each pancake. Watch for air bubbles and then flip and brown. Serve hot.
SPECIAL NOTES:
Keep the wet and dry ingredients separate until just ready to fry. Do not over stir. Batter does not store well as if it sits, it will make thin pancakes instead of the beautiful, thick puffs that come out when the batter is fresh.
It makes about 12 to 15 pancakes.
(You can stack them on a pan in a warm oven (200-degrees) as you are making them so they aren't all eaten up before the chef has a chance to eat.)

This is the best plain 'ol pancake recipe I have ever found! (according to the recipe submitter)
Mr Breakfast would like to thank
cheereeo70
for this recipe.
Comments About This Recipe
What do you think of Basic Buttermilk Pancakes II?
Overall Average Rating =

(out of 5)

From Mr Bee
Still using this recipe 10 years on, just had em... Lovely...

Comment submitted: 2/28/2017 (#20214)



From Barb
I have used this recipe for years and it makes the ultimate pancake! Try it, you won't regret it! It makes a ton of pancakes, so I just freeze the extras and put them in the toaster whenever I need to reheat them and they're still delicious after freezing them!

Comment submitted: 7/1/2014 (#18916)



From suri
These are a favorite of everyone I make them for :)

Comment submitted: 7/28/2012 (#14196)



From L Iron
I can't talk... that is how great they are! Gotta go eat more!! Augh!!!

Comment submitted: 6/23/2010 (#10755)



From Uncle Tuck
Great recipe. Makes an expat like me feel closer to home.

Comment submitted: 12/25/2009 (#9284)



From jocoryan
This is a VERY good recipe, so nice & fluffy, as well as extremely tasty. I've always used a tried-and-true recipe, somewhat similar this one. But, it was the suttle differances that made this one more superior.

Makes a LOT of cakes (I got about 19 7-8" pancakes with one batch) One thing I know for sure, they extras won't go to waste.

Comment submitted: 12/7/2008 (#7053)



From Miss Foster
Trust me these are truly the best pancakes ever! It's definitely my family's favorite. Whenever we have pancakes these are the ones! :)

My mom even makes them with part or all whole wheat flour, SO GOOD!

Comment submitted: 11/24/2008 (#6964)



From toewsrus
The kids love these, so do I.

Comment submitted: 8/9/2008 (#6089)





From mrcart (Team Breakfast Member)
Easily my all time favorite.

Comment submitted: 6/13/2008 (#5519)



From Ima Nerd
I loved this recipe. It was amazing.

Comment submitted: 6/8/2008 (#5475)



From mary

Hi, please how much does a cup contain?

Comment submitted: 9/13/2007 (#3554)



From sunshiny
This is the BEST pancake recipe I have EVER made! I have been looking and looking for a great pancake recipe and I am so happy I finally found it. Thanks!!!

Comment submitted: 6/16/2007 (#3029)



From Jedishane
Made these for my wife on mothers day. She absolutly loved them.

Comment submitted: 5/12/2007 (#2385)



From mr. eat alot
This was the best pancake recipe I have ever made and I know a lot of good ones.

Comment submitted: 4/17/2007 (#2174)





From fraser (Team Breakfast Member)
What a super recipe!!! I treated my all American girl to these for her breakfast birthday. Yum yum!!

Comment submitted: 3/16/2007 (#1844)



From Mister Bee
Absolutely awesome and works with good quality plain yogurt too... I love em... the kids love em... the missus loves em... MrBreakfast We love ya...

Comment submitted: 1/27/2007 (#1327)



From Loved It
It was sooooooo good!!

Comment submitted: 12/20/2006 (#999)



From Peter
If you seperate the egg whites, and whip them, then fold them into the mixture at the last minuite before cooking, pancakes will be fluffier.

Comment submitted: 8/18/2006 (#108)



From Malcolm C.
Best American pancakes I've ever had. Excellent and functional recipe, translates perfectly into European kitchens, too.

Comment submitted: 7/2/2006 (#107)




---
Connect With Mr Breakfast: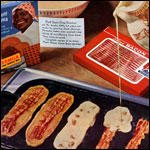 Bacon Strip Pancakes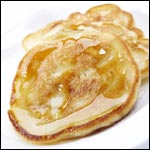 Reliable Homemade Pancakes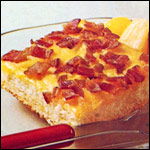 Maple-Bacon Oven Pancake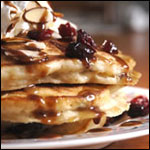 Cranberry Almond Caramel Pancakes

Check out our favorite vintage recipes from old magazine ads and recipe cards.
Click here
.