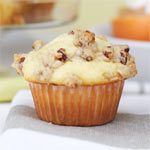 Coconut Muffins
1 cup shredded sweetened coconut
2 cups + 2 Tablespoons all-purpose flour
1 Tablespoon baking powder
1/4 cup sugar
1 teaspoon salt
2 large eggs
1 cup milk
1/2 cup cooking oil or melted butter
1 teaspoon vanilla extract (optional)
1/4 teaspoon grated lemon zest (optional)
1/4 teaspoon coconut extract (optional)
As of September 2013, I made some adjustments to this recipe (reflected in ingredients above). I made it once as submitted and found it decent, but not very impressive. The second attempt made a much better muffin. Here's what I changed: 1) I added vanilla and lemon zest; 2) I augmented the coconut flavor with coconut extract and increased the amount of sugar; 3) I increased the number of eggs for a less crumbly muffin; and 4) I specified that the shredded coconut should be pulsed in the food processor. That 4th change was key. If you don't pulse the coconut, you get a fibrous texture in the muffin. With those changes, this is a fine little muffin. It's great on it's own, but even better warmed up with a pat of butter. (Recipe submitted in 2003. It was tested and photographed in September 2013.)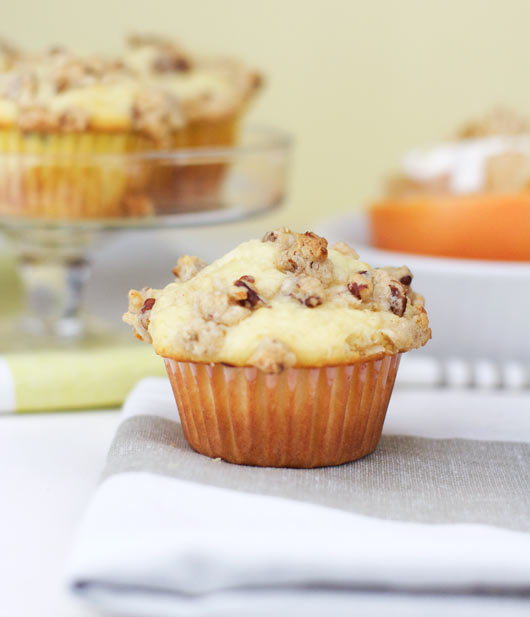 How To Make Coconut Muffins
First, pulse the shredded coconut in a food processor until it's just slightly more crumbly than flour.
In a medium bowl, sift together dry ingredients (flour, baking powder, sugar and salt). Mix in lemon zest and shredded coconut. Set aside.
In a small bowl, beat together eggs, milk, oil (or butter), vanilla and coconut extract. Add egg mixture at once to dry ingredients.
Stir mixture only until the dry ingredients are moistened. The batter will be lumpy.
Spoon into lightly greased muffin tin, filling each cup two-thirds full. Bake in a 375 degree oven for 18 to 22 minutes, or until golden brown.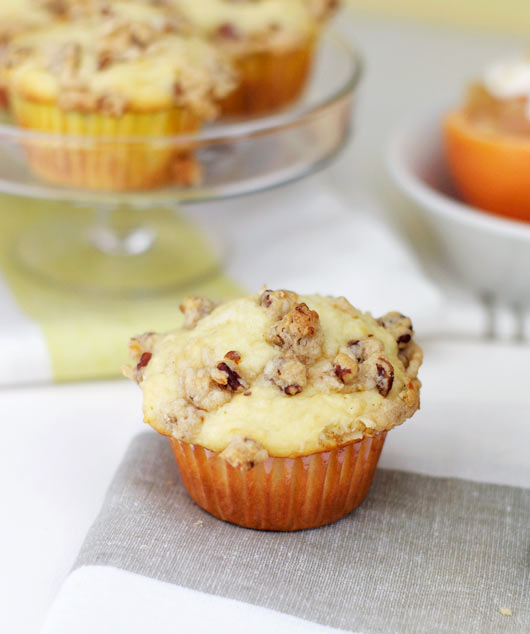 Cooking Note From Mr Breakfast:

For the muffins seen here, I opted to use melted butter instead of oil. I also topped them with a bit of coconut streusel (sprinkled over each muffin before they went in the oven).


Coconut Streusel Topping:

- 1/4 cup sweetened shredded coconut
- 1/4 cup all-purpose flour
- 1 Tablespoon sugar
- 3 Tablespoons softened butter
- 3 Tablespoons chopped pecans

Mix thoroughly and scatter randomly over each muffin.

Koo-koo for coconut? These muffins should hit the spot. Makes 12. Be sure to use sweetened coconut.
Mr Breakfast would like to thank
muffin
for this recipe.
Comments About This Recipe
What do you think of Coconut Muffins?
Overall Average Rating =

(out of 5)

From S.E. Kurtz
I used 1/2 cup milk and 1/2 cup orange juice. They were good, but still could have used more coconut flavor. I'd do a 1/2 teaspoon coconut extract if I made it again.

Comment submitted: 10/11/2013 (#16787)



From Vickylovedmicky

Is that 375 degrees Fahrenheit? Cause I only use degrees...

Comment submitted: 3/29/2012 (#13727)



From kachoo

I would try using coconut milk instead of regular milk.

Comment submitted: 11/22/2011 (#13224)



From Mehow
Delicious, but more crumbly than I wanted. Do you think if I added one more egg they might hold together a little better?

Comment submitted: 10/17/2011 (#13036)



From marchigiana
Very good recipe. I drizzled fresh lemon syrup on them after baking. Delicious!

Comment submitted: 4/9/2011 (#12435)



From Cat 3
I was very happy to find this recipe so I could use the coconut left over from making coconut milk. I made a double batch and freezed the leftover coconut for attempt #2. I have no markings on the gas oven I used (this was the first baking I'd done in the oven)and previous tenants told me the oven is a hot oven (which it isn't). So my muffins took a bit longer to brown. They did turn out a bit crumbly and a bit too salty for my taste. I found them coconuty, maybe from using fresh coconuts? Next time I'll add more liquid, maybe a bit of fresh coconut juice for sweetness, and back off on the salt.

Comment submitted: 2/21/2011 (#12172)



From bib
Great recipe! Not too sweet.

Comment submitted: 11/7/2010 (#11519)



From kimba
I love this recipe and my sister who doesn't like new foods really enjoyed it. It tasted so good and is so easy to make.

Comment submitted: 9/27/2010 (#11304)



From ffgio
I added lemon zest to the batter and a pinch of brown sugar on top before baking. I had to cook it for 20 min, but I feel there should have been more wet ingredients. It turned out more like a biscuit.... baking soda?? Very tasty. I will make this again. I may try to add some mango.....

Comment submitted: 1/14/2010 (#9457)



From K
| | |
| --- | --- |
| Rating (out of 5): | |

In my opinion, it is quite plain. Maybe more sugar added will improve it. And I agree with the comment before. Coconut does not quite play a big part here, when tasting.

Comment submitted: 1/14/2010 (#9453)



From Rob
I looked at several other recipes and decided to alter this one because I had all the ingredients. First, I used 1/2 cup of sugar (8 Tbsp) because I like things on the sweet side. Second, substituted 1 stick unsalted butter for oil (slightly less calories more sat fat, but I like the butter taste better than most oils). Third, based on other recipes I added 1/2 tsp of imitation coconut extract (the cheap stuff, I had better but decided against it for this test run). I also used half whole wheat flour as partial penance for the butter and extra sugar (so 1 cup of wh wheat and 1 cup of all purpose) and I generally try to do this when I can. Lastly, I sprinkled the tops of the muffin batter (when in the cups) with more sweetened coconut before baking. After 15 minutes the sprinkled coconut was nicely toasted and the muffins perfectly done. And they were AWESOME! The toasted coconut is a must (that crunchy bit of sweet can help if you choose to use less sugar in the batter) and as a whole they were surprisingly light and fluffy which doesn't always happen for me when using a whole wheat flour blend. I decided to try this because I had a bunch of old coconut in the back of the fridge and I'm glad I gave it a shot.

Comment submitted: 3/9/2009 (#7735)



From Need Lil' Mo Flavor
Turned out edible.. =P but the coconut didn't really have much of an impact and the flour overpowers everything.

Comment submitted: 11/14/2008 (#6807)



From Rain
| | |
| --- | --- |
| Rating (out of 5): | |

My husband won't even eat these.

Comment submitted: 7/14/2008 (#5874)





From ummwesam (Team Breakfast Member)
Based on the above review I tripled the sugar since I also like a sweeter muffin. This helped a bit, it wasnt to sweet, but just in the middle, how I like it. Still very little flavor of coconut, but the muffins texture was chewy and tender, and that I really liked. This would be a good muffin base for other flavorings and such, I think next time I will use this for the kids surprise muffins. With surprise muffins add a spoonful of jelly into the center of the muffin before baking. Fill muffin cups with the batter 1/4 of the way then add the jelly and more batter to your suiting. These muffins seem perfectly suited for strawberry jelly, and I wouldnt use less than 6TBSP of sugar. YUMMY!!

Comment submitted: 12/12/2007 (#4165)



From SoSo
These are not very sweet. I prefer a sweeter-style muffin. They have very little flavour other than a faint coconut taste.

Comment submitted: 2/11/2007 (#1503)




---
Connect With Mr Breakfast: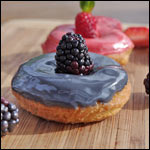 Berry Delicious Cake Donuts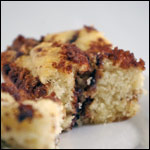 Cinnamon Flop (Coffee Cake)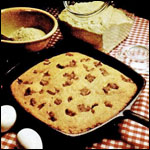 Bacon Spider Bread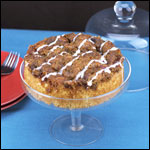 Strawberry Jam Coffee Cake