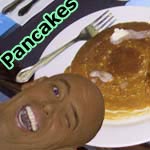 Double Banana Pancakes
1 cup all-purpose flour
1 and 3/4 teaspoons baking powder
3/4 teaspoon salt
1 Tablespoon sugar
2 large ripe bananas
3/4 cup soy milk
2 large eggs
2 teaspoons vegetable oil


For The Topping:
1 Tablespoon unsalted butter
2 large ripe bananas - sliced
freshly grated nutmeg
3/4 cup warm maple syrup
TO PREPARE PANCAKES:
In a large mixing bowl, sift together flour, baking powder, salt and sugar. Mix to blend. Set aside.
Puree bananas in a food processor, fitted with a metal blade to a smooth, liquid consistency. Transfer puree to a mixing bowl. Add milk, eggs and oil. whisk to blend well. Add dry ingredients - whisking to incorporate.
Preheat oven to 250 degrees Fahrenheit. Heat a griddle. Add butter to bottom of pan. When butter is hot, ladle 2 Tablespoons of batter onto griddle, cooking until the tops of the pancake bubble and the underside is brown (2 or 3 minutes). Turn and cook other side until golden brown - about 2 minutes more.
Transfer to a baking sheet. Continue until all the batter has been used.
TO PREPARE TOPPING:
Heat butter in a large skillet. When hot, add sliced bananas - saute, stirring constantly until bananas are warm, about 1 minute.
To serve: Arrange 4 pancakes on each of 4 dinner plates - top with sauteed bananas - grated nutmeg and warm maple syrup.

For banana lovers, this recipe provides a double shot with bananas in the batter and bananas in the topping.
Mr Breakfast would like to thank
janeboo
for this recipe.
Comments About This Recipe
What do you think of Double Banana Pancakes?
Overall Average Rating =

(out of 5)

From Bill E. Boy
I have made this recipe several times now, and the pancakes are always perfect: This is just a great batter. They always cook up perfectly, and it's easy to see just when you should flip them. They would probably be great by themselves - not that I would know that...

Comment submitted: 6/7/2014 (#18891)



From Evelyne
It was very sweet! But overall, we liked them.

Comment submitted: 5/19/2013 (#15890)



From Nanners
Worked out great. I tried using half flour and half cornmeal to give it a different kick.

Comment submitted: 9/6/2009 (#8646)



From Ivy
This is an okay recipe, but if you make this don't put as much salt and baking powder as the tell you to.

And add some more sugar. Just do that and it will be an awesome breakfast (or brunch).

Comment submitted: 2/1/2009 (#7499)





From hydeist (Team Breakfast Member)
I don't normally like pancakes, but my friend and I decided to try these and they were AMAZING! I loved the banana flavour so much, we had them two days in a row. We topped them with Archer Farms' cinnamon-infused maple syrup - they were HEAVENLY.

Comment submitted: 1/25/2009 (#7456)



From Yumyum!
Great recipe. We also add cinnamon to the mix. A great topping is thin sliced bananas maple syrup and cinnamon sugar (just icing suger and cinnamon powder mixed).

Comment submitted: 10/12/2007 (#3746)



From Mel
Delicious - A new favourite pancakeeven with my two year old!

Comment submitted: 10/11/2007 (#3736)





From smidgit (Team Breakfast Member)
My husband loves these pancakes! For the topping, i add cinnamon and put whipped cream and more cinnamon on top. You can't beat it with a great cup of coffee on the side!

Comment submitted: 7/13/2007 (#3198)



From eli
I really enjoyed these pancakes - thanks!

Comment submitted: 5/27/2007 (#2529)



From Junebug
We made this on a saturday and it's delicious.

Comment submitted: 3/3/2007 (#1709)





From Mr Breakfast (Team Breakfast Member)

Hi Bacon Flants - The idea behind the preheated oven is simply... if you're making a couple batches of pancakes and you'd like to serve them all at once... you keep finished pancakes warm in the oven until you finish all of the batches. Then you serve them all warm. Everybody smiles. Everybody wins. Sorry if the directions weren't clear on that.

Comment submitted: 2/11/2007 (#1495)



From bacon flants

Why do you heat the oven and transfer the pancakes to a baking sheet? Do you ever put the pancakes in the oven?

Comment submitted: 2/10/2007 (#1489)



From Tracey
In Australia, we do not have all purpopse flour so I made it with self raising. Nice fluffy pancakes.

Comment submitted: 1/12/2007 (#1190)



From RAndi
These are delicious! I substituted 1/2 cup whole wheat flour for added nutrition, and they are yummy.

Comment submitted: 12/18/2006 (#985)



From A Friend
Very good!

Comment submitted: 12/9/2006 (#906)




---
Connect With Mr Breakfast: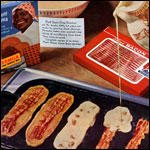 Bacon Strip Pancakes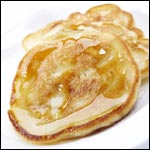 Reliable Homemade Pancakes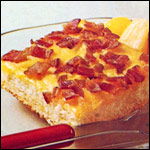 Maple-Bacon Oven Pancake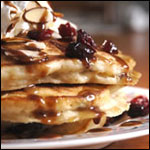 Cranberry Almond Caramel Pancakes

Our list of the best cereal premiums of all time.
Click here
.