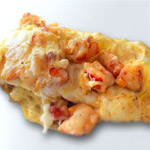 Shrimp And Cheese Omelette
2 large eggs
1 Tablespoon water
1 Tablespoon butter or margarine
1/4 cup coarsely chopped cooked shrimp
3 Tablespoons shredded Monterey Jack cheese
1 Tablespoon sliced green onions
2 teaspoons chopped fresh parsley
green onions - optional
additional cooked shrimp - optional
Combine eggs and water, beating with a wire whisk; set mixture aside
Heat an 8-inch omelet pan or nonstick skillet over medium heat until hot enough to sizzle a drop of water. Add butter, and rotate pan to coat bottom. Pour egg mixture into pan. As mixture starts to cook gently lift edges of omelet with a spatula, and tilt pan so that uncooked portion flows underneath.
Sprinkle half of omelet with shrimp and next 3 ingredients, and fold in half. Transfer omelet to a serving plate. Garnish with whole shrimp, an extra sprinkle of cheese and green onions, if desired. Serve immediately.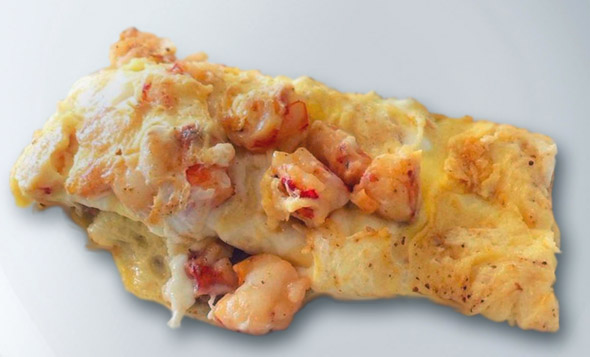 If you haven't tried a shrimp omelette, you really should. The flavor and texture blends so well with eggs and cheese.
Mr Breakfast would like to thank
baseball27
for this recipe.
Comments About This Recipe
What do you think of Shrimp And Cheese Omelette?
Overall Average Rating =

(out of 5)

From Butler
Shrimp and egg are awesome together. Get over yourself and try it!!

Comment submitted: 5/20/2019 (#20770)



From Jackson
Great!

Comment submitted: 3/18/2019 (#20742)



From Askarii Bakery
People are crazy. I eat an egg and salmon omelette daily. My favorite breakfast.

Comment submitted: 10/14/2018 (#20651)



From Bunny Garbonzo

Never add water to eggs, instead add an extra egg and never, ever over-beat. The whites of the egg should show within the yolks, this gives the scramble or omelette an rich, moist texture.

Comment submitted: 9/4/2018 (#20621)



From Dawn
I used left over old bay grilled shrimp as well as finely chopped grilled bacon to make this recipe... it was awesome! Thank you for posting your recipe.

Comment submitted: 8/6/2018 (#20606)



From Jacklyn_Estevao
I don't know why some people think that this recipe is horrible. Is it because I'm Portuguese? :D

Comment submitted: 10/30/2017 (#20437)



From Matt A.

Wow, the combination of egg and shrimp is horrible! I would definitely NOT suggest this to anybody, for any reason.

Comment submitted: 6/15/2017 (#20333)



From Dan H.
The recipe was great! I also added some chopped spinach and garlic sauteed in olive oil. Will definitely make it again. - Dan

Comment submitted: 2/18/2015 (#19275)



From Karol
Best omelette ever - the way you said to cook the omelette itself was a revelation to me as I always struggle to turn it over or to achieve perfect fluffiness ;) I sizzled the shrimp with mushrooms parsley and Cajun spice as someone suggested above - it was absolutely delicious!

Comment submitted: 12/31/2014 (#19178)



From cotoole
I've been making Shrimp Omelets for a while now, and recently I found a new shredded cheese in my grocer's aisles. Fajita cheese. It really works well with the shrimp. I must confess, I like Cocktail Sauce on my Shrimp Omelet as well. :)

Comment submitted: 12/8/2011 (#13297)



From Klump
I enjoyed the combination, but next time I will add some kind of cajun seasoning for extra spice.

Comment submitted: 2/2/2008 (#4536)



From newjones
Great recipe. I added a little back pepper and jalepeno to spice it up. Instead of jack cheese, I used shredded mozzarella cheeze... mmm really tasty.

Comment submitted: 7/27/2007 (#3279)



From ET
I used 1/4 lb each of rock shrimp and dungeness crab meat and added chopped jalapeno pepper (about 1 tbs). I sprinkled some Parmesan cheese on top of the finished omelette.

Comment submitted: 4/7/2007 (#2081)





From swimmom (Team Breakfast Member)
Shrimp is not just for dinner anymore! Very good. My 16 yr old son said it is delicious!

Comment submitted: 1/7/2007 (#1135)





From Mr Breakfast (Team Breakfast Member)

That's a very good point "W.T.S.". I'm trying to contact the recipe submitter to see if they left information out. In the meantime, I'd suggest taking 4 to 6 medium shrimp (shelled and cleaned) and butterfly them (cut 3/4 of the way through the shrimp - along the back vein; open shrimp to resemble a butterfly; sear the shrimp in hot oil for about 2 minutes on each side). Set them aside on a paper towel until ready to add to omelet.

Any one else have suggestions to make this omelet work?

Comment submitted: 10/31/2006 (#613)



From Where's the Shrimp?

How can you have a Shrimp Omelet without Shrimp? How much/many shrimp? Whole or cut up?

Comment submitted: 9/25/2006 (#381)




---
Connect With Mr Breakfast: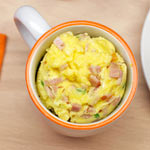 Microwave Farmers Omelet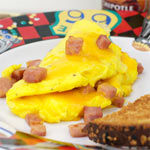 Ham & Cheese Omelette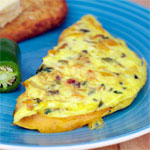 Jalapeno Omelet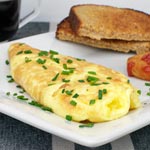 40 Second Omelet