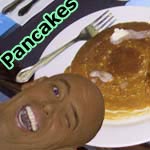 7-Up Pancakes
1 large egg
2 Tablespoons vegetable or canola oil
2 cups pancake mix
1 1/2 to 2 cups 7-Up Soda
Beat egg and oil. Add pancake mix.
Add 1 cup 7-up. Stir until most lumps have disappeared. Gently stir in additional 7-up.
Bake on medium heat griddle, turning once.

Utilizing one of America's favorite sodas, this unique recipe is a must-try.
Mr Breakfast would like to thank
baseball27
for this recipe.
Comments About This Recipe
What do you think of 7-Up Pancakes?
Overall Average Rating =

(out of 5)

From Nana

Says to use 2 cups of pancake mix. Does recipe apply with egg and oil if you have mix where you just add water?

Comment submitted: 10/17/2016 (#20081)





From genli (Team Breakfast Member)
I have tried everything it seems, to make fluffy light pancakes and this is by far the best recipe. Not too sure about some of these negative comments... maybe they are over mixing.

Comment submitted: 2/7/2015 (#19251)



From pancake king
I own a restaurant and make my pancakes this way. My seats are full every morning for pancakes. Award winning pancakes. Thanks to 7up - I'm rich.

Comment submitted: 1/25/2014 (#17273)



From Winner!
I can't believe there are so many negative comments... My family LOVED this. Maybe you're mixing the batter too much? My pancakes were wonderfully fluffy, and, of course, still tasted like pancakes. I am pretty sure the whole point of the 7UP is not about the taste, it's about texture.

Comment submitted: 12/22/2013 (#17214)



From pandora2
This made great pancakes, but to be honest, I didn't notice much difference from when I use water instead of 7-Up... maybe just a little sweeter. Good recipe, but nothing I'd make again.

Comment submitted: 5/23/2013 (#15917)



From 6-Pack
We used cream soda instead of 7up... we loved them :)

Comment submitted: 6/14/2012 (#14057)



From Bobsled
| | |
| --- | --- |
| Rating (out of 5): | |

I didn't love it. Regular pancakes and pancakes from a mix taste better than this.

Comment submitted: 3/19/2012 (#13694)



From Joey

To be honest, we didn't try them. We did make root beer floats though, there is a 'must try' and a very filling breakfast.

Comment submitted: 1/31/2011 (#12036)



From Michael A.
They were the best pancakes ever. I really liked them. They made me full! Next time I want to try root beer, has anyone else tried a different soda flavor?

Comment submitted: 1/25/2011 (#11986)



From cotchki
Excellent flavor and fun to make...

Comment submitted: 12/24/2010 (#11778)



From Bonnie5285
Was okay.

Comment submitted: 11/2/2010 (#11491)



From Sunday-style
We tried this because we were looking for goofy recipes. It didn't taste goofy. The taste of 7-up cooks off and it just tasted like pancakes to me. It was good, but not particularly special.

Comment submitted: 10/12/2009 (#8831)





From texas115115 (Team Breakfast Member)
They were ok. Kind of spongy. I think I will try it like BAG DAD says might be better that way.

Comment submitted: 1/1/2009 (#7237)



From Mailman Steve
Okay... it worked fine and was good... we used Archer Farms brand pancake mix... but I was surprised that it wasn't all that different from using water like the mix directs. I liked it, but will probably just follow the mix instructions next time.

Comment submitted: 12/29/2008 (#7218)



From currieboy

Why 7'up?

Comment submitted: 12/14/2007 (#4175)





From PancakeLover (Team Breakfast Member)
This is the best pancake recipe I'll use to make pancakes. If you love pancakes and 7-UP, try this!!!:)

Comment submitted: 11/15/2007 (#4003)



From MemphisTK
This is an awesome recipe. The family loves the pancakes.

Comment submitted: 10/26/2007 (#3852)



From linla
This recipe is really good and I ate the whole thing. Nothing was on the plate after.

Comment submitted: 1/24/2007 (#1301)



From Bag Dad
Try it like this: make the pancake mix according to directions with a little less liquid so the batter is dry. Add enough 7-up so the batter is the desired consitency (less than 1/4 cup usually). Forget the egg and oil and cook pancakes. This made light pancakes with a fun 7-up flavor. Some people might think it's wierd, but we liked them a lot.

Comment submitted: 9/17/2006 (#335)



From Brit101
| | |
| --- | --- |
| Rating (out of 5): | |

this loads of calories for gross pancakes

Comment submitted: 9/16/2006 (#328)




---
Connect With Mr Breakfast: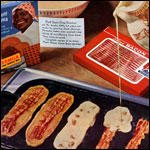 Bacon Strip Pancakes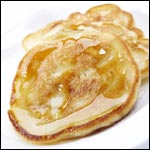 Reliable Homemade Pancakes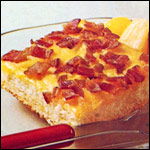 Maple-Bacon Oven Pancake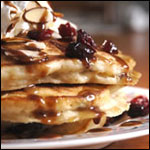 Cranberry Almond Caramel Pancakes