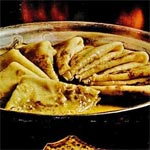 Crepes Suzette
6 eggs
1 cup + 2 Tablespoon flour
1 and 1/2 Tablespoons sugar
3/4 teaspoon salt
3 cups milk
butter - as needed for frying
Beat the eggs. Add flour, sugar and salt and beat until smooth. Gradually add milk, beating constantly.
Melt 1 teaspoon butter in a 7-inch frying pan. Add about 2 Tablespoons of batter, quickly tilting the pan to cover the bottom with the batter. Cook until golden brown on bottom, then turn with a spatula and cook the other side until light brown. Repeat until all crepes are made. As each crepe is cooked, transfer it to waxed paper.
Sauce For Crepes Suzette
- 1 and 1/2 sticks butter
- 1/3 cup sugar
- 3/4 cup orange juice
- 1/3 cup Cointreau orange liqueur
- 3 to 4-inch strip orange peel
- 3 additional Tablespoons Cointreau
- 6 Tablespoons cognac
Melt butter in chafing dish. Add sugar, orange juice, 1/3 cup Cointreau and orange peel. Cook until mixture bubbles and reduces a little - about 5 minutes. Take out orange peel.
Dip crepes in this hot mixture. Fold crepes in quarters and push to one side of the pan using a fork and spoon. When all the crepes are folded, sprinkle with a little additional sugar, add remaining 3 Tablespoons Cointreau and the cognac.
To ignite, take a spoonful of sauce, light it and pour into dish. Spoon sauce over crepes. Serve two crepes to each person. But you will have enough ready to make one more each.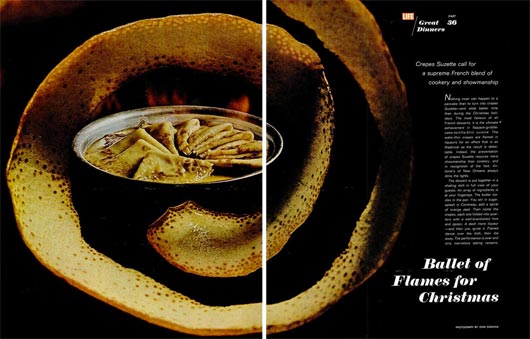 Cooking Note:

You may want to practice making the crepes ahead of time if you haven't done them before. However, this amount of batter, which will make about 30 crepes, provides for some mistakes and when the crepes are folded in the sauce, slight imperfections won't show up.
This recipe is from a 1966 issue of
Life Magazine
from an article titled "Ballet of Flames for Christmas" by Eleanor Graves with photos by John Dominis. As the article states, "Nothing nicer can happen to a pancake than to turn into Crepes Suzette... the most famous of all French desserts. It is the ultimate achievement in flapjack-griddlecake-tortilla-blini cuisine. The wafer-thin crepes are flamed in liqueurs for an effect that is as theatrical as the result is delectable."

It's known as a flaming, fancy French dessert, but why not have it for your next elegant brunch. Most of the alcohol burns off in the flames. The only thing you'll be drunk on is pleasure.
Mr Breakfast would like to thank
Mr Breakfast
for this recipe.
Comments About This Recipe
What do you think of Crepes Suzette?
From BurnDaHouse

Too much cognac! You don't need that much.

Comment submitted: 3/2/2015 (#19302)




---
Connect With Mr Breakfast: