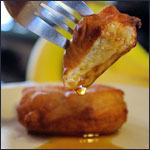 Caribbean Banana Fritters
2 very ripe bananas
2 large eggs - lightly beaten
1/4 cup milk
1/4 cup sugar
1 teaspoon vanilla extract
1 and 1/4 cup all-purpose flour
1 teaspoon baking powder
1/2 teaspoon ground cinnamon
1/4 teaspoon salt
1/8 teaspoon fresh grated nutmeg
canola or vegetable oil for frying
I first tried these fritters when I was vacationing in St. Lucia. They're basically little homemade banana donuts. If you've ever dreamed of dipping your donuts in warm maple syrup, this is a recipe for you. When you have the oil temperature just right, the fitters won't absorb much oil. I measured the oil before and after I made 15 fritters and they absorbed less than half an inch. That said, this is still an indigent breakfast. So, make them. enjoy them and then eat oatmeal and fruit for the next couple days. That's what I did and I'm as happy as a fritter in the Caribbean.
How To Make Caribbean Banana Fritters
In a medium bowl, mash the bananas with a fork. Add the eggs, milk, sugar and vanilla. Mix until well combined.
In a separate bowl, mix together the flour, baking powder, cinnamon, salt and nutmeg.
Add the dry ingredients to the wet ingredients and stir until just mixed and moistened.
In a deep, heavy skillet, heat 1 inch of oil to 375 degrees.
Carefully, dollop batter in heaping Tablespoon portions into the hot oil.
Fry until golden brown on the bottom - about 2 minutes. Using a slotted spoon, gently flip the fritters and fry other side to golden brown - about 1 more minute.
Transfer cooked fritters to stacked paper towels.
A 10-inch skillet will fit about 6 fritters per batch.
Be sure to monitor the oil temperature between batches. If the temperature goes over 400 or under 350, take the time to adjust the heat.
Makes about 16 fritters.
Serve warm... alone, dusted with powdered sugar or drizzled with maple syrup.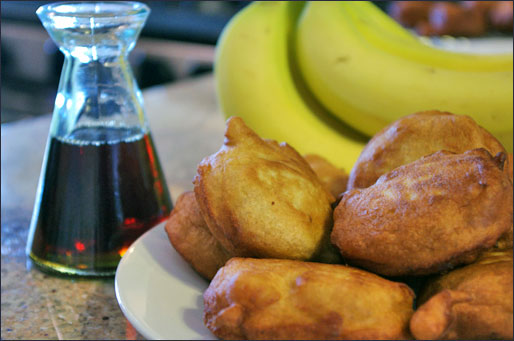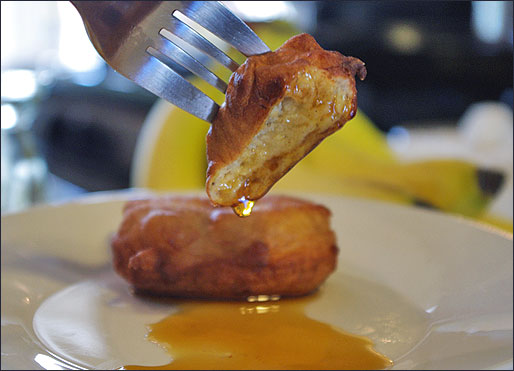 These warm donuts with a bold banana flavor are popular in the resorts of St. Lucia and the Caribbean Islands. Enjoy warm with your favorite topping as you would pancakes.
Mr Breakfast would like to thank
Mr Breakfast
for this recipe.
Comments About This Recipe
What do you think of Caribbean Banana Fritters?
Overall Average Rating =

(out of 5)

From Good breakfast
Best breakfast ever. Thank you so much for sharing.

Comment submitted: 6/20/2020 (#20976)



From AndiMouse
Grew up on these... love them. Making them as we speak.

Comment submitted: 11/19/2015 (#19659)



From Mercy
My teens love these rolled in sugar!

Comment submitted: 9/23/2015 (#19560)



From Risa
Excellent recipe! I made these today.

Comment submitted: 9/3/2014 (#18978)





From Sunin (Team Breakfast Member)
Make sure to use ultra ripe bananas for a more intense flavor. I added walnuts and sharp cheddar for a more hearty flavor, oh and I also added about 3/4 tsp more baking powder and they were really light and fluffy. Sorry can't ever seem to just follow a recipe.

Comment submitted: 4/5/2014 (#17393)



From Sammy
I grew up with my mum making them with almost spoilt bananas. I love these... delicious!

Comment submitted: 10/12/2011 (#13018)





From ridger12 (Team Breakfast Member)
Me and my daughters loved them! Thanks!

Comment submitted: 6/10/2011 (#12779)





From artradioguy (Team Breakfast Member)

I love fritters so I can't wait to try these out.

Comment submitted: 6/9/2011 (#12776)





From NrseKim (Team Breakfast Member)

I cannot wait to make these!!! Thanks!

Comment submitted: 5/22/2011 (#12713)



From Xiomara

I'm from Puerto Rico and I have cooked baked and fried bananas into every which way possible but never like this... I'm definitely making it in the morning sounds delicious and it has my favorite spices I cannot wait!!!

Comment submitted: 3/18/2011 (#12311)



From Granny

I know what Granny will be making this weekend, when all 3 of my grandchildren are here, right?

Comment submitted: 2/22/2011 (#12195)





From Timsforgiven (Team Breakfast Member)

OK I think I am trying these on the weekend. They look sooo good! Thanks for posting.

Comment submitted: 2/22/2011 (#12193)




---
Connect With Mr Breakfast: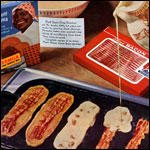 Bacon Strip Pancakes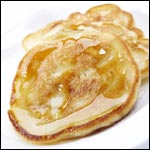 Reliable Homemade Pancakes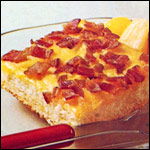 Maple-Bacon Oven Pancake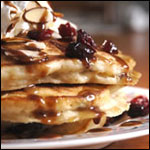 Cranberry Almond Caramel Pancakes

Our list of the best cereal premiums of all time.
Click here
.