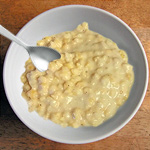 Hominy Porridge
12 cups water
2 cups dried hominy (also called posole)
1 cup evaporated milk
1 cup sweetened condensed milk
1 cup sweetened cream of coconut
2 teaspoons vanilla
1 and 1/2 teaspoon cinnamon
1/2 teaspoon ground nutmeg
In a large sauce pan over high heat, bring the water and the hominy to a rolling boil. Reduce heat to a simmer and cover - allowing a small amount of venting. Simmer for 1 hour - stirring frequently - until hominy is tender. Add additional water while cooking if necessary to reach desired constancy.
Add the evaporated milk, condensed milk, cream of coconut, vanilla, cinnamon and nutmeg. Increase heat and bring to a boil. Reduce heat to a simmer and cook until thickened - about 2 minutes.
Transfer to 6 serving bowls and sprinkle with additional nutmeg and cinnamon. Garnish with dried coconut if desired.
Note: For thicker porridge, strain away 1/2 cup of water from the hominy before adding the evaporated milk and other ingredients.


This is a Jamaican dish... a Caribbean getaway from plain old oatmeal.
Mr Breakfast would like to thank
gifford
for this recipe.
Comments About This Recipe
What do you think of Hominy Porridge?
Overall Average Rating =

(out of 5)

From camile

I saw a lot of recipes with flour and cornstarch and I'm not too keen in using those, so I'm gonna try this!

Comment submitted: 2/10/2016 (#19789)





From nlsoares (Team Breakfast Member)

Thanks for the recipe... I'm going to try it today. To @Leroy: My Grandmother (from Oracabessa, Jamaica) always put condensed milk (looked it up and condense milk dates back to 1820). In fact she didn't put any other milks. To thicken, she started by stirring a little flour and water adding it to the pot to a boil then added everything else. I'm 32 and all my life it had condensed milk. She also added a little cinnamon and allspice. She is the reason I was searching for a recipe so I can make it for old time's sake because it was so good!

Comment submitted: 12/29/2014 (#19173)



From Jay
This is absolutely delicious indeed. It reminds me of being a child in Jamaica. Back then, we used Betty or Nestles sweetened condensed milk as well as Gloria or Carnation evaporated milk and that was many many years ago. The condensed milk gives this cereal a rich taste and you don't have to add a lot of milk.

Comment submitted: 10/8/2014 (#19039)



From ThomasLiz
Liked it a lot, but like the other guy said, it's very sweet. Next time, I would use 1/2 cup of condensed milk (I liked how it made it creamy) and 1/2 cup regular milk.

Comment submitted: 8/30/2013 (#16321)



From M.E. Jamaica

Hominy is a Jamaican dish. We use condensed milk in all our porridge. Jamaicans are exceptional people. We are unique in our cooking. Hominy without condensed milk is like curry goat without curry...

Comment submitted: 6/17/2013 (#16048)



From Winnie
I ate the entire pot by myself and I'd do it again.

Comment submitted: 7/30/2012 (#14202)



From Leroy

This is like having desert at breakfast. Sheeew... I see this Jamaican recipe with condensed milk and evaporated milk all over the place... isn't that a bit too rich. You don't have to put condensed milk... in the past no one had condensed milk... I'm from the Caribbean, and its similar living situations all over the region, I don't know when everyone started putting condensed milk it in every porridge they made.

Comment submitted: 2/2/2011 (#12054)



From chelle
Very tasty!!! I love it.

Comment submitted: 10/28/2010 (#11475)



From Georgie
This is an EXCELLENT hot cereal!!!!! Awesome!!!!

Comment submitted: 8/20/2010 (#11097)




---
Connect With Mr Breakfast: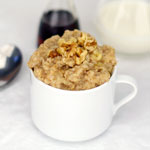 Pancake Oatmeal


Chocolate Chip Oatmeal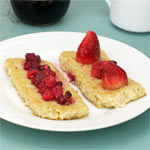 Fried Oatmeal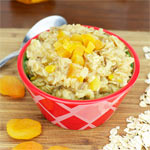 Apricot Honey Oatmeal

Just because it looks fancy and tastes great doesn't mean it's hard.
Click here
.