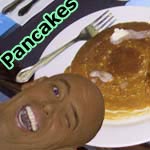 Buttermilk Pancakes ala Original Pancake House
1 teaspoon dry yeast
1/2 cup warm water (105-115 degrees F)
1 1/2 cups warm milk (105-115 degrees F)
2 cups all-purpose flour
3 Tablespoons sugar (or 1/4 cup malt powder)
2 large eggs - lightly beaten
1 teaspoon salt
2 Tablespoon melted butter
1 teaspoon baking powder
Note From Mr Breakfast:


Caution!

Before you make this one, be sure to read the comments. It's been getting some pretty bad reviews. For kitchen-tested, better-reviewed Buttermilk Pancakes, please see this alternative recipe.
This recipe must be made the night before, at minimum. The morning before would be ideal.
Mix together all ingredients except eggs, butter and baking powder. All ingredients should be at least at room temperature or a bit warmer. Mix the ingredients in a bowl about 6 qt size, or about 3x larger than the volume of batter.
Keep this batter, covered with plastic wrap, at room temperature - not warm like you would for bread dough. You want it to rise slowly. After a couple hours, the batter will begin rising. After it at least doubles in volume, stir it down.
The next day, beat in the eggs, the melted butter, and 1 tsp of baking powder (stirring the batter will cause it to deflate; the baking powder will restore some of that rise). You may need to adjust the consistency of the batter, most likely with a few tablespoons of water, although if the batter is too runny, you can add a spoonful or 3 of flour.
Cook as you would regular pancakes on a greased skillet or griddle until golden (approx 2-3 minutes on each side.)

An interesting buttermilk pancake recipe in that it doesn't include any buttermilk.
Mr Breakfast would like to thank
mrbreakfast_lvr
for this recipe.
Comments About This Recipe
What do you think of Buttermilk Pancakes ala Original Pancake House?
Overall Average Rating =

(out of 5)

From Gargamel

I made a starter using potato water, yeast and sugar. Let it grow for 5 days, added it to my recipe and the cakes came out flat. The flavor was okay, but no fluff to the cakes. No clue what I am doing wrong here. I can make a good buttermilk pancake but when I begin to add yeast for the OPH flavor, things go south.

Comment submitted: 9/3/2019 (#20844)



From Gargamel

Also, there had to be something in some form of powder for the buttermilk. Unless you were adding liquid buttermilk to the starter that was made with water. Again, the uniformity of flavor at all OPH's would be hard to achieve using liquid cultured buttermilk, because again, they vary in taste.

Comment submitted: 6/20/2019 (#20793)



From Gargamel

Thanks OPH Lover! The quest continues and the flavor of my recipes continues to get closer to the OPH, but adding yeast along with baking powder and soda seems to flatten my cakes out. OPH's cakes remain fluffy. I have also heard they use peanut oil instead of clarified butter in the mix.

Comment submitted: 6/14/2019 (#20788)



From OPH Lover

When I was a cook at OPH in Buffalo, NY a few decades ago, we did not use any powders in our recipes - it was all made from scratch. For the buttermilk pancakes, we used a sourdough starter which was made by boiling potatoes, then straining them out and then adding yeast to the water. We let the starter 'grow' before we actually used it - no dry yeast was added directly into the batter.

Comment submitted: 10/24/2018 (#20658)



From Gargamel

Prep Cook, could you please expound? I have been trying to mimic that yeast flavor for years to no avail. I have used cake yeast, dry yeast, malt powder in place of sugar, you name it. NOTHING works. Don't get me wrong, the pancakes come out great, just not OPH great. There is no way all of their restaurants across the country are using some sort of sourdough starter, because starters all taste different and have different qualities. All OPH locations taste exactly the same and this uniformity should be impossible without some sort of universal shortcut being used. What do you think?

Comment submitted: 4/25/2018 (#20558)



From Chris K.
Unlike the other comments, mine tasted pretty good.

Comment submitted: 8/24/2017 (#20389)



From Prep Cook

Original Pancake House actually uses buttermilk powder and batter is made over 3 days. Way off on recipe!

Comment submitted: 8/22/2017 (#20387)



From I. Thinker
Lol... OPH doesn't serve 'buttermilk' pancakes. They serve these. They definitely have a unique flavor due to the fermentation of the yeast. If you haven't had OPH pancakes, you would for sure notice they are 'different'.

Comment submitted: 2/14/2016 (#19795)



From NiLaLa
I tried this recipe despite the negative comments because I was looking for a fermented yeast batter for pancakes, which appears to me to be what the Original Pancake House uses, but really couldn't find any others. The batter rested for about 10 hours at room temperature and smelled yeasty - but not overpowering or rotten like some others experienced; just what I would have expected. I found the pancakes to be very moist inside (and not cakey as others wanted) so after one test pancake I added an additional 1 and 1/2 Tablespoons of flour - this seemed to cut down on the moistness and 3 Tablespoons would probably have been just about right. I also added 1/2 teaspoon of vanilla and felt a full teaspoon would have been fine as another reviewer suggested, as I couldn't detect it. My family actually liked these pancakes and my elderly mother who eats almost nothing, polished off four medium ones. I think the recipe needs a bit of adjustment to come out right, but a lot depends on your expectations. They tasted like what I expected from a fermented yeast batter (not ridiculously strong-tasting, however, but different than regular pancake batter). With some extra flour, and perhaps another adjustment or two, I think they pretty much what I expected, and pretty similar to the pancakes I had recently at OPH, especially in flavor. If you do take the chance on making this recipe, not cut back on the salt - I was tempted to and glad I didn't. I am rating it Very Good because they were close to what I expected after adding the extra flour and vanilla.

Comment submitted: 12/25/2013 (#17225)



From BillieJean
| | |
| --- | --- |
| Rating (out of 5): | |

Wondering why you keep this recipe on your site when it gets so many bad reviews?

Comment submitted: 6/6/2013 (#16008)





From adharbert (Team Breakfast Member)
| | |
| --- | --- |
| Rating (out of 5): | |

I should have read the comments before trying this. Very disappointed in this one. As someone stated, where was the buttermilk?

Comment submitted: 1/28/2013 (#15110)



From Boz
I changed this a little: After letting batter rise, I stirred it down and refrigerated overnight. In the morning, I tested the recipe as written, and also noticed a sort of "beer" taste. I added 1 tsp of vanilla and the result was fantastic. Not exactly like OPH, but close enough to merit making them again.

Comment submitted: 6/12/2012 (#14051)



From remmy
| | |
| --- | --- |
| Rating (out of 5): | |

Agreed... this recipe is no good. Instead try the recipe just called Homemade Pancakes from this same site. It's 1,000 times better and it's also much easier. This one here is just a waste of ingredients.

Comment submitted: 3/15/2012 (#13679)



From Say What?

I believe this recipe was posted in jest. Firstly, the main clue was the omission of buttermilk in the recipe. Secondly, the making of beer required for the ingredients. He has to be sick in the head to still have this posted.

Comment submitted: 12/2/2011 (#13266)



From ugh!
| | |
| --- | --- |
| Rating (out of 5): | |

Somehow I didn't read the reviews before trying this. My girlfriend and I made this recipe this weekend and the result was really bad. They were not fluffy or cakey at all, they were almost slimy inside, and had a yucky yeast taste. An extreme disappointment, and they went directly into the trash.

Comment submitted: 2/21/2011 (#12178)





From Debbb (Team Breakfast Member)
| | |
| --- | --- |
| Rating (out of 5): | |

Well I thought I did everything right, started it yesterday & just finished cooking & these are NOTHING like OPH. They really did have a yeasty beer taste & not in a good way. Don't waste your time or hopes on this one. Sorry Mr. Breakfaster Lover these didn't meet expectations. :(

Comment submitted: 4/24/2010 (#10371)



From No B-Milk?

Hmmmn... Why does this buttermilk pancake recipe not include any actual buttermilk?

Comment submitted: 3/13/2010 (#10047)



From gorp

Maybe if it were all done in one day - no clarification on what you do with the batter after you beat it down the first time - refrigerate it, let it rise again? Maybe this is when the eggs etc can be added.

Comment submitted: 3/1/2010 (#9951)



From hd4dave
| | |
| --- | --- |
| Rating (out of 5): | |

Like the other reviewer I too was excited to enjoy this recipe. I have enjoyed Original House pancakes since I was a kid. My wife couldn't finish one, my daughter spit it out and said, yuk. I followed the recipe to a tee. I let the batter ferment aprox 24 hours before making them. They had a distinctive "beer" taste and needless to say didn't taste like Original House pancakes. I threw out the remaining batter and cakes. BIG disappointment.

Comment submitted: 1/31/2010 (#9580)



From PHX Pancake
| | |
| --- | --- |
| Rating (out of 5): | |

I was so excited to find a recipe for The Original House of Pancakes buttermilk pancakes. I tried it... and was very disappointed. I cooked half the batter then dumped the rest. They didn''t taste anything like they claimed. It tasted like beer batter pancakes.

Comment submitted: 1/6/2010 (#9402)




---
Connect With Mr Breakfast: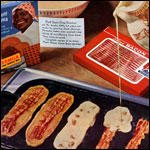 Bacon Strip Pancakes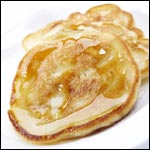 Reliable Homemade Pancakes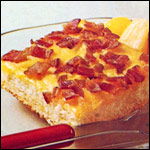 Maple-Bacon Oven Pancake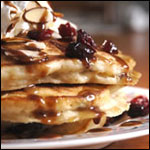 Cranberry Almond Caramel Pancakes

Check out our favorite vintage recipes from old magazine ads and recipe cards.
Click here
.