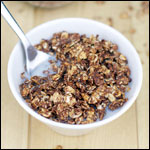 Cocoa Granola (No Oil)
4 and 1/2 cups old fashioned or quick-cooking oats
1/2 cup honey
3 Tablespoons cocoa powder
1 and 1/2 teaspoons vanilla
1/2 teaspoon salt
This recipe was originally submitted in 2008. After getting many rave reviews from site visitors, I thought it was about time I tried it for myself (February 2013). I'm sad to report that I was underwhelmed by this recipe. For a granola with no oil or butter, it's alright as a cereal with milk. I wouldn't recommend it as a dry snack. Despite some of the user comments, I personally thought it needed every bit of the honey listed and then some. If you don't mind just a little butter, I would strongly suggest that you use this recipe instead:
Chocolate Granola
.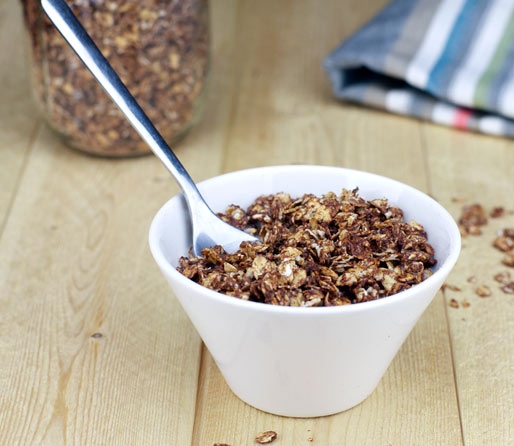 How To Make Cocoa Granola Without Oil Or Butter
Preheat oven to 300 degrees.
In a large mixing bowl, combine all of the ingredients until all of the oats are moist and the mixture looks even.
Spread the mixture evenly over a large cookie sheet or two smaller cookie sheets.
Bake in the center of the oven for 30 minutes, stirring the granola every 5 to 10 minutes. Remove from oven.
Optional: At this point when the granola is still warm, you can mix in extra ingredients like a 1/4 cup of raisins or other dried fruit.
Let the granola cool completely before serving or storing.
Optional: When the granola is completely cool, you could stir in 1/4 cup of mini chocolate chips for Double Cocoa Granola. Just make sure the cereal is cool or you end up with a melty mess. Trust me.
Store well for 3 weeks in an air-tight container.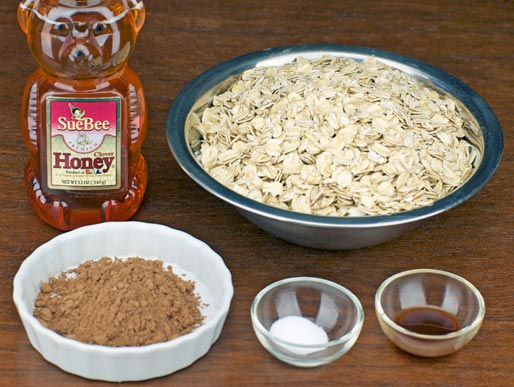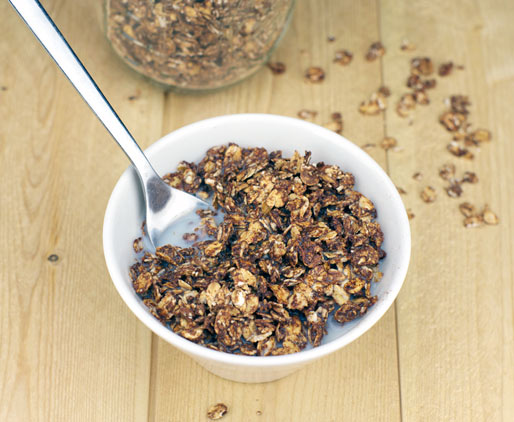 This is a nice granola to have as a cereal with milk. Try adding mini chocolate chips at at the end to make Double Cocoa Granola.
Mr Breakfast would like to thank
TinaNY
for this recipe.
Comments About This Recipe
What do you think of Cocoa Granola (No Oil)?
Overall Average Rating =

(out of 5)

From Tory
This cereal has everything I look for in a recipe: it's healthy, cheap, simple, and my family loved it. We'll probably be making it for years.

Comment submitted: 8/8/2013 (#16260)



From Brooke
First time giving homemade granola a try, but boy, this recipe did not disappoint. The granola turned out to be everything I hoped it would... sweet and oh-so-chocolately! 5 stars! (or eggs... is that what those things are?) I can't wait until breakfast so I can indulge in another bowl of this healthy, yummy granola!

Comment submitted: 6/29/2013 (#16088)





From nikkixashley (Team Breakfast Member)

Calorie count? And serving size?

Comment submitted: 6/14/2013 (#16038)



From Pets R. Great
I like it! Simple and full of chocolate flavor. Will cut the honey to to 1/3 cup next time because it was just a tad too sweet.

Comment submitted: 6/26/2012 (#14085)





From xx_bertzzii (Team Breakfast Member)
I think the half a cup of honey was enough sweetness for me and this is a really good recipe! I love the fact it doesn't require any oil, really healthy and yummy:)

Comment submitted: 5/18/2012 (#13918)



From jess33ica
I can't believe how chocolatey it's gets with just a couple tablespoons of cocoa powered. That's pretty cool.

Comment submitted: 9/12/2011 (#12902)



From C.N.
One of my favorites! Thank you for this. Easily as good as the packaged granola, simple to make, and good right out of the oven or later in the week with milk.

Comment submitted: 12/10/2010 (#11692)



From Steamer
This is an awesome cereal for kids!

Comment submitted: 12/1/2010 (#11649)



From WendyS.
It was pretty good. I used user comments and added maple syrup and walnuts. It think it might have been boring if I didn't do that.

Comment submitted: 10/15/2010 (#11394)



From Michael A.
The cocoa granola was great. I like to eat it for breakfast and snacks. - Michael A. 9/15/2010

Comment submitted: 9/15/2010 (#11223)





From AngelaRenee (Team Breakfast Member)
My family loved this recipe. I did 1/4 c. honey & 1/4 c. maple syrup and added walnuts. It was great! Thanks!

Comment submitted: 5/17/2010 (#10517)



From Montanasummer
I really enjoyed this recipe with milk in it. I use vanilla flavored milk so that in of itself adds more sweetness. However, I did add a little extra honey as well per Aurora's recommendation. I give this 5 stars. Only thing I would like more is to have bigger chunks for snacking without going the milk and cereal route. Guess if you added fruit you may get bigger chunks.

Comment submitted: 4/25/2010 (#10382)



From Baking B. J.
Can't wait until it comes out of the oven. It tasted great before it was cooked, I hope this will be an acceptable change for my daughters chocolate-y cereal. I added shredded coconut to it.

Comment submitted: 2/27/2010 (#9934)



From a. shawn
I added an additional 1/8 cup honey per Aurora's note and it turned out great. Thanks Aurora. Thanks Mr. B!

Comment submitted: 10/15/2009 (#8848)



From Aurora22
Think it could use either a bit more honey or sugar. Wasn't sweet enough for me. Great recipe though.

Comment submitted: 5/29/2009 (#8187)




---
Connect With Mr Breakfast: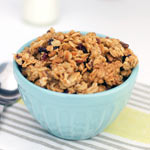 Orange Marmalade Granola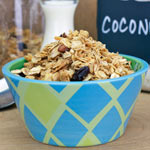 Coconut Granola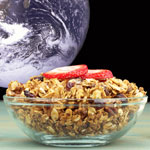 Earth Day Granola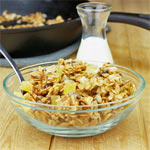 Skillet Granola

Check out our favorite vintage recipes from old magazine ads and recipe cards.
Click here
.