Cocoa Granola (No Oil)

(12 servings)

4 and 1/2 cups old fashioned or quick-cooking oats
1/2 cup honey
3 Tablespoons cocoa powder
1 and 1/2 teaspoons vanilla
1/2 teaspoon salt
This recipe was originally submitted in 2008. After getting many rave reviews from site visitors, I thought it was about time I tried it for myself (February 2013). I'm sad to report that I was underwhelmed by this recipe. For a granola with no oil or butter, it's alright as a cereal with milk. I wouldn't recommend it as a dry snack. Despite some of the user comments, I personally thought it needed every bit of the honey listed and then some. If you don't mind just a little butter, I would strongly suggest that you use this recipe instead: Chocolate Granola.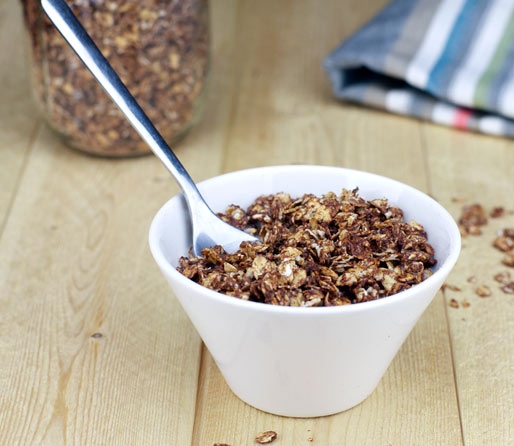 How To Make Cocoa Granola Without Oil Or Butter

Preheat oven to 300 degrees.

In a large mixing bowl, combine all of the ingredients until all of the oats are moist and the mixture looks even.

Spread the mixture evenly over a large cookie sheet or two smaller cookie sheets.

Bake in the center of the oven for 30 minutes, stirring the granola every 5 to 10 minutes. Remove from oven.

Optional: At this point when the granola is still warm, you can mix in extra ingredients like a 1/4 cup of raisins or other dried fruit.

Let the granola cool completely before serving or storing.

Optional: When the granola is completely cool, you could stir in 1/4 cup of mini chocolate chips for Double Cocoa Granola. Just make sure the cereal is cool or you end up with a melty mess. Trust me.

Store well for 3 weeks in an air-tight container.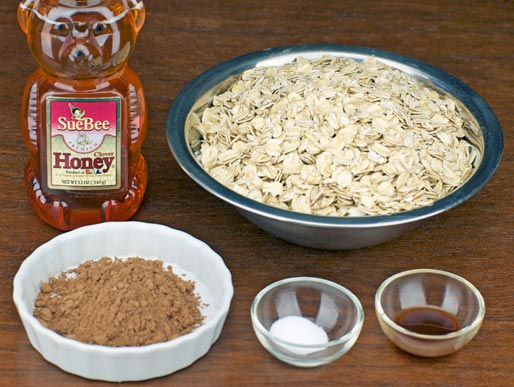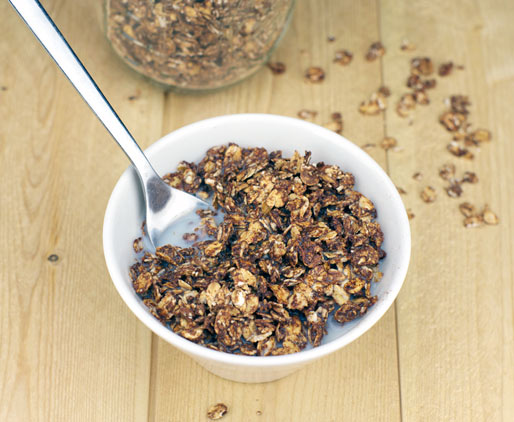 This is a nice granola to have as a cereal with milk. Try adding mini chocolate chips at at the end to make Double Cocoa Granola.




Mr Breakfast would like to thank TinaNY for this recipe.

Recipe number 2350. Submitted 7/8/2008.