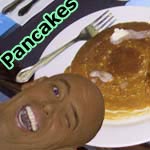 IHOP Country Griddle Cakes (Secret Recipe)
1 1/4 cups all-purpose flour
1 1/2 cups buttermilk
1/3 cup instant Cream of Wheat
1 large egg
1/3 cup sugar
1 teaspoon baking powder
1 teaspoon baking soda
1/4 cup vegetable oil
1/2 teaspoon salt
cooking spray - as needed
Preheat a skillet over medium heat. Apply nonstick spray. Combine all ingredients in a large bowl with a mixer set on high speed. Mix until smooth. Pour the batter by 1/3 cup portions into the hot pan and cook pancakes for 1-2 minutes per side or until golden brown. Repeat with remaining batter.

It's been speculated that the secret ingredient in IHOP Griddle Cakes is Cream of Wheat. Here's how to make them at home.
Mr Breakfast would like to thank
mrbreakfast_lvr
for this recipe.
Comments About This Recipe
What do you think of IHOP Country Griddle Cakes (Secret Recipe)?
Overall Average Rating =

(out of 5)

From cajunangel
OMG! These were - by far - the best griddle cakes ever! They cooked up nice and fluffy. Only bad thing is I made a double batch and my kids devoured them. Next time, I will make a triple batch. So, so yummy. This will be going into my favorite recipes.

Comment submitted: 1/8/2017 (#20173)



From scatman d.
My wife made them. Not sure that they tasted just iHOP, but we liked them A LOT.

Comment submitted: 11/24/2015 (#19666)



From justginster
I tried this recipe over a year ago and wasn't impressed by it. But just recently, I was craving these griddle cakes and when trying to find a recipe online, came across this one again. Other recipes I found online involved cooked Cream of Wheat and I didn't want to bother with the extra step, so I decided to give this one another shot. By now, these cakes have been off IHOP's menu for years, so maybe my memory of them just isn't what it used to be, but I thought this recipe CAME OUT GREAT this time! I also wonder if when I'd tried it before, if I had accidentally overlooked the need for INSTANT Cream of Wheat and had possibly tried with the original stuff since I don't usually keep the instant stuff handy. When trying it this time around, I used a Cinnabon flavored instant Cream of Wheat since it's all I had, so maybe that's what made it so good. Since I can't remember how the cakes from IHOP taste anymore, I can't attest to this recipe's similarity, but I can tell you it's delicious enough in itself that I made these twice last weekend and will be making them again this weekend! Glad this recipe's still here and that I gave it another try, it's me and my boyfriend's new favorite.

Comment submitted: 1/24/2015 (#19230)



From Jayson

I was a cook at IHOP for a few years and I can assure everyone that Cream of Wheat was definitely in the mix as late as 1996. Don't know about later.

Comment submitted: 6/9/2013 (#16016)



From TheBigJB
This recipe is BANG ON! I have missed Country Griddle Cakes for a long time and since finding this recipe a month ago I have made them literally every Saturday. THANK YOU!!

Comment submitted: 3/1/2013 (#15283)



From Yuggo
I worked at IHOP and it was on the menus that cream of wheat is in the pancake and it's on the label when we mixed it up and 'just added water'.

Comment submitted: 10/15/2012 (#14648)



From griddlecakepro
Have made this recipe more than once and they are delicious. Used dry cream of wheat and milk with lemon juice as buttermilk. Not a lot of recipes where I don't change something but this one is perfect! Thanks!

Comment submitted: 9/4/2012 (#14386)



From Scrumptious
I use to work for IHOP so I knew how scrumptious they were. I just needed the recipe. Thanks.

Comment submitted: 5/17/2012 (#13914)



From B. Lover
Very good recipe. I sifted the flour first. Did not have buttermilk, so milk with lemon juice or vinegar did just as well. This recipe yields a lot of pancakes, so be hungry!

Comment submitted: 4/6/2012 (#13757)



From kelmsel
I am an avid lover of the Country Griddle pancakes. I have made this recipe with both the dry Cream of wheat which failed, and then tried it with "cooked" cream of wheat... still did NOT taste anything like IHOP. Sorry to disappoint everyone.

Comment submitted: 1/1/2011 (#11822)



From Debbie

Well, I used to work for the company that made the mix for IHOP and I call tell you that there is Cream of Wheat in the mix.

Comment submitted: 10/4/2010 (#11327)



From Mom
I never ate the now discontinued IHOP country griddle pancakes, but my family loves these... even without syrup.

Comment submitted: 8/18/2010 (#11086)



From breakfast fan

Not sure why IHOP Wife is saying they don't use Cream of Wheat in the mix...

From a 1993 article: "The product, a lighter, fluffier entry in IHOP's current pancake offerings, includes Nabisco's signature Cream of Wheat product as a primary base ingredient. Cream of Wheat accounts for about 40 percent of the Country Griddle ingredient mix, according to IHOP executives."

http://findarticles.com/p/articles/mi_m3190/is_n36_v27/ai_14399493/

Comment submitted: 4/12/2009 (#7951)



From IHOP Wife

Yeah my husband is the manger at an IHOP and they use a mix from a box and just add water :/ but cream of wheat is definitely not in the mix.

Comment submitted: 4/8/2009 (#7922)



From meza
| | |
| --- | --- |
| Rating (out of 5): | |

I made these pancakes followed the recipe exactly and they do not taste anything like Ihop country griddle pancakes. was very disappointing. EM.

Comment submitted: 1/11/2009 (#7334)



From Joann
OMG, I just want to say THANK YOU!! I loved to eat these pancakes at IHOP, I would get them every time I went there. Unfortunetly they stopped making them (no longer on the menu) and I was wondering what they used in the mix to make them "country griddle." Thank you again for the SECRET recipe. They are delicious!! I make breakfast only on the weekends for my daughter and myself and I promise you I will make these every Saturday and Sunday from now on (prob just switch up the topping).

Joann

Comment submitted: 11/19/2008 (#6890)




---
Connect With Mr Breakfast: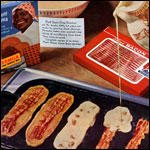 Bacon Strip Pancakes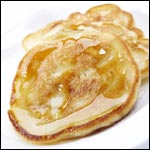 Reliable Homemade Pancakes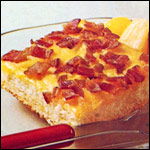 Maple-Bacon Oven Pancake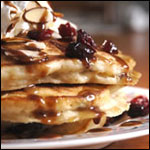 Cranberry Almond Caramel Pancakes