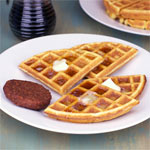 Multi-Grain Waffles
2 cups buttermilk (regular milk will work in a pinch)
1/2 cup quick or old-fashioned rolled oats
2 large eggs - lightly beaten
1/4 cup packed brown sugar
2 Tablespoon canola oil
2 teaspoons vanilla extract
2/3 cup whole-wheat flour
2/3 cup all-purpose flour
1/4 cup wheat germ - pan-toasted until it's smells nutty
1 and 1/2 teaspoons baking powder
1/2 teaspoon baking soda
1 teaspoon ground cinnamon
1/4 teaspoon salt
This recipe was submitted by "Bennett" back in 2007. It's now March 2013 and I thought I'd make it and take a few pics since it's been so well-reviewed in the last few years. The only changes that I made were to pulse the oats in the food processor for a couple seconds. I also used 1 cup all-purpose flour and 1/3 cup whole wheat flour. I wanted more of a "regular" waffle appearance and texture. This recipe has 10 perfect ratings, so you might want to stick to the original instructions. I was very happy with the results. The waffles came out fluffy and crisp. They're a little heavier than a standard waffle, but they tasted great. The toasted wheat germ added a particularly nice flavor. Enjoy!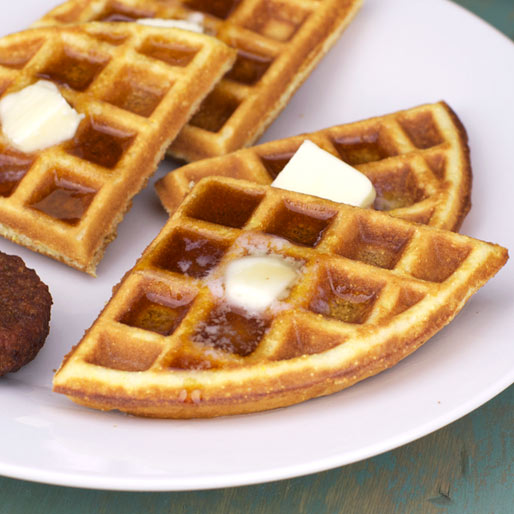 How To Make Multi-Grain Waffles
In a large bowl, mix together the milk and the oats. Let this set for 15 minutes to soften the oats.
Add the eggs, brown sugar, oil and vanilla and mix well.
In a separate bowl, combine the flours, wheat germ, baking powder and baking soda, cinnamon and salt.
Add the wet ingredients to the dry ingredients and stir until just combined. The batter should be a little bit lumpy.
Cook according to the directions on your waffle iron.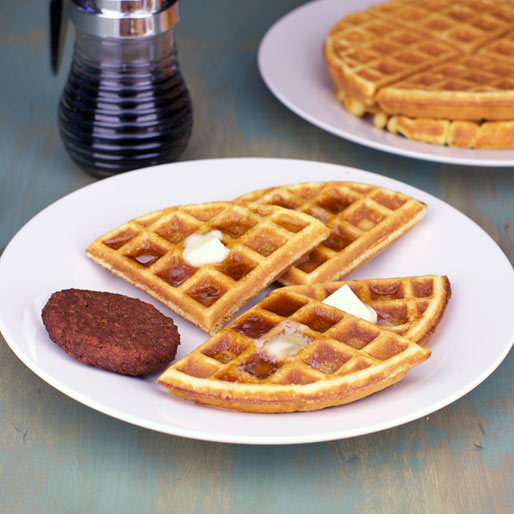 These waffles have a great earthy texture and terrific flavor. Great with just a little pure maple syrup.
Mr Breakfast would like to thank
Bennett
for this recipe.
Comments About This Recipe
What do you think of Multi-Grain Waffles?
Overall Average Rating =
(out of 5)

From garlic7girl (Team Breakfast Member)
OMG! These were so good! I usually don't follow a recipe to the T but this one I did... fabulous... great flavor and I don't feel weighed down. I recommend for everyone to try it.

Comment submitted: 5/28/2012 (#13966)



From Kat K.
We've made these twice now and they turned out terrific. Kids liked them and don't realize their healthier than the ones we used to eat. Thumbs up from me.

Comment submitted: 1/24/2012 (#13465)



From erin
This is the "healthy" pancake and waffle recipe I use. I never have buttermilk sitting in the fridge, so I use 2 Tbsps lemon juice and enough milk to make two cups instead. I also substitute flax seed meal instead of wheat germ, because I never have that, and I add chopped pecans because I think they compliment the 'nutty' flavor of the waffles.

Comment submitted: 4/5/2011 (#12395)



From ECC
Delicious! I did not have buttermilk, so I used 1 cup of milk and 1 cup of cream. I did not use the wheat germ either. Also, only used whole-wheat flour. They came out perfect and my son and husband just adored them.

Comment submitted: 3/3/2011 (#12231)



From gina
I just made these waffles and I was extremely happy with the results! Delicious, fluffy, crispy, and the aroma woke up the family. They thought I was baking cookies!

Comment submitted: 6/12/2010 (#10672)



From yummy
I make these for my family all the time! Yummy!

Comment submitted: 4/11/2010 (#10287)





From Martulka (Team Breakfast Member)
Added banana and scoop of protein powder chocolate, used 1 and half cup of yogurt and 1/2 cup of milk, doubled the oil, because my waffles stuck to waffle maker badly even with the 15 min, but it could be caused by the use of yogurt, had no buttermilk. Otherwise it tasted really good and was very hearty. Served it with berry sauce, whipped cream and syrup.

Comment submitted: 3/15/2010 (#10064)



From breakfast eater

Truly delicious. I plan of making a whole stack of them and freezing them to have on hand at Christmas. Thank you.

Comment submitted: 12/6/2009 (#9182)



From JJ
Awesome recipe. The recipe makes a lot of waffels. The batter hold well in the fridge and if you under cook the waffels a bit, they are great to reheat in the toaster.

Comment submitted: 9/3/2009 (#8633)



From boo berry
A delicious recipe that is truly healthy - we added blueberries and pecans.

Comment submitted: 9/16/2008 (#6466)



From Fitness Mommy 4
Very Very Good! You can use soy milk too instead of the buttermilk and flax seed meal instead of the wheat germ.

Comment submitted: 7/14/2007 (#3205)




---
Connect With Mr Breakfast: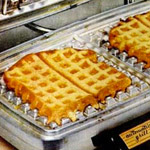 Bread-N-Butter Waffles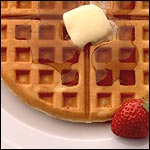 Reliable Basic Waffles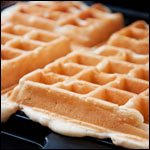 Cinnamon Waffles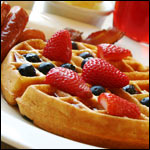 Whole Wheat Waffles

Just because it looks fancy and tastes great doesn't mean it's hard.
Click here
.