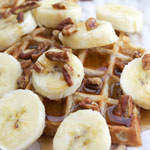 Crispy Banana Waffles
1 cup all-purpose flour
2 Tablespoons sugar
2 teaspoons baking powder
1/2 teaspoon cinnamon
1/2 teaspoon salt
2 eggs - separated
1 cup milk
1 cup banana (2 medium bananas) - mashed
6 Tablespoons butter - softened
This recipe has received overwhelmingly positivity reviews since it was submitted in 2007. I agree with the consensus that the waffles are delicious and worth making again, but they aren't as crispy as the name would indicate. I found that if I place cooked waffles in a 400 degree oven for 5 to 8 minutes, they will crisp up a little more. The waffles have a big banana flavor. The amount of banana in the batter is the main reason you don't get full crispiness. If you want lots of banana flavor in an easy recipe, give this one a try. (This recipe was submitted in 2007. It was tested and photographed in May 2014.)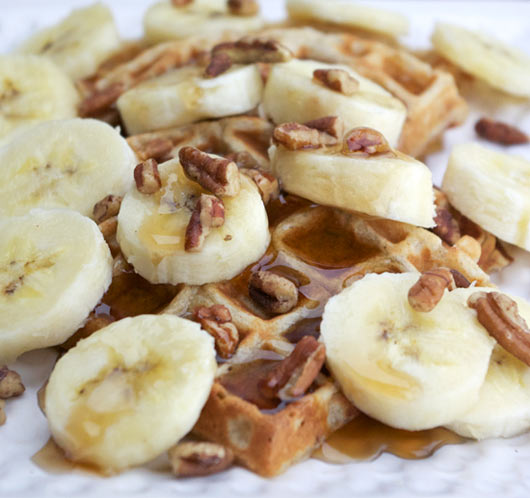 How To Make Crispy Banana Waffles
In a large bowl, mix together the flour, sugar, baking powder, cinnamon and salt.
In a separate bowl, beat the egg yolks with the milk.
Add the milk mixture to the dry ingredients and stir until just blended. Fold in the mashed banana and melted butter. Mix well.
In a separate bowl, beat the egg whites until stiff peaks form.
Fold egg whites into the batter.
Bake according to waffle maker instructions.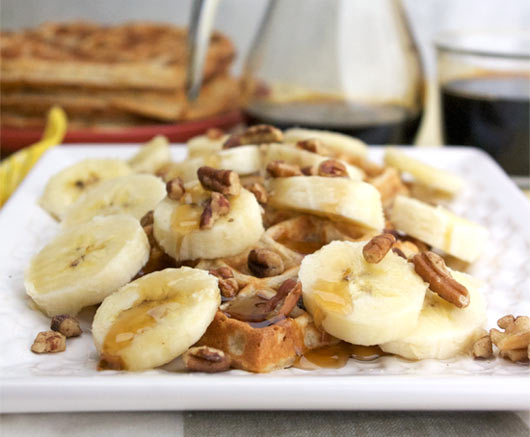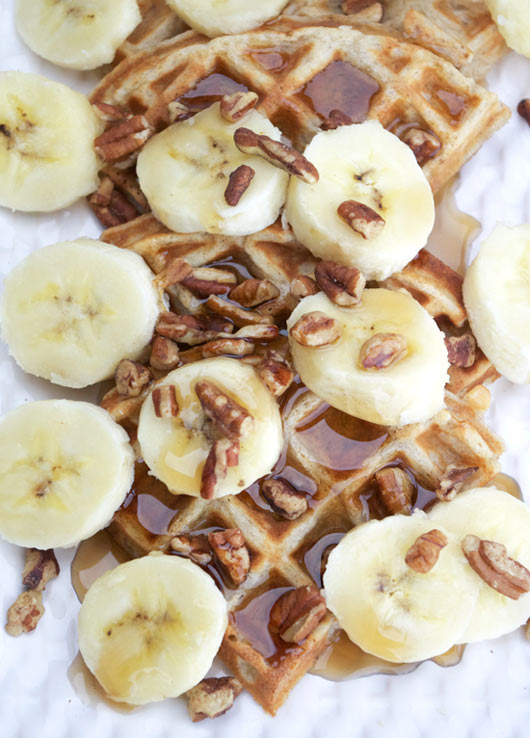 Great with butter and maple syrup or topped with banana slices and whipped cream.
Mr Breakfast would like to thank
RichH
for this recipe.
Comments About This Recipe
What do you think of Crispy Banana Waffles?
Overall Average Rating =

(out of 5)

From Liam
I don't have a waffle iron, so I cooked them how you'd cook a pancake. Very tasty. Enjoyed mine with apple as well as banana.

Comment submitted: 12/14/2011 (#13310)



From reese
Very light and fluffy. Good flavor.

Comment submitted: 2/9/2011 (#12090)



From clarity
Pretty good. I felt like they took a while to cook. They're great with chocolate chips in as well!

Comment submitted: 1/18/2011 (#11935)



From PeteUK
We agree entirely with the last comment (Jackie31220). We will definitely be making these again. Many thanks.

Comment submitted: 12/31/2010 (#11812)



From Jackie31220

Not as crispy, and darker than normal, but we did like the taste. Smells very good

Comment submitted: 10/16/2010 (#11402)



From Granny
I tried this recipe for supper tonight. They were good, but not crispy. Will try cranola oil next time.

Comment submitted: 10/15/2010 (#11397)



From Cat
They taste great, but they are definitely NOT very crispy.

Comment submitted: 10/12/2010 (#11373)



From clips
It wasn't necessarily crispy but it was super tasty. We'd use this one again.

Comment submitted: 6/28/2010 (#10787)



From ACE mom
Used 1 banana, spelt flour, lactose free milk and canola oil and they were perfect. Light and fluffy. We'll see if they freeze well.

Comment submitted: 4/3/2010 (#10228)



From susan
Very good! But a tad sweet for my taste, as they involved two bananas to equal a cup. Next time I might leave out the 2 tbls of sugar. Believe me, there will be a next time!

Comment submitted: 3/14/2010 (#10057)



From Nate
Excellent recipe! We did the whipped cream version. I'd suggest either whip cream or syrup as both together were way too sweet.

Comment submitted: 1/16/2010 (#9471)



From jayhawkfan
Very tasty and slightly crisp.

Comment submitted: 12/29/2009 (#9329)





From mmmbfast (Team Breakfast Member)
I got crispy waffles! I modified the recipe, though. Here's what I did: Doubled the recipe (so I could freeze some). Used 1 1/3 C Whole Wheat flour, 2/3 soy flour, ~ 1/4 C Garbanzo bean flour, 2 tbsp flax seed meal. Added 1/2 cup cauliflower puree to the liquids, since I had extra dry ingredients. Also, I used 1/2 coconut oil & 1/2 butter, and 1/2 sugar & 1/2 agave nectar. To boot, I added chocolate chips to the batter before folding in the egg whites. Since I'm feeding them to my kids, I want them to be a bit more healthful. The chocolate chips inside mean that I don't need to add any toppings! Anyhow, it's the butter that makes crispy waffles, so maybe you guys could add a bit more? Also, toasting frozen waffles crisps them up, too.


Comment submitted: 1/17/2009 (#7383)



From Crispier
This recipe was not crispy one bit! However, it taste okay... but taste better if it were crispy.

Comment submitted: 9/27/2008 (#6511)





From idara (Team Breakfast Member)
Not sure if I did something wrong (I might have added to much banana), but these waffles definitely weren't crispy. They were really yummy anyway.

Comment submitted: 2/10/2008 (#4597)



From Ed
Great recipe, the first waffle recipe I make at home and it worked great with my regular B&D toaster with the waffle iron. Toppings suggested in the recipe also are the best, tried fruits and chocolate paste but weren't as good as what is suggested.

Comment submitted: 1/5/2008 (#4316)



From Vicky
YUMMY. Adding walnuts to the batter makes them even more delicious!

Comment submitted: 10/13/2007 (#3758)





From smish07 (Team Breakfast Member)
Some of the best waffles I've ever made. Almost belgian waffle consistency, but able to be made in a regular waffle iron. Delicious!

Comment submitted: 9/28/2007 (#3655)




---
Connect With Mr Breakfast: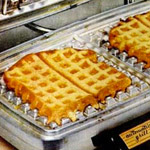 Bread-N-Butter Waffles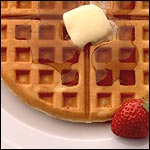 Reliable Basic Waffles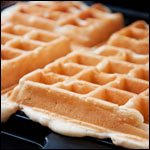 Cinnamon Waffles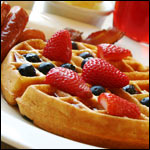 Whole Wheat Waffles

May the force of breakfast be with you.
Click here
.