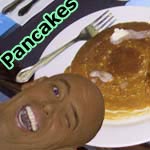 Southern Hoe Cakes
2 cups FINE stone-ground cornmeal
2 cups milk
2 large eggs
2 Tablespoons sugar
2 teaspoons baking powder
1 teaspoon salt
cooking spray or butter for the skillet (or bacon fat like old times)
In a large bowl, mix together cornmeal, baking powder, sugar and salt.
In a separate bowl, beat the eggs. Add milk and continue to beat until well blended.
Add the wet mixture into the dry ingredients and stir until just mixed and moistened.
Let the batter set for 10 or 15 minutes. This softens the grittiness of the cornmeal. Stir the batter once more.
In a greased skillet over medium-high heat, dollop the batter in 1/4 cup portions to make eack hoe cake.
When the tops are full of air holes and the edges appear dry, flip the hoe cakes and cook the other side to a beautiful golden brown - about 3 or 4 minutes per side.
Serve warm with butter and jam.
* Some modern renditions of this recipe replace 1 cup of cornmeal with 1 cup of all-purpose flour. The result is a smoother - if less authentic - hoe cake, more similar to a standard pancake.
** If you can get self-rising cornmeal, go for it - just omit the baking powder.

An old favorite from the deep South. Back in the day, field workers would actually cook these on a hoe over an open fire. Today, it's easier to use a skillet over a stove. Dependiing on your lifestyle, it's usually untrue that this recipe has anything to do with loose women, aka ho's (no "e").
Mr Breakfast would like to thank
Mr Breakfast
for this recipe.
Comments About This Recipe
What do you think of Southern Hoe Cakes?
Overall Average Rating =
(out of 5)

From Tobybear (Team Breakfast Member)

Try this:

1 Cup cornmeal
salt to taste
3/4 Cup boiling water

Fry in med. hot Crisco till bubbles appear on the top side, then turn and brown.

It should be a little thinner than most pancakes. If it is to thin just add a little more cornmeal

My Mom called this "Hot water corn bread". If you want it sweet you could add some sugar, we never put sugar in our Hoe cakes or cornbread. My people are French Canadian from Nova Scotia and South Louisiana.

Comment submitted: 1/12/2009 (#7346)





From Tobybear (Team Breakfast Member)

No sugar in our Southern cornbread or hoecakes. It is not a sweet cake.

Comment submitted: 1/12/2009 (#7345)





From meisterberger (Team Breakfast Member)
I had the best results with frying over a low flame, about 3 or 4 minutes per side. They don't bubble as much, so you have to monitor them so they don't over-brown (and set off the fire alarm). You have to constantly mix these while pouring the batter on to the pan, as it didn't stay mixed on its own, and the last few cakes were more like lumps of wet cornmeal than batter - maybe next time, I'll let the batter set for a few hours instead of 15 min (I don't know if my cornmeal was fine enough). I cooked this on a non-stick surface with cooking spray, but I'll bet they are much better fried in about 1/2 inch of hot bacon grease - the cakes are not very moist, so deep-frying them like fritters is probably best. They come out kind of tough and almost crispy, but are OK served with plenty of butter.

The picky 6-yr-old liked them OK if they weren't too brown, and the 2-yr-old liked them with syrup. This is basically cornbread, so my first impulse was to have it with ham hock and beans.

Comment submitted: 1/21/2008 (#4451)




---
Connect With Mr Breakfast: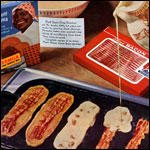 Bacon Strip Pancakes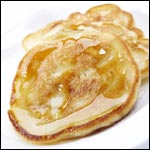 Reliable Homemade Pancakes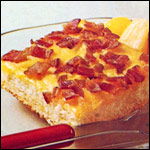 Maple-Bacon Oven Pancake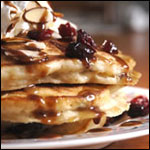 Cranberry Almond Caramel Pancakes

Our list of the best cereal premiums of all time.
Click here
.