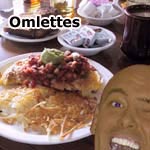 Cheesy Chicken Omelet
3 large eggs
2 slices bacon
2 Tablespoons leftover chicken - chopped
1 teaspoon butter
1 and 1/2 Tablespoons tomato - chopped
1 Tablespoon bell pepper - chopped
1 clove of garlic - minced
1 green onion - chopped
1 Tablespoon ranch dressing
1/2 cup shredded Cheddar cheese
1/4 cup shredded Mozzarella cheese
salt and pepper - to taste
In a skillet over medium high heat, cook bacon until crisp. Crumble, set aside.
Melt butter in an omelette pan over medium heat and saute vegetables, about 2 minutes. Beat eggs; season with salt and pepper and pour into the pan, covering the vegetables. Place a lid over the pan.
In a small bowl, combine bacon, chicken, and ranch dressing. Stir well to coat.
Once the omelette has set and puffed slightly, carefully flip.
Spread the chicken and bacon mixture over the omelette, sprinkle cheese on top, followed by the chopped tomato. Turn off heat and cover with a lid, allowing the cheese to melt.
Lift the lid, fold omelette in half, cut into two wedges and serve.

Which came first, the chicken or the egg? Who cares! They taste great together in this big, flavor-packed omelet.
Mr Breakfast would like to thank
ks3398
for this recipe.
Comments About This Recipe
What do you think of Cheesy Chicken Omelet?
Overall Average Rating =

(out of 5)




From The Mrs
It was delicious. My husband loved it.

Comment submitted: 10/9/2016 (#20073)



From Jumpmanlives
Great recipe. Had it for lunch. Don't have ranch (not popular in Australia), so used Dijonaise. Used a good handful of chicken. Used tasty & Parmesan cheese. Lid was great idea Thanks Mr Brekky

Comment submitted: 9/13/2015 (#19547)



From KohlaEzekiel
This recipe seem simple and delicious. But I prefer not to add bacon. Thanks Mr Breakfast.

Comment submitted: 11/21/2013 (#17169)



From Wendy B.T.
This is plain and simple to make. Doesn't take too long. We liked it.

Comment submitted: 11/19/2012 (#14878)



From San Juan J.J.
It was great. Even my girlfriend who says chicken and eggs shouldn't be mixed had to admit this was a good recipe.

Comment submitted: 7/26/2012 (#14189)



From Taylor_Made1990

Sounds great - must make it soon!!!

Comment submitted: 5/1/2011 (#12635)



From skaxx.x
hahaaaaaa sounds yum(:

Comment submitted: 3/19/2011 (#12326)



From Hey Lee
Yum. Cheese + chicken + omelet = big smile from me. Thanks.

Comment submitted: 3/7/2011 (#12259)



From bonafide
Very good use of the rotisserie chicken we had leftover from last night's dinner. We skipped the ranch dressing though as I don't like ranch. Overall, we liked these omelets.

Comment submitted: 5/28/2010 (#10574)



From Neal
I agree with frannie. Double the chicken. The leftover chicken I used was fire-grilled so it was extra good.

Comment submitted: 5/10/2010 (#10478)



From frannie
I used closer to 5 tablespoons of shredded chicken and it worked great. 2 seemed like hardly any.

Comment submitted: 3/18/2010 (#10093)



From Meineke
I think it was perfect.

Comment submitted: 1/11/2010 (#9441)



From Queen City
Just plain good. Thanks!

Comment submitted: 1/10/2010 (#9430)



From Lou

Chicken is pretty universal, but it doesn't belong on pizza, and it has no place in an omelet.

Comment submitted: 1/3/2010 (#9367)



From JLidi
Just made it as well and loved it. Although I omitted a couple of ingredients - the bacon & cheese and substituted olive oil in place of the butter - mainly due to part of MY new years resolution:) And it was a great healthy meal that I actually enjoyed.

Comment submitted: 1/2/2010 (#9365)



From TravelBug
Just made it. This was an amazing dish. Lots of flavor.

Comment submitted: 10/5/2009 (#8794)



From Sylar

I loved it too! Even though I didn't make it yet! It was completely awesome! I ate every last morsel! I haven't make it yet but just looking at the recipe makes my mouth water. I love you my breakfast! You fitty!

Comment submitted: 9/11/2009 (#8672)



From Millie2006
Yea... cool!

Comment submitted: 2/24/2009 (#7647)



From busybee
Just made it for myself and my 3yo, also added a little dijonaise into the mix, was very yummy. Thanks.

Comment submitted: 8/30/2008 (#6354)





From cassrules505 (Team Breakfast Member)
I loved it! It's the most delicious thing ever!!!

Comment submitted: 2/7/2008 (#4579)



View all 22 comments for this recipe.



---
Connect With Mr Breakfast: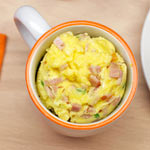 Microwave Farmers Omelet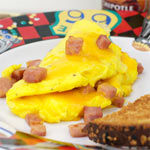 Ham & Cheese Omelette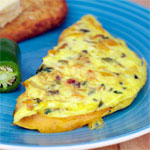 Jalapeno Omelet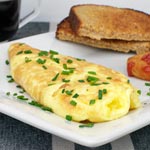 40 Second Omelet

Just because it looks fancy and tastes great doesn't mean it's hard.
Click here
.