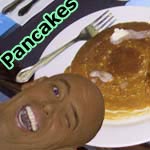 Sweet Potato Pancakes
1 and 1/2 cups all-purpose flour
1 and 1/2 cups milk
1 and 1/4 cups sweet potatoes - peeled/cooked/mashed
1/4 cup butter- melted
2 large eggs - beaten
1 additional Tablespoon butter for frying
3 teaspoons baking powder
1 teaspoon salt
1/2 teaspoon ground nutmeg
Makes about 20 pancakes.
Allow potatoes to cool to room temperature before making batter.
In a large miking bowl, sift together the flour, baking powder, salt and nutmeg.
In a seperate bowl, combine milk, potatoes, eggs and butter.
Combine the two mixtures until dry ingredients are just moistened.
Allow batter to set, while you heat a griddle or skillet to medium-high heat and lightly grease with butter.
Drop batter by heaping Tablespoons onto griddle or skillet and fry, turning once, until browned on both sides.

Great with maple syrup and butter. Or try it with "sweetened sour cream" - mix 1/2 cup of sour cream with a Tablespoon of brown sugar.
Mr Breakfast would like to thank
KennyRogers
for this recipe.
Comments About This Recipe
What do you think of Sweet Potato Pancakes?
Overall Average Rating =
(out of 5)

From J. Lundgren (Team Breakfast Member)
These were fantastic! Well worth the two day effort to make the mashed sweet potatoes. We had them for Swedish Thanskgiving breakfast with turkey bacon, maple syrup and lingonberry jam (like cranberry). Excellent! Will definitely do again.

Comment submitted: 10/13/2012 (#14608)



From freedom
Best pancakes I've ever made and close to the best ones I've ever eaten! Thanks. The texture was moist. The flavor was great. I added just a little vanilla.

Comment submitted: 10/30/2011 (#13097)





From Fitange (Team Breakfast Member)
These are absolutely amazing. Instead of butter I used apple sauce to cut calories and they tasted great. Also add some pecans for the crunch and good fats. Yum.

Comment submitted: 2/17/2011 (#12143)



From Livv
I absolutely loved this!! deff recommend

Comment submitted: 10/17/2010 (#11405)





From Shannon Henery (Team Breakfast Member)
This is a great sweet potato pancake recipe. They cook up light, fluffy, moist, and flavorful.

Comment submitted: 3/13/2010 (#10049)



From makerayc

Not sure about these pancakes. I couldn't get them to cook to anything but a gooey mess. No fluff, just cakey gooeyness. Maybe that is how they are supposed to be, let me know what the consistency is supposed to be for future reference. The flavor was great, just a bad texture.

Comment submitted: 11/28/2009 (#9117)



From lolwaffles
I made this with leftover candied sweet potatoes. Tasted yummy! I like them with applesauce instead of syrup. Definitely better than plain old dry pancakes.

Comment submitted: 12/10/2008 (#7070)



From gustav
Awesome. I go to mr breakfast every time I want to make these pancakes.

Comment submitted: 9/1/2008 (#6363)



From Mamma B.
I pushed my friend until she gave me this recipe. It has been my biggest pregnancy craving. The taste far outweighs the spelling mistakes.

Comment submitted: 5/4/2008 (#5187)



From enterprizer
lyynial, you get 10 pt off for your two mistakes as well as 10 min. in the corner for tattle telling.

Comment submitted: 3/9/2008 (#4792)



From Oregon Rain
Absolutely fantastic!!! Easy and yummy, served with maple syrup and applesauce too.

Comment submitted: 1/4/2008 (#4313)





From lynnial (Team Breakfast Member)
Is miss pencilpoin so anal an errogant that she has to correct the spelling?????

Comment submitted: 9/1/2007 (#3485)





From techgurl2k1 (Team Breakfast Member)
OMG... these were totally awesome! I had a ton of sweets from the farm and was looking for recipes. This is one I will save and make again for sure. Thanks!!

Comment submitted: 8/5/2007 (#3323)



From Miss PencilPoin

The recipe looks good, but "separate" is spelled wrong. FYI.

Comment submitted: 6/12/2007 (#3006)



From yumpancakesyum

I didn't have it online recipe but the store bought ones,they were delicious!

Comment submitted: 5/28/2007 (#2534)




---
Connect With Mr Breakfast: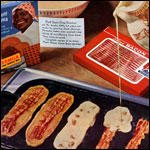 Bacon Strip Pancakes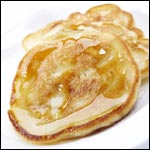 Reliable Homemade Pancakes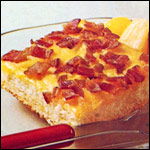 Maple-Bacon Oven Pancake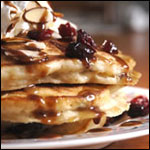 Cranberry Almond Caramel Pancakes

May the force of breakfast be with you.
Click here
.