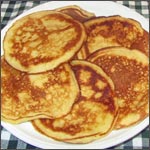 Cornmeal Pancakes
1 and 1/4 cups flour
1 and 1/4 cups milk
3/4 cup cornmeal
2 large eggs - beaten
3 Tablespoons vegetable oil
1 Tablespoon baking powder
2 teaspoons sugar
1 teaspoon salt
1/2 teaspoon vanilla extract (optional)
In a medium bowl, sift together flour, sugar, salt and baking powder. Stir in the cornmeal.
In a separate bowl, whisk together eggs, milk, vegetable oil and vanilla (if desired).
Add liquid mixture to dry mixture.
Drop by heaping tablespoons on a greased hot skillet or griddle. Cook until edges are brown and bubbles are in the middle. Turn and cook on other side. Serve with butter and maple, sorghum, molasses or other syrup.

This is a pancake with substance. The cornmeal provides a great flavor and a hearty texture.
Mr Breakfast would like to thank
MooCow
for this recipe.
Comments About This Recipe
What do you think of Cornmeal Pancakes?
Overall Average Rating =
(out of 5)

From Mlledorado (Team Breakfast Member)
I've been making this recipe for the past 10 years now. It's absolutely delicious as written. I've had a child since then and she loves the pancakes as well. Thank you Mr. Breakfast. I come back to this recipe again and again.

Comment submitted: 1/19/2020 (#20905)



From Carl Maike
Needed just a couple more Tablespoons of milk for the batter to be just right, but other than that it was a great recipe. Did half plain and for the other half we sprinkled fresh blueberries on top after the batter was dolloped in the frying pan. I recommend trying these with blueberries!

Comment submitted: 6/7/2013 (#16010)



From Darcy BW
I replaced 1/4 cup of the all-purpose flour with some whole wheat flour and I probably had to add 3 Tablespoons more milk to get a good batter consistency. With those little adjustments, they turned out great.

Comment submitted: 4/10/2013 (#15613)



From Kelita
Hey 'Someone' - there are great cooks who don't even read. I can't stand it when so-called intellectuals insult good intentioned people. The recipe was great.

Comment submitted: 3/17/2013 (#15411)



From Leslie44
I made it just as written (skipped the optional vanilla) and they turned out awesome. Not sure what problem those other people were having. They are thicker and more hearty, but that's what I was hoping for. I thought they were great.

Comment submitted: 2/28/2013 (#15259)



From Louise
Don't normally comment but felt compelled after reading other comments. I followed recipe exactly, and these were light, puffy and delicious. The batter was very thick but made beautiful, round, yellow spongy pancakes, that soaked up the maple syrup, extremely yummy. I found working quickly before the baking powder has chance to fizz up made pouring onto the griddle easier. Thanks for great recipe, nice to see one that doesn't have buttermilk or baking soda as I didn't have either those in stock :) Thanks!

Comment submitted: 11/27/2011 (#13243)



From Food Fan

Can this recipe be made a day ahead?

Comment submitted: 6/18/2011 (#12817)



From Samurrai
I really liked these pancakes, and had no trouble getting the recipe to work with the specified ingredients/measurements. They weren't fabulous until I spread peanut butter on top, and then they were to die for.

Comment submitted: 5/7/2011 (#12654)



From Jen
| | |
| --- | --- |
| Rating (out of 5): | |

These were unworkable until I added more milk. (I couldn't even spread the first one on the griddle. It was like paste.) Even then, they were very heavy. They might be okay if even more milk and sugar are added. I'm in the market for a new recipe.

Comment submitted: 10/15/2010 (#11392)



From Miguel
| | |
| --- | --- |
| Rating (out of 5): | |

Not horrible, but I wouldn't make them again.

Comment submitted: 8/30/2010 (#11147)



From Carrie
| | |
| --- | --- |
| Rating (out of 5): | |

These were not great. Followed the recipe exactly. Had to throw them out.

Comment submitted: 7/18/2010 (#10919)



From Kyle
Didn't personally care for these too much. The recipe sounded good but we are trying to replace a restaurant from Columbus, OH.

Comment submitted: 7/18/2010 (#10918)



From lovetocook
Excellent recipe, I added just a little more milk to thin them out a bit. I added fresh frozen blueberries and they will melt while cooking to make a delicious flavor... To Zach who said it needed more leavening, you had better check your baking powder, it may be old. Put a teaspoon BP in 1/2 cup warm water and if it doesn't fiz, it's too old.

Comment submitted: 5/13/2010 (#10487)



From Eric
I substituted 1 banana for the eggs and rice milk to make it a vegan recipe - I had to add about an extra 1/4 milk but they turned out great!

It's regrettable a few respondents have been so rude. It's one thing to not care for a recipe, it's another to be a jerk about it. (Someone & TJC)

Comment submitted: 4/5/2010 (#10238)



From Mom
To the one who complained about the spelling, you also misspelled, so that means you must not be able to think so you shouldn't comment! My daughter loved the recipe! If kids love it, that is saying something!

Comment submitted: 3/24/2010 (#10138)



From someone

Learn to type or spell. I will not be using this recipe. If you can't spwll, you might not be able to cook.

Note From Mr Breakfast:
Dear "someone" - I'm very sorry that you were so upset over the spelling of "vegetable" and "whisk" and I have fixed those words immediately so they will never offend anyone again.

Comment submitted: 2/28/2010 (#9944)



From TJC
| | |
| --- | --- |
| Rating (out of 5): | |

This recipe was not good. The pancakes were dry and too heavy. I would recommend finding another recipe that won't ruin your Saturday morning breakfast.

Comment submitted: 2/20/2010 (#9866)



From Krissy
This is an awesome recipe if u know how to cook! Nice and fluffy and great flavor. Better than regular pancakes.

Comment submitted: 2/20/2010 (#9865)



From zach
| | |
| --- | --- |
| Rating (out of 5): | |

This was not very good... needs leavening. Wish I found a different recipe.

Comment submitted: 2/17/2010 (#9834)



From Marie
I also liked this recipe. But, people should realize that it's way heartier than a regular pancake. I also added more milk until it had a decent batter consistency.

Comment submitted: 1/18/2010 (#9483)



View all 33 comments for this recipe.



---
Connect With Mr Breakfast: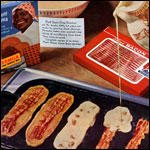 Bacon Strip Pancakes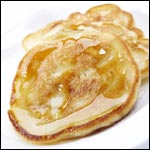 Reliable Homemade Pancakes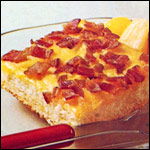 Maple-Bacon Oven Pancake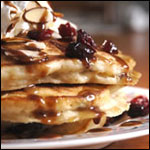 Cranberry Almond Caramel Pancakes

When's the last time you had breakfast in a cup made of bacon?
Click here
.