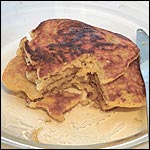 Low-Carb Pancakes (Pork Rinds)
2 large eggs
1/4 cup heavy cream
1/2 of a 3-oz bag of unflavored pork rinds
3 packets of Splenda (or other sugar alternative)
1/2 teaspoon cinnamon
1 dash nutmeg
Crumble pork rinds until they resemble bread crumbs.
In a separate bowl, beat eggs until frothy then add remaining ingredients and continue to beat until well mixed. Add pork rinds to the egg/cream mixture and set aside for 5 minutes to allow batter to thicken.
Cook on a lightly greased skillet as you would any pancake recipe. Drop batter on surface large spoonfuls. Cook until each side is lightly browned.
Serve with butter and a low-carb store bought syrup. Or for an interesting low-carb topping, mix 1 Tablespoon of sugar-free jam with 1 and 1/2 Tablespoons water and microwave for 45 seconds.
For more low-carb recipes try Mr Breakfast's Low-Carb Breakfast Index.

These pork rinds are surprisingly low in fat and have zero carbs. They may sound pretty crazy, but these little pancakes are fantastic!
Mr Breakfast would like to thank
CurbingCarbs
for this recipe.
Comments About This Recipe
What do you think of Low-Carb Pancakes (Pork Rinds)?
Overall Average Rating =

(out of 5)




From AddAlmondFlour
Too eggy. Too much of an omelet texture. Adding a little almond flour worked wonders.

Comment submitted: 5/18/2019 (#20768)



From Heidikins
These pancakes are wonderful! I will be having them a lot. It is very good to have a reliable recipe. Since I have been low carb now for 6 months I have tried many recipes that were awful! This one is a winner! Thank you!

Comment submitted: 3/17/2017 (#20225)



From PancakeLove
This recipe is the best. Better than regular pancakes. These are spongy, filling and easy to make. I want to make an Eggs Benedict with these today!

Comment submitted: 11/6/2016 (#20109)





From marfay (Team Breakfast Member)
I liked them better than real pancakes.

Comment submitted: 1/3/2016 (#19728)



From John S.
These are the best pancakes, even better than normal high-carb pancakes! If you do not like them, you made them wrong or used the wrong kind of pork rinds.

Comment submitted: 11/2/2015 (#19617)



From EmmyLuu
I've been making this recipe for a while now, but in addition to the ingredients listed, I add a teaspoon of vanilla extract or almond extract or any flavor you like more or less depending on your taste. Makes quite a difference!

Comment submitted: 10/20/2015 (#19595)



From Alowriderswife
I love them... sweet and salty perfect mix.

Comment submitted: 4/14/2015 (#19363)



From lowcarbjoy
Oh my goodness! These are delicious! After enduring a low-carb lifestyle for the past month, these are a welcome addition to my table!

Comment submitted: 1/28/2015 (#19235)



From Thebambam
Just made them. They were awesome. I ended up making a breakfast sandwich with an egg and bacon. I like maple flavor, so I mixed a tablespoon sugar-free blackberry jam, water and some sugar-free syrup. I got that sweet and savory flavor from the pancake sandwich, that I love and miss in a low-carb diet. I added 2 tablespoons of water to the batter, because I like a thinner pancake.

Comment submitted: 12/30/2014 (#19176)



From Spazcatc
Okay, but I'll stick to cream cheese pancakes.

Comment submitted: 12/11/2014 (#19144)



From D.D.S.
Surprisingly delicious! After 9 months of eating low carb, I was getting very tired of eggs and bacon. Thanks so much for something different.

Comment submitted: 9/6/2014 (#18984)



From Zee

I'll surely try this one out. I love pancakes.

Comment submitted: 7/3/2014 (#18919)





From Mama Owl (Team Breakfast Member)
I use this recipe for waffles, pancakes, AND muffins! It is amazing! I just leave out or add spices and seasonings depending on what I am doing with it. Makes yummy low carb biscuits for biscuits and gravy!

Comment submitted: 5/27/2014 (#18883)



From low carber
Tastes like French toast more than pancakes. I still love them though!

Comment submitted: 8/24/2013 (#16284)



From Cole 727

By my count, this recipe has about 5.2 grams carbs per serving. 1.2 from eggs, 2.5 from cream and 1.5 from the sugar substitute. The pork rinds are carb-free.

Comment submitted: 7/23/2013 (#16194)



From DJFresh

How many carbs per serving?

Comment submitted: 7/18/2013 (#16177)



From coconapier
I don't usually comment on recipes, but I couldn't believe how good these were! Every once in a while, you get a little bit of a bacon-ish taste, but if you crush the pork rinds really well (I used my food pro) and let the batter sit as recommended, you'll hardly be able to taste them. These are WAY better than the low carb mixes from the store!

Comment submitted: 6/15/2013 (#16043)



From m.j.

As a parent of a newly diagnose T1D, I am scouring the net to feed my son. It is doubly bad since he is growing and always hungry. How can I find the actual carb count for these?

Comment submitted: 4/22/2013 (#15739)



From C. J.
It works!

Comment submitted: 4/9/2013 (#15604)



From nancy
| | |
| --- | --- |
| Rating (out of 5): | |

I can still taste the pork rinds. The texture was good though.

Comment submitted: 11/12/2012 (#14830)



View all 60 comments for this recipe.



---
Connect With Mr Breakfast: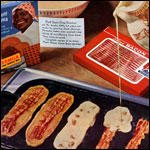 Bacon Strip Pancakes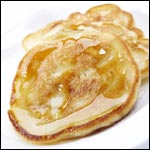 Reliable Homemade Pancakes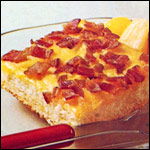 Maple-Bacon Oven Pancake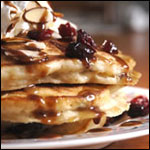 Cranberry Almond Caramel Pancakes

May the force of breakfast be with you.
Click here
.