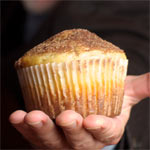 Baked Doughnut Muffins
1 large egg
1 1/2 cups all-purpose flour
1/2 cup sugar
2 teaspoons baking powder
1/4 teaspoon salt
1/4 teaspoon nutmeg
1/2 cup milk
1/4 cup butter - melted
1/2 teaspoon vanilla extract


For The Topping:
1/3 cup sugar
1/2 teaspoon ground cinnamon
3 Tablespoons butter - melted
This is a fun idea. It's a very basic muffin but a pinch of nutmeg and roll through cinnamon and sugar make them taste like doughnuts. I'd be leery that you'll actually get 12 regular sized muffins from this recipe. You should expect to get closer to 10. I made jumbo muffins and was only able to get 3 from the batter. Take my advice and don't make jumbo muffins. Don't use muffin papers either. The beauty of this recipe is the coating of cinnamon and sugar. So, the more surface you have to get that good stuff on, the better your muffins will be. I also had to add 2 more Tablespoons of milk to get the batter constancy I wanted. (This recipe was submitted in 2003. It was tested and photographed in September 2013.)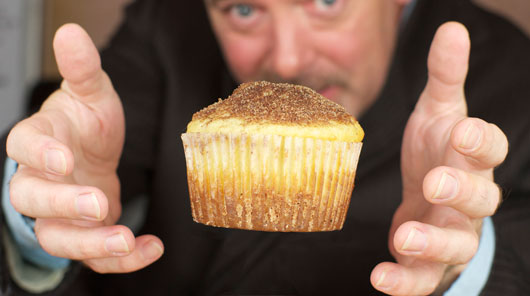 How To Make Baked Doughnut Muffins
Preheat oven to 350 degrees.
Grease and lightly flour a 12-cup muffin tin.
In a small bowl, sift together the flour, 1/2 cup sugar, baking powder, salt and nutmeg.
In a separate medium bowl, whisk together the egg, milk, 1/4 cup butter and vanilla.
Add dry ingredients to this mixture, mixing until just moistened.
Fill the muffin cups three-fourths full.
Bake for 20 to 25 minutes or until an inserted toothpick comes out dry.
To make the topping:
In a small bowl or cup, mix 1/3 cup sugar and cinnamon together.
Brush muffins with 3 tablespoons melted butter and roll muffins in the sugar/cinnamon.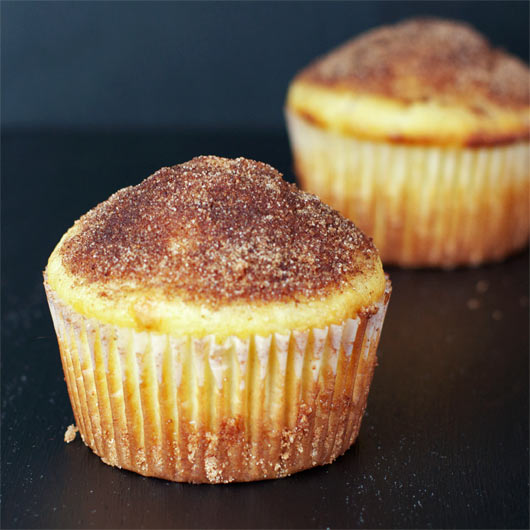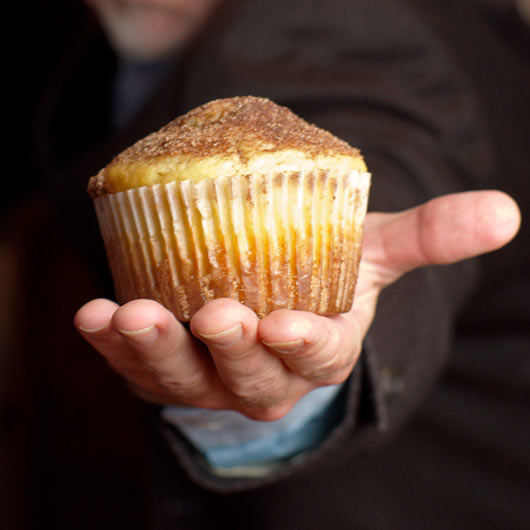 Simple donut-flavored muffins with a hint of nutmeg and vanilla and a cinnamon sugar topping. Best when served warm. Makes the entire house smell like a bakery.
Mr Breakfast would like to thank
IrishGirl
for this recipe.
Comments About This Recipe
What do you think of Baked Doughnut Muffins?
Overall Average Rating =
(out of 5)

From pahansen (Team Breakfast Member)

Even adding extra oil and jam to the centers, we found this recipe to be too dry. The muffin tasted good on top (where it had been drenched in butter, but even the areas around the jam were too dry. The flavor was fine, but the texture could have been better. I only ate a second one because my husband had spent so much time on them. They are more work than they're worth.

Comment submitted: 7/4/2014 (#18922)



From Bigdaddy316
Great recipe. Wife and kids all gave 2 thumbs up. Spreading across 12 muffin tins might give small muffins, I made 8 and no problem with the cooking time.

Comment submitted: 3/10/2012 (#13652)



From Nancy
You can also bake these in a doughnut pan. Just fill the inserts about 1/3 to 1/2 way full. They will look like actual doughnuts. This is a great recipe!

Comment submitted: 11/21/2010 (#11601)



From marleybay
OMG loved them! So instead of plain sugar and cinnamon, and the sugar and cinnamon, some half and half and flour!!! tastes like heaven, can't eat them with out!!! Delish!

Comment submitted: 7/31/2010 (#10987)



From bakergirl
Very good but dry. A little more milk or maybe 1/4 cup of oil would give more moisture. Great for breakfast with a cup of coffee!!

Comment submitted: 7/23/2010 (#10949)



From nikkiJ
This recipe is good but I found a way to make it INCREDIBLE. Once you've made the batter, spray muffin tins with cooking spray or grease, then fill the muffin tins a little less than 1/2 full with batter. Put a generous tablespoon of your favorite jam/preserves (I used Smuckers Low Sugar Strawberry preserves)in each tin and cover with more batter until about 3/4 full. Bake as the recipe states, remove muffins from tin, and coat with butter and the cinnamon/sugar mix on ALL sides of the muffin. Then, for presentation, place each muffin in a white muffin/cupcake liner. I did this for a bake sale and people came back to tell me how fantastic these muffins were. And they look like they came straight from a bakery... SO GOOD. They looked like jelly-filled sugar doughnuts. Also, I baked some of the batter in mini muffin tins as well and they looked like doughnut holes. Just a great recipe!!

Comment submitted: 5/7/2010 (#10451)



From socrmom
My kids (and I) loved these donuffins (as they call them). I too had to add a splash more milk as my dough was very thick, but I did get 12! Will make again!

Comment submitted: 2/11/2010 (#9679)



From cougforester
These rock! It is totally like eating a donut that is a muffin! I used fresh nutmeg - so yum! My recipe made 9 regular sided muffins - might have filled them a bit full but no complaints from those eating them!

Comment submitted: 2/8/2010 (#9661)



From bonnie blue
Excellent recipe!!! Ate three as soon as they came out of the oven!!! I used cinnamon instead of nutmeg in the muffins, turned out great!

Comment submitted: 2/6/2010 (#9642)



From cook4friends
I just made a similar recipe but I added a little more milk because the batter was quite thick. It was delicious.

Comment submitted: 10/30/2009 (#8931)



From buttercup

Excellent recipe. My family loves these. I bake them in a doughnut pan and they turn out really great. I tried using a muffin pan and they were okay but not nearly as good so I definitely recommend using a muffin pan.

Comment submitted: 2/25/2009 (#7659)





From hockeymom (Team Breakfast Member)
I agree with cookie I could only get 10 muffins. Also the nutmeg was never told to add to dry ingredients. My kids loved them.

Comment submitted: 12/31/2008 (#7230)



From Jess
This recipe was pretty good. There was nothing outstanding about it, but it did taste like a doughtnut!! (if you use a jumbo muffin pan, one muffin is enough to keep you full for breakfast and is perfect with a glass of milk).

Following the advice on here, I also added about 1/4-1/2 cup more flour. It made 4 jumbo muffins.

Comment submitted: 7/5/2008 (#5831)



From loulou
Tasted a lot like a donut.

Comment submitted: 3/15/2008 (#4823)



From cookie
This recipe was ok. I had to had a little extra flour. There was also no way that this recipe makes 12 cupcakes. I filled the tins about 1/2 full and only got 10 out of them. But they taste pretty good.

Comment submitted: 2/22/2007 (#1603)



From Mouser71

Very good - both my son and fiancee loved them and have me make a double batch every time.

Comment submitted: 1/25/2007 (#1311)




---
Connect With Mr Breakfast: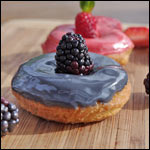 Berry Delicious Cake Donuts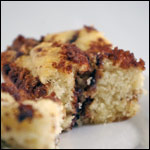 Cinnamon Flop (Coffee Cake)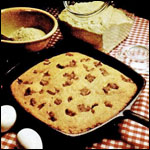 Bacon Spider Bread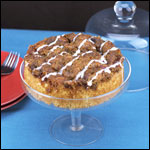 Strawberry Jam Coffee Cake

When's the last time you had breakfast in a cup made of bacon?
Click here
.