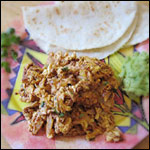 Chorizo Con Huevos
8 large eggs
1 Tablespoon canola oil
1 pound chorizo sausage
1 medium onion - diced
2 Serrano chilies - finely chopped
1/2 bunch cilantro leaves - chopped
4 flour tortillas
1 large avocado - mashed
your favorite salsa
Heat the oil in a large skillet over medium heat. Fry the chorizo until browned - break up the sausage with a fork as it cooks. (Chorizo is darker in color than most sausages. It will look nearly burnt when browned, but if you look close it's a very deep brown hue.) Drain off any excess oil. I go so far as to pat down the cooked sausage with wadded paper towels as cooking chorizo produces a lot of grease.
Add the onion and cook about 2 minutes until soft and translucent. Add the chilies and cook one more minute.
Beat the eggs until frothy and add to the chorizo. Stir with a fork or spatula as you would to make scrambled eggs.
Fold the cilantro in just before eggs are completely set. Serve with flour tortillas, fresh salsa, and mashed avocado.
This recipe makes 4 large servings.
* A couple notes about this dish: chorizo is somewhat salty by nature so there's no need to add salt to the eggs as might be your habit; handle the Serrano chilies carefully - be sure to remove the seeds and pith and make sure you wash your hands after chopping; for the best flour tortilla experience, place tortillas, one at a time, flat in a large non-greased fry pan over medium heat for 20 seconds per side to warm and brown.

Chorizo is a spicy Mexican pork sausage that's available in most grocery stores. "Chorizo con Huevos" translates to "Chorizo with eggs". But after you add peppers, cilantro and avocado, the proper translation becomes "chorizo with eggs!!!" with three exclamation marks.
Mr Breakfast would like to thank
football
for this recipe.
Comments About This Recipe
What do you think of Chorizo Con Huevos?
Overall Average Rating =

(out of 5)

From poole
It's one of my favorites.

Comment submitted: 2/21/2017 (#20206)



From richier
Easy, savory, simple! This is very manageable to serve every week!

Comment submitted: 9/25/2015 (#19567)



From Genova
This is great. I am actually from Africa and we eat it all the time.

Comment submitted: 4/2/2015 (#19345)



From Compliments2U
Sprinkle some Cheddar cheese on at the end and it's perfect! Bravo!

Comment submitted: 7/29/2013 (#16213)



From Giotta
One of my favorite Mexican breakfasts!

Comment submitted: 6/10/2013 (#16024)



From stacy anne
First time I've ever made chorizo and thanks to you it was amazing. Thank you for the recipe!

Comment submitted: 8/5/2012 (#14231)





From Ygerna (Team Breakfast Member)
I make something similar, I cook mushrooms and sliced chorizo together, whilst scrambling the eggs in a separate pan. Then I stir the mushroom/chorizo mix into the eggs and eat! Nom nom nom

Comment submitted: 10/22/2011 (#13061)



From Tolbert Jr.
I prefer soyrizo vegetarian chorizo for this recipe. I'm not a vegan. I just find that veggie chorzo tastes very, very similar without the fatty texture and occasional chewy bits you get in real chorizo. Try it and I'll bet you'll like it too.

Comment submitted: 11/11/2010 (#11540)



From top dog
I love this. I just make mine with 2 eggs and some chorizo. Then eat it for breakfast or a late night snack!

Comment submitted: 2/26/2010 (#9918)



From Ally Live
Everyone here loved it. Spicy. Flavorful. Delicious. Thanks. Peace.

Comment submitted: 2/18/2010 (#9847)



From dremz
Loved it... Thanks for the recipe!!

Comment submitted: 11/13/2009 (#9034)



From O. Hoho
These are so good tasting - you will love them when you try them.

Comment submitted: 10/30/2009 (#8928)



From Brown
Very good breakfast without too much work. Works great with soy chorizo too. Maybe even better since it's less greasy.

Comment submitted: 4/15/2009 (#7970)



From Muchacho
This whole recipe was so good. I've never seen the best recipe the cheese. If u add it it's good.

Comment submitted: 1/15/2009 (#7369)



From Muddybox
You can try roasting the chorizo in a dry pan, no oil. Chorizo is naturally high in fat, which it drips when heated. As well as cutting down on calories, chorizo's melted fat is far tastier than most vegetable oils. Also, beware there are many grades of chorizo's and it always pays to go for a relatively posh one, specially if you live in a country which does not have a chorizo culture, because chorizo tends to command a star's place wherever it appears.

Comment submitted: 3/2/2008 (#4732)



From Beach Boy Babe
DELICIOUS!!!

Comment submitted: 6/27/2007 (#3119)



From awesome
This stuff kicks butt. Awesome, awesome, awesome.

Comment submitted: 6/10/2007 (#3000)



From LOVE IT
THIS IS THE BOMB!!! IF YOU LIKE TO TRY NEW INTERNATIONAL FOOD, YOU WILL NOT BE DISSAPOINTED.

Comment submitted: 12/10/2006 (#922)



From Nice
Great job!

Comment submitted: 11/28/2006 (#829)




---
Connect With Mr Breakfast: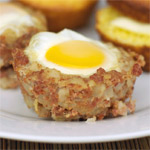 Meal In A Muffin Pan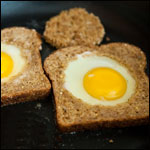 Egg In The Hole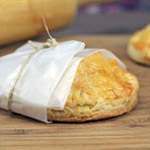 Breakfast Hand Pies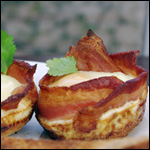 Bacon Breakfast Cups

All you need to know. The basics and beyond!
Click here
.