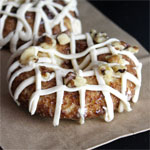 Baked Cinnamon Roll Donuts
For The Cinnamon Topping:
3 Tablespoons butter
2 teaspoons cinnamon
1/3 cup brown sugar (preferably dark brown) - packed
1 teaspoons milk
1 teaspoon cornstarch
1 teaspoon vanilla


For The Donut Batter:
1 and 2/3 cups all-purpose flour
2 teaspoons baking powder
1/4 teaspoon grated nutmeg
1/4 teaspoon salt
1 large egg
1/2 cup sour cream
1/2 cup white sugar
1 teaspoon vanilla
1/4 cup butter - melted and cooled
These baked donuts taste a lot like cinnamon rolls. The optional cream cheese icing (at the bottom of the page) is a must. That's the flavor that unites the topping and cake and makes these donuts feel like indulgent cinnamon rolls. The cooking process was a little scary. A bit of the topping boiled over the donuts in the pan. I was worried that the donuts wouldn't release from the pan because of the slightly sticky topping. But when everything was said and done, they turned out great. If I make them again, I'll consider doubling the amount of icing to cover them completely. (This recipe was developed, tested and photographed in April 2015.)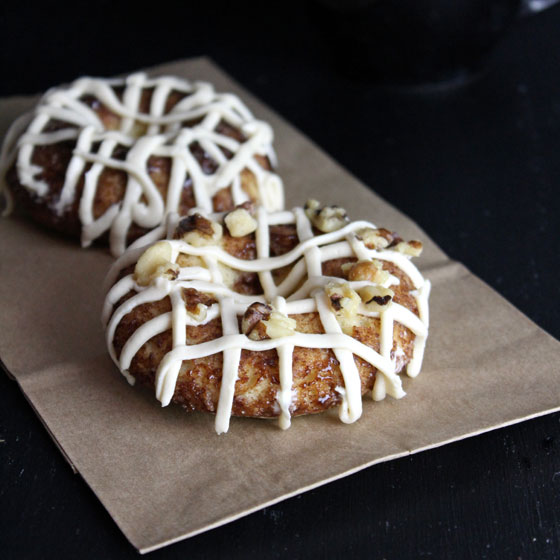 How To Make Baked Cinnamon Roll Donuts
Prepare two baked donuts pans (to make 9 donuts) by greasing generously with softened butter.
In a small sauce pan, melt 2 Tablespoon butter. Add the cinnamon, brown sugar, milk, cornstarch and vanilla. Heat - stirring often - until mixture bubbles for just 10 seconds. Place about 2 teaspoons of this mixture into the bottom of each prepared donut cup. It should just barely coat the bottom of each cup.
In a large mixing bowl, sift together the flour, baking powder, salt and nutmeg.
In medium mixing bowl, beat the egg, sugar, sour cream and vanilla together until smooth and well combined.
Add the wet mixture and melted butter to the dry mixture. Stir gently just until fully moistened. Avoid over-mixing.
Transfer donut batter to a gallon-size plastic freezer bag. Snip one of the bottom corners with scissors and pipe the batter into each donut cavity over the cinnamon mixture. Each donut cup should be about 2/3 full once you're done.
Bake at 350 degrees for 10 or 11 minutes - until they are just starting to brown and the donut springs back when touched gently with your finger tip. Invert the pans onto a wire rack and let them set for 3 minutes. Tap the bottom of the pans to release the donuts.
Allow donuts to cool completely before adding icing if you choose to add icing.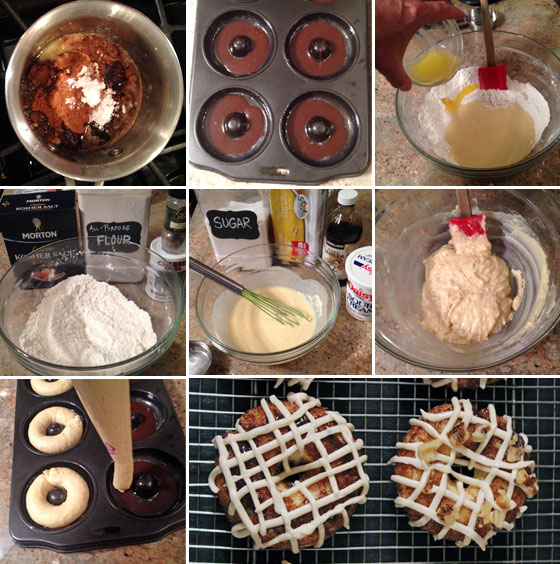 Cream Cheese Drizzle (Icing):
- 1/4 cup powdered sugar
- 2 Tablespoons cream cheese
- 1 Tablespoon milk
- 1/2 teaspoon vanilla extract
Place all icing ingredients in a medium bowl and mix until completely combined and frosting-like. Transfer to a plastic baggie. Trim one of the bottom tips of the baggie and pipe lines of icing across each donut.
For a beautiful, optional final touch, sprinkle each donut with some finely chopped walnuts or almond slices.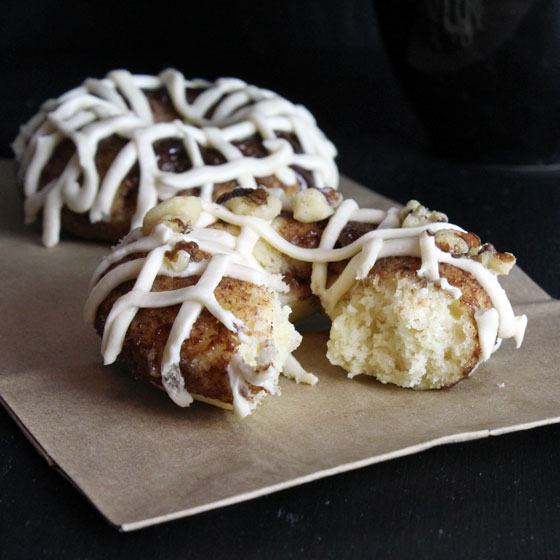 Cooking Notes From Mr Breakfast:

When it comes to clean up, you might be a little mad at your friend Mr Breakfast. Some of the cinnamon and brown sugar mixture will creep out of the donut cups onto the face of your pan (especially if you over-fill) and appear scorched. Don't worry. A 5 minute soak in hot water will clean that right up.

You might be disappointed by how much cinnamon and sugar sticks to the top of the donuts. I was too... at first. Then, I realized that a lot of that good flavor gets absorbed into the surface of the donuts. A little more topping would look nicer, but it would likely make the donuts too sticky and sweet. If you see similar recipes on the internet that look like they have more topping... don't trust those recipes. They spooned on more topping for photographic purposes. They're dishonest tricksters!

When mixing the icing, it saves a ton of time if you use an electric beater which gives you a fluffy icing in just 30 to 45 seconds.

While these donuts can be eaten by hand, you'll want to use a fork if you don't want your hands to get messy. The icing only barely sets and stays quite soft. If the topping wasn't a little sticky, it wouldn't be good.

If you're concerned that the donuts aren't cooked through after 10 minutes, you can do the old muffin toothpick test. Stick a toothpick into the body of a donut. If it comes out clean (no batter sticking), the donuts are done.

All of the pleasure of a cinnamon roll in the shape of a donut. This is a fairly easy recipe with a cooking time of less than 10 minutes.
Mr Breakfast would like to thank
Mr Breakfast
for this recipe.
Comments About This Recipe
What do you think of Baked Cinnamon Roll Donuts?
There are no comments yet for this recipe. Be the first! Was it good? Was it bad? Did you make it better somehow? Let the world know!



---
Connect With Mr Breakfast: