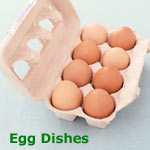 Eggs in a Cloak
6 eggs - separated
1/4 cup butter
1 Tablespoon parsley - freshly chopped
1/2 teaspoon salt
1/8 teaspoon pepper
Using half of the butter, grease a 10-inch round baking dish. Slip the yolks into the buttered baking dish; tilt the dish from side to side so that they spread evenly over the bottom. Dot the yolks with the remainder of the butter.
Beat the egg whites until they just begin to stand in peaks. Add the parsley, salt and pepper and beat for 1 second longer.
Using a rubber spoon, gently spread the egg white mixture over the yolks. Place in a 350 degree oven for 5 minutes or until the whites are a delicate golden brown. Serve at once, piping hot. Serves 6, allowing 1 egg per person. Serve with toast or hot buttered muffins.



Buy it used at Amazon.com
This recipe is from the classic cookbook titled The Fabulous Egg Cookbook (Jeffrey Feinman, Ventura Associates, 1979).

Breakfast is just a small part of this cookbook. It also includes dinner recipes, lunch recipes, custards, cakes and many more ways to cook with eggs.

According to the back of the book, "Turn any meal into a tasty treat that won't put a dent in your wallet. Hundreds of egg recipes inside show you how to make the most of this economical, nutritious food."
Where are the yolks? Oh... cloaked under the delicate golden brown whites. This recipe is from the chapter "Eggs For Breakfast" in The Fabulous Egg Cookbook.
Mr Breakfast would like to thank
Mr Breakfast
for this recipe.
Comments About This Recipe
What do you think of Eggs in a Cloak?

From Bonnie OFS (Team Breakfast Member)

Five minutes at 350 just doesn't seem long enough to cook the yolks! Is the time a misprint? By the way, I have the book - there are some good recipes in it.

Comment submitted: 9/24/2013 (#16632)



From Krissy

When I made it, some of the yolk broke anyways, and my boyfriend doesn't like whole yolks, so I just broke all of them to fill the bottom of the pan.

Comment submitted: 11/4/2010 (#11499)





From kjf916 (Team Breakfast Member)

This sounds intriguing, but, knowing me, a really good way to waste six eggs and a lot of effort because I wouldn't be able to tell how cooked the whites were in just 5 min, down around the yolks. Maybe a clear glass baking dish would help? What's the texture of the yolks in this dish, I wonder?

Comment submitted: 7/25/2010 (#10961)




---
Connect With Mr Breakfast: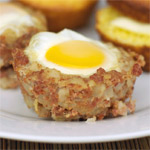 Meal In A Muffin Pan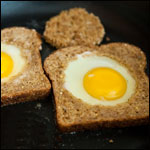 Egg In The Hole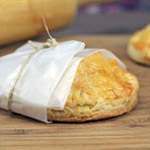 Breakfast Hand Pies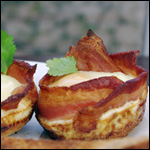 Bacon Breakfast Cups