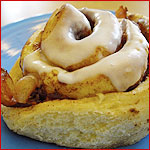 Bacon Cinnamon Rolls
1 tube of store-bought cinnamon rolls (I swear by Pillsbury's Grands Cinnabon cinnamon rolls)
bacon - about 8 strips for a 12 ounce tube of cinnamon rolls
that's all (unless you're feeling ambitious enough to make your own cinnamon rolls)
(This recipe comes to MrBreakfast.com by way of Jenny from a great website called Rainy Day Gal. Check it out for other recipes and lots more cool stuff!)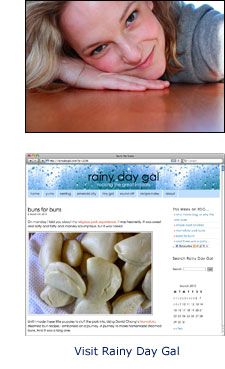 First, fry up that bacon. Not all the way - give it sort of a half-fry. You don't want to make it too crunchy because it'll snap when you try to roll it up into those cinnamonny buns. Plus, it'll cook more in le oven.
Let it drain on paper towels. For big cinnamon rolls, you'll need two slices of bacon per roll. For the tiny guys, you just need one.
Pop that can. How I looove that sound. Separate the rolls.
Unroll them on a piece of parchment paper or a big ol' cutting board.
Lay the bacon strips across the dough... roll 'em up... lay them in a greased pan and bake according to package directions.
Sit by the oven and twiddle your thumbs.
Ding! They're done! Frost 'em. Smell 'em. Ready? Set? Swoon
I think these things have to qualify as a religious experience. Someone call the Vatican. And it's a crime how easy they are to make. Something this good you should have to work for, right?


This incredible two-ingredient recipe comes courtesy of Rainy Day Gal. Your brunch guests will be amazed. It'll be our secret just how easy these are to make.
Mr Breakfast would like to thank
Jenny
for this recipe.
Comments About This Recipe
What do you think of Bacon Cinnamon Rolls?
Overall Average Rating =

(out of 5)

From dweeb
Fun idea. Great flavors together. Like others, I also wish the bacon could be more crispy. Is there a way?

Comment submitted: 5/4/2016 (#19906)



From squirt
Made these for my mom's birthday and she loved them. My dad too - who loves anything with bacon!

Comment submitted: 9/14/2014 (#18994)





From Aroth (Team Breakfast Member)
Use Oscar Meyer Fully cooked bacon instead of fresh bacon that you pre-fry a bit and the bacon comes out PERFECT in these cinnamon rolls! I used 2 slices of the fully cooked bacon and it was so good! I almost didn't let the family know when they were done!

Comment submitted: 11/17/2013 (#17161)



From B.C.N.
As a lover of bacon and a lover of cinnamon rolls, I'm over the moon. I agree that in an ideal world the bacon would be more crispy, but this is just plain AMAZING!

Comment submitted: 7/11/2012 (#14152)





From NickiShow (Team Breakfast Member)

This sounds yummy. My guess for crispy bacon would be to fry it up crispy and crumble it, then sprinkle the crumbled bacon inside the rolls and maybe on top too. Maybe add some dark chocolate drizzle. Mmmmm...

Comment submitted: 3/30/2012 (#13732)



From hendix
Bravo! Great idea. Mmmm... bacon... mmm. Thanks Jenny.

Comment submitted: 5/28/2010 (#10572)



From Deena
Finally made these after much anticipation... pretty tasty. Worth the wait? Hmmnn... agree with previous comment about crispy bacon. But the taste was good. Glad I tried it. Not sure I'll make it again. But thanks.

Comment submitted: 3/27/2010 (#10168)



From Sam I. Am
These taste great, but I wish the bacon could be more crispy. Any suggestions to help with that?

Comment submitted: 3/23/2010 (#10128)





From gifford (Team Breakfast Member)
Great idea! Good addition to the site Mr. B. I'm gonna go check out Jenny's site now. Love ya, Giff

Comment submitted: 3/11/2010 (#10034)




---
Connect With Mr Breakfast: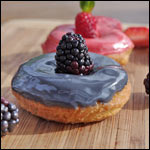 Berry Delicious Cake Donuts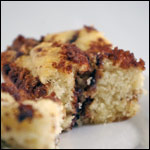 Cinnamon Flop (Coffee Cake)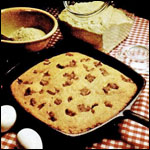 Bacon Spider Bread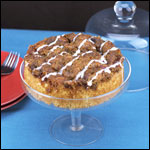 Strawberry Jam Coffee Cake

Check out our favorite vintage recipes from old magazine ads and recipe cards.
Click here
.