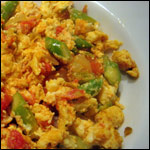 Bulgur Scrambled Eggs
Rotel diced tomatoes and green chilies - drained with liquid reserved - as much of the Rotel tomatoes as you enjoy
1/4 cup bulgur
water - enough to combine with the reserved Rotel liquid to make a 1/2 cup mixture
1/4 teaspoon turmeric
1/4 teaspoon garam marsala
1/8 teaspoon garlic salt
1/2 teaspoon oil
1/4 cup red onion - chopped
2/3 cup spinach
3 eggs or 3/4 cup egg substitute
1 Tablespoon milk
1 slice Swiss cheese broken into small pieces
Preparing and cooking the Bulgur:
1. Drain Rotel, reserve liquid. Combine this liquid with enough water to make a 1/2 cup Rotel liquid/water mixture. Save as many tomatoes from the can as you would want in your scrambled eggs (I generally use about 1/3 or a little more of the can). Put these tomatoes aside in a small bowl.
2. Combine Rotel/water mixture with bulgur in a saucepan and bring to a boil on med high heat. Stir, cover, and simmer on med heat until all water is absorbed, or until most of it (similar to making rice or quinoa). Remove from heat and keep covered while preparing the eggs.
And the Eggs:
1. While bulgur is doing its thing, prepare vegetables and spices. Suggestion- I put the spinach at the bottom of a bowl, the tomatoes (from the Rotel) off to one side of the bowl on top, and the diced onions on the other side of the bowl. Mmm....organization. On a smaller saucer, measure out the spices. G.M. and Turmeric can be combined or not, although I add the garlic salt all at once, so I keep it separate from the other two. From here on out in the recipe, "spices" refers to this saucer of spices.
2. Heat 1/2 tsp oil in small frying pan. saute onion, add part of spices. (While onion is sauteing, beat milk into eggs in another small bowl. Set aside.) When onions are beginning to change color, add tomatoes and more spices for a few minutes. Add spinach and heat until the spinach begins to wilt.
3. Turn heat to medium and add egg mixture and rest of the spices to the vegetables. allow eggs to set, and then lift cooked portions allowing the uncooked to go to the bottom of the pan as you would normal scrambled eggs. When eggs are almost finished cooking, add the Swiss on top and continue cooking until melted and you're satisfied that your eggs are cooked.
To serve:
Fluff bulgur and put it on a plate. Serve eggs on top. Enjoy!

I made this one time, and it was pretty brilliant as far as taste is concerned. The combination of bulgur and the spices along with the rotel gives you a great wake up in the morning, whereas the fiber from the bulgur and the protein from the eggs and cheese provide for sustaining energy throughout the morning. Tastes just as good with eggbeaters and lite cheeses and milk.
Mr Breakfast would like to thank
gwebb
for this recipe.
Comments About This Recipe
What do you think of Bulgur Scrambled Eggs?
There are no comments yet for this recipe. Be the first! Was it good? Was it bad? Did you make it better somehow? Let the world know!



---
Connect With Mr Breakfast: