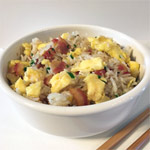 Bacon And Egg Fried Rice
3 cups cooked rice
5 slices bacon - chopped into small pieces
3 large eggs
3 chopped green onions or 2 Tablespoons chopped cilantro
3 Tablespoons soy sauce
3 Tablespoons vegetable oil or canola oil or peanut oil
dash pepper
I liked this dish a lot. I made it on a day when I happened to have some leftover white rice. Next time I make it, I will probably add 2 more eggs and 2 more slices of bacon, just to get that really, big breakfast feeling. But it is already fantastic as written. I really appreciated how making the bacon and then adding it back in again later made for bacon that was really crisp and wonderful. Despite the chopsticks shown in a couple of the images, I did find it best to use a spoon to eat this... really big spoonfuls filled with really good stuff! (This recipe was submitted in 2004. It was tested and photographed in May 2017.)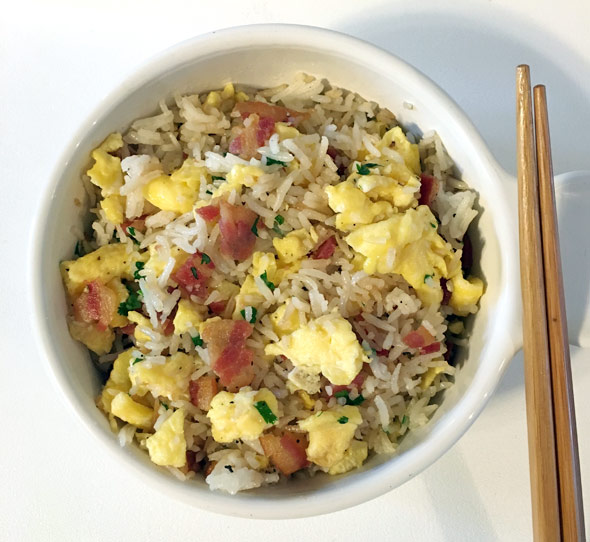 How To Make Bacon And Egg Fried Rice
In large skillet fry pieces of bacon until crisp, drain, set aside. Set bacon on a plate and clean the skillet for reuse.
Beat eggs in cup and scramble in a little oil in the skillet. Set scrambled eggs on a plate and clean the skillet for reuse.
Heat remaining oil in pan and add cooked rice. Toss rice to coat and add some soy sauce. Add eggs, bacon pieces and pepper. Add salt if desired - but remember... the soy sauce is really salty already. Stir and continue to cook for a couple minutes.
Add onions (or cilantro) at the end so they don't overcook.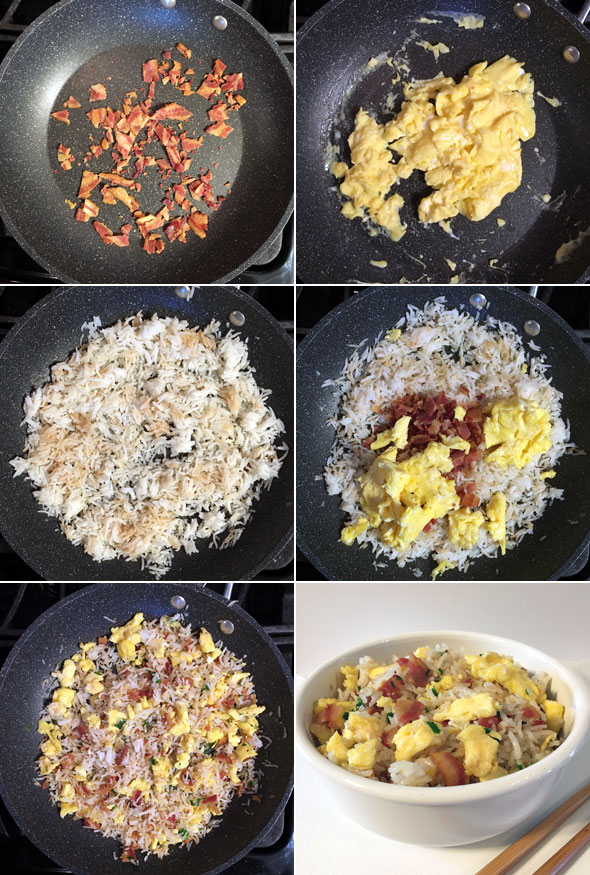 Cooking Notes From Mr Breakfast

Where the choice is given between green onion or cilantro, I went with cilantro. I really liked the freshness that it added to the heavier flavors.

As originally submitted, the ingredients included "salt - to taste." I eliminated that ingredient because the soy sauce and bacon already provide plenty of salt.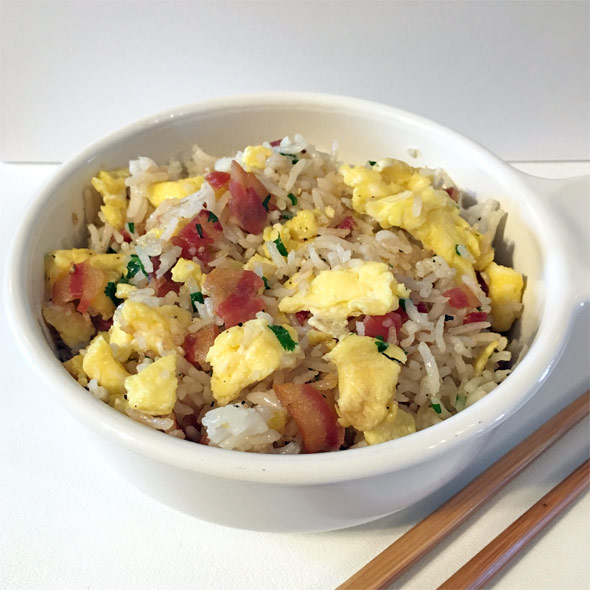 Great as both the main course or as a side dish. This could be served for any meal, but we tend to have it at breakfast with leftover rice from the night before.
Mr Breakfast would like to thank
MamaMia
for this recipe.
Comments About This Recipe
What do you think of Bacon And Egg Fried Rice?
Overall Average Rating =

(out of 5)

From Fancy
I grew up in the south so ate this recipe all the time growing up. My parents would add back eyed peas, corn, or whatever else was leftover. You can make it with sausage or bacon. I just started adding the soy sauce a few years ago and it is definitely what takes the recipe to a higher level. I usually cook the bacon until crisp, remove the bacon, then add the onions to the bacon fat. After onion is soft, push everything to the side. Then, add eggs and cook in remaining bacon fat until just set. Add the eggs (and I like a lot of eggs in this recipe) cook until firm. Add the rice and stir about every 30 seconds until the eggs are done... Delish!!!!

Comment submitted: 9/1/2014 (#18975)



From jammers
This is a good dish, but I say double the bacon and add one more egg. It tastes like a dinner dish otherwise. But make my changes and it tastes like a really good breakfast.

Comment submitted: 3/12/2012 (#13664)



From donnamaskew

We have been making "fried rice" for breakfast for decades... we love it. Our recipe is a little different and easier I think. We cook it all in one skillet. Bacon fried first, removed and drained. then we put the rice and green onions in the drippings of the bacon (same skillet), then break the eggs over the rice, season with salt and pepper, cook until eggs are done, crumble bacon in!

Comment submitted: 6/22/2011 (#12855)



From BreakFastHASH
I eat this before I make love and it is awesome... energy.

Comment submitted: 3/1/2011 (#12222)



From rashi
Amazing!

Comment submitted: 2/1/2011 (#12044)



From LemarStrickland
I just finished making this dish for my mom and brother and must I say its delicious. Although we had no bacon I substituted smoked sausage and added a bit of red pepper. Thanks for the recipe.

Comment submitted: 7/16/2010 (#10890)



From G.G.
I ate this all the time growing up minus the soy sauce. great quick breakfast we just called it egg and rice even though it had bacon too.

Comment submitted: 12/4/2009 (#9152)



From butternut00cc
This was really good. Instead of scrambling the eggs separately, I cooked the rice, pushed rice aside in skillet added beaten eggs to rice pan and started scrambling everything together when the egg started to set. Worked great.

Comment submitted: 7/24/2009 (#8449)





From Suspended (Team Breakfast Member)
Could I recommend folding the (uncooked) eggs straight into the rice? I find this way you get a more even coating and rice easier to pick up with chopsticks.

Personal preference, but the recipe is very nice anyway :)

Comment submitted: 4/2/2009 (#7881)





From rara3368 (Team Breakfast Member)
I made this and added sausage to it also. This added extra zip

Comment submitted: 12/10/2008 (#7073)



From April H.
YUMMY!!!!! Beats out the local Chinese Fried rice. Can also add mushrooms to it.

Comment submitted: 12/7/2008 (#7043)



From John
Great recipe! Was expecting something mediocre, but it was very tasty!

Comment submitted: 6/3/2008 (#5451)



From goodiegirl
OMG - this is a good one. I made fried rice last night however I only use rice bran oil cause you can get it super hot. The addition of bacon is a good idea.

Comment submitted: 9/25/2007 (#3636)



From Heather90046
We had his for dinner over the weekend. I wanted breakfast for dinner and my boyfriend wanted Chinese. I'm so glad we found this. It was the perfect in-between. It was a little more dinner-like than breakfast-like, so I might never make it for breakfast. But I can guarantee that we'll make it for dinner again. Thanks!

Comment submitted: 9/4/2007 (#3504)




---
Connect With Mr Breakfast: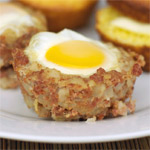 Meal In A Muffin Pan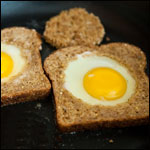 Egg In The Hole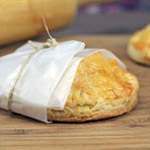 Breakfast Hand Pies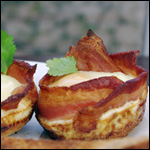 Bacon Breakfast Cups