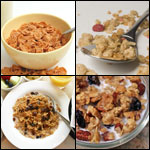 Flax Seed And Nut Granola (Low-Carb)
1 cup flax seeds
1 cup sunflower seeds
1 cup unsweetened shredded coconut
1 cup chopped pecans
1 cup chopped walnuts
1 cup chopped almonds
1 stick of butter - melted
2 teaspoons cinnamon
2 teaspoons vanilla powder (sugar and alcohol-free)
3 packets of Splenda (or other sugar alternative)
In a large roasting pan, mix together flax seeds, sunflower seeds, coconut and nuts. Drizzle with melted butter. Stir in cinnamon, vanilla power and sugar substitute. Toast in the oven at 325 degrees for a half hour, stirring every 5 or 10 minutes.
For more low-carb recipes try Mr Breakfast's Low-Carb Breakfast Index.

An oat-free, low-carb granola with three kinds of nuts, two kinds of seeds and shredded coconut. It is sweetened with Splenda (or similar sugar substitute).
Mr Breakfast would like to thank
BethH
for this recipe.
Comments About This Recipe
What do you think of Flax Seed And Nut Granola (Low-Carb)?
Overall Average Rating =

(out of 5)




From Cindy Sue

No oats at all?

Comment submitted: 7/30/2013 (#16215)



From Bonbon

Really would love to know the carb count... can anyone figure it out?

Comment submitted: 6/17/2012 (#14059)



From fridge-question

Does anybody know if I need to refrigerate this after I make it, so it'll stay fresh longer?

Comment submitted: 9/29/2011 (#12949)



From Letter L

Our body cannot process flax in its whole form, so, unless you grind the flax seed, you're not getting any of the great nutritional value. I would recommend grinding the flax (I do this in a coffee grinder, very easy) and adding at the end of cooking time (heat affects flax, as well).

Comment submitted: 11/18/2010 (#11579)



From C.C.
Great recipe - substituted pumpkin seeds for the walnuts and pecans and used almond slivers as well as whole almonds. Mmmmm... great with fresh fruit and dried. Next time, I will add the flax seed at the end of cooking as they burn fast.

Comment submitted: 8/27/2010 (#11135)



From husband32
| | |
| --- | --- |
| Rating (out of 5): | |

This stuff is gross. It looks like bugs and the flax seeds get all slimy when you try and eat it with milk. This one was a NO-GO for me.

Comment submitted: 8/27/2010 (#11132)



From Annie

This is in Response to Mr. Guy. If you "knew" anything about how bad starch is for your overall health you would not have made the comment about butter as butter is not bad for you, but starch is!

Comment submitted: 8/24/2010 (#11123)



From warrick
Would you add milk to it or just plain? I have been eating it plain but have no serving suggestions.

Comment submitted: 8/7/2010 (#11022)



From Mr Guy
Why don't you just eat healthy food and not care about the carb count. Who gives a toot about carbs? Just eat healthy and you'll be fine. Low carb doesn't always mean healthy, what about a stick of butter? Try doing without that.

Comment submitted: 7/28/2010 (#10977)



From T2Diabetic

"Net Carbs" are carbohydrates minus the fiber. Protein is not subtracted from the carb count for the obvious reason it's a protein.

Comment submitted: 4/24/2010 (#10373)



From Konac
Wow this is great. U gotta great try it.

Comment submitted: 3/12/2010 (#10038)



From A.H.

So... what is the correct carbs for one cup?

Comment submitted: 1/9/2010 (#9426)



From dolphinlover

You aren't figuring it out right, you should figure out net carbs and you minus fiber and protein (which is very high) off the carb count so its even better for you.

Comment submitted: 10/14/2009 (#8843)





From jesha (Team Breakfast Member)
I love this. It's great to have "cereal" in the morning when I can't deal with cooking eggs, etc. I have just about 1/2 cup of this with a little kefir milk and it holds me until lunchtime.

In making this I substituted pecans for the walnuts (not a fan of walnuts) and didn't have chopped almonds on hand so used pine nuts. It was fabulous. Warning though: this does make a very big batch, so unless you have others who will want to help you eat it you might just want to make half. I made an entire batch and was eating it almost every day for several weeks.

Comment submitted: 7/25/2009 (#8452)



From curiousme

I spent lots of time figuring this out, so I thought Id share it with whoever is reading this and might like to know the nutrition info. I got all my calories and carb counts from thedailyplate.com

Ok so did the math and for ONE CUP of this granola its a whopping 937 calories but only 9.5 carbs.

For 3/4 CUP of thie granola it is 702 CAloroes and 7.1 Carbs. For 1/2 Cup it is 468 Calories and 4.7 Carbs.

Have a lovely day!

Comment submitted: 12/17/2008 (#7144)



From curiousme

Umm... anyone know the carbs on this? or does anyone actually have nutrition info (I try to watch calories and carbs) for a low carb granola recipe with flax seeds or meal? Thanks in advance!

Comment submitted: 12/16/2008 (#7138)



From Froggy
Couldn't find vanilla powder, so used regular vanilla and also changed the flax seed to flax meal. LOVED it!!! Makes a great change from eggs for us low carbers- would be nice to have the carbs per serving listed though.

Comment submitted: 10/13/2008 (#6584)



From GVDub
I think the serving size should be more like 1/4 cup, as 1 cup is over 1000 calories, a bit much for a breakfast or snack. It can get pretty dark pretty fast, so I'd recommend watching it closely for the last 10 minutes of the toasting time.

Comment submitted: 9/8/2008 (#6416)



From redhead logic
We enjoyed this very much. Could not find vanilla powder so added the same amount of vanilla extract to the melted butter and that seemed to work.

Comment submitted: 8/13/2008 (#6119)





From Teeter (Team Breakfast Member)
My husband, kids, and I love this recipe. We don't eat grains, so this was a great alternative. We love it on fruit with yogurt or coconut milk. My oldest son loves snacking on it plain.

Comment submitted: 6/26/2008 (#5612)



View all 27 comments for this recipe.



---
Connect With Mr Breakfast: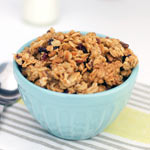 Orange Marmalade Granola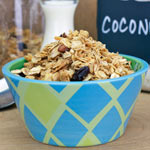 Coconut Granola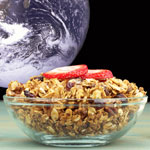 Earth Day Granola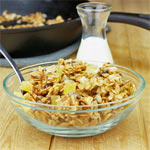 Skillet Granola

Check out our favorite vintage recipes from old magazine ads and recipe cards.
Click here
.