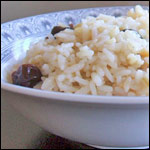 Cooked Rice Cereal
1 and 1/2 cups white rice - uncooked
2 cups low-fat milk (or soy milk - vanilla soy milk works great)
1/4 cup sugar
1 and 1/2 teaspoons of ground cinnamon
Prepare the rice according to the directions on the package.
Combine warm cooked rice, milk, sugar, and cinnamon. Stir and serve. That's all there is to it.
For different flavors, try adding a small handful of raisins or other favorite dried fruits.
Note From Recipe Submitter:
If I was on Survivor, my luxury items would be cinnamon, sugar and milk so that I could share this easy, tasty treat with my tribe. They would never vote me off! You can also add raisins and or another dried fruit - right at the end when you mix everything together.

A nice change of pace from oatmeal. A little like a healthy rice pudding for breakfast.
Mr Breakfast would like to thank
muffin
for this recipe.
Comments About This Recipe
What do you think of Cooked Rice Cereal?
Overall Average Rating =
(out of 5)

From nestlefuno (Team Breakfast Member)

How about putting Starbucks hot cocoa in this cereal?

Comment submitted: 4/15/2018 (#20551)



From Team Sweet Rice
Was raised on this supplement. As a parent, I prepare this delicious meal with butter, vanilla and I use sweet condensed milk in place of the sugar. I also bake biscuits and sausage as sides with the rice. This is a tradition in our home, and the kids love it!

Comment submitted: 2/17/2016 (#19799)



From MJ Chick
A little too much milk... closer to just a cup next time. It was good with cranberries. Also, it was better after it had rested in the pan for 10 minutes.

Comment submitted: 7/20/2013 (#16185)



From justsomegirl
I've been eating this forever. Know what it reminds me of just a little? Horchata. LoL. It's the best way to eat rice, IMO. And compared to how much sugar boxed cereals contain, or how much sugar we often end up dumping onto our bran cereal, it IS a somewhat healthier alternative.

Comment submitted: 5/17/2013 (#15883)



From sugarysweet

I was desperate for something for dessert and I have absolutely nothing sweet in my house. I cooked some brown rice and while it was still warm, equal part skim milk, added a tiny amount of brown sugar and some cinnamon - and it was a good dessert. I have lost 60 pounds in the last six months - and my body is not used to sugar, or rice for that matter so it was quite the treat!

Comment submitted: 4/10/2013 (#15614)



From Mickey
I personally prefer when the rice is cooked in milk - well known recipe in eastern Europe :)

Comment submitted: 3/17/2013 (#15416)



From Jordan
Love this! My mom made it all the time for me when I was little.

Comment submitted: 2/1/2013 (#15124)



From fisher
Tasted great. I'm sure I'll make it again. Great discovery! Thanks for sharing the recipe.

Comment submitted: 2/25/2012 (#13576)



From vanessa
I added some dried cranberries and a topped it with more cinnamon and sugar. Very good.

Comment submitted: 1/27/2012 (#13474)



From Francy
I added raisins, dries cranberries and shredded coconut. We liked it a lot. It was nice for a change.

Comment submitted: 11/7/2011 (#13123)



From chaji
Nice! This worked for my cooking assignment! It rocks!

Comment submitted: 9/7/2011 (#12885)



From grimlock9909

Testing this out to see if my husband will enjoy it as an oatmeal replacement as he is allergic to wheat.

Comment submitted: 5/10/2011 (#12666)



From GermanMom
My Grandpa used to make this when we were little. Instead of sugar I use agave nectar.

Comment submitted: 1/6/2011 (#11858)



From LovinIt
I'm loving this recipe. It was really good.

Comment submitted: 6/7/2010 (#10641)



From Fulton
I found this to be great for my healthy vegetarian diet. Something different from oatmeal. I agree with other guy about adding raisins.

Comment submitted: 6/3/2010 (#10605)



From Crystal
Kiddos loved it for breakfast. I used less sugar, and replaced it with brown sugar. I added wheat germ, and didn't add any milk.

Comment submitted: 5/17/2010 (#10512)



From Dr. Cereal
Add some raisins too and it's really good.

Comment submitted: 3/15/2010 (#10067)





From missusbreakfast (Team Breakfast Member)
It's not what I'd call 'yummy' but it wasn't terrible. I don't fancy rice with sugar, I'll admit. I just don't like savoury things trying to be sweet, doesn't tickle my tastebuds.

Comment submitted: 3/10/2010 (#10020)



From Capt. Breakfast
Add some butter and now we're talking. Grew up it. Super comfort food. Btw... not as good with whole grain rice. Too much of a grain flavor that way.

Comment submitted: 2/24/2010 (#9905)



From Mike

How is this healthy with 1/4 cup of sugar (1 Tablespoon sugar per serving)? Your kidding right?

Comment submitted: 12/28/2009 (#9320)



View all 39 comments for this recipe.



---
Connect With Mr Breakfast: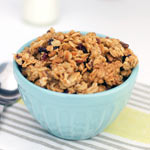 Orange Marmalade Granola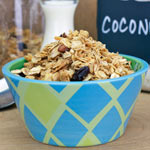 Coconut Granola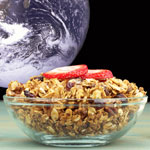 Earth Day Granola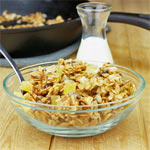 Skillet Granola