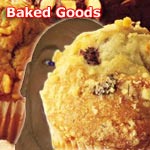 Easy Cream Filling (Donut)
1 cup shortening
1 cup confectioners sugar
1 cup white sugar
Whip together all ingredients until creamy (about 10 minutes with an electric mixer). How's that for easy!
Makes almost a cup and a half.

I recommend using an electric mixer. It takes a lot longer if you do it by hand. This is the recipe most donut shops use because it's so inexpensive.
Mr Breakfast would like to thank
Jazzbo
for this recipe.
Comments About This Recipe
What do you think of Easy Cream Filling (Donut)?
Overall Average Rating =

(out of 5)

From luv2cook

Okay y'all I will tell you the best advice my grandmother told me when cooking... ALWAYS use domino sugar. Generic items affect the results of your baked goods. I use granulated sugar all the time in recipes like this and never have a grainy texture. Slowly add sugar and beat into shortening or butter - whichever you choose to use - very well. The more you cream the sugar/fat the less gritty it becomes. Hope this helps you and you try again. I am going to try this recipe soon for homemade bon bons.

Comment submitted: 12/6/2013 (#17196)



From DonutDad

I think the person that got a grainy texture maybe wasn't using powdered sugar. It seems old-school and not healthy, but shortening is needed to make a good cream filling. You should also a teaspoon of vanilla, almond extract or other flavoring.

Comment submitted: 2/26/2013 (#15239)





From Bakery Elf (Team Breakfast Member)
I used whipped butter instead of vegetable shortening. This is a great base to add flavors. I used about 3/4 tsp (more or less depending on your taste) of vanilla. (Use Rum, orange, almond extract, etc.) I mixed the filling on high for about 15 min. Good Stuff!

Comment submitted: 6/18/2011 (#12820)



From Aaron47239
| | |
| --- | --- |
| Rating (out of 5): | |

I mixed this recipe together and it turned out very grainy. I mixed it with a blender on high for a total of 20 minutes and it was still very grainy. I even added a little water and vanilla extract. Still the same grainy nasty tasting result. Do NOT use this recipe. A huge waste of time.

Comment submitted: 4/3/2011 (#12390)



From doorstep
Crisco shortening worked great. Thanks!!!

Comment submitted: 8/24/2010 (#11124)



From curlysue
| | |
| --- | --- |
| Rating (out of 5): | |

Greasy GRAINY MESS!! Had to throw it out! You apparently didn't taste this recipe before you published it on the web! Awful recipe!!!!! Don't try this at home!

Comment submitted: 4/14/2010 (#10302)



From Tiger

For Pete's sake, this is just a recipe for the creme base to which flavorings are intended to be added. Commercial bakeries use shortening that has whipped in a small quantity of water, don't expect the sugar to emulsify if you are using high grade pure vegetable shortening. Have sense enough to add a tablespoon of water and some flavoring extract and it comes out smooth every time.

Comment submitted: 3/29/2010 (#10198)





From gifford (Team Breakfast Member)

Good heavens people. Two bits of advice: 1) before making a recipe, read the comments; and 2) before filling a donut, taste the filling. BTW... good advice from "marini" - nice job.

Comment submitted: 2/27/2010 (#9936)



From xanderdander
| | |
| --- | --- |
| Rating (out of 5): | |

I wanted creamy filing for a layer cake. I tried this and put a smathering on my cake. it was extremely GRITTY!! The texture was as if I'd put sand in my cake! It ruined my cake. Once its on, you can't get it off.

Comment submitted: 2/27/2010 (#9932)



From Ess

I didn't write this recipe but I've seen the exact same one on the web as I look for a good creme filling recipe myself and I've seen the same responses given to this recipe elsewhere. But, can I ask you responders who left very negative comments why you have to go out of your way to be an A#%$ole about it? Sure, thanks for letting me know this recipe isn't a keeper but what more needs to be said than "oh the texture is gritty"?

Comment submitted: 12/31/2009 (#9342)



From marini
I tried the recipe as it was and it came out very gritty. Then I switched to a smaller bowl on my stand-up mixer and mixed the 3 ingredients for about 10 minutes. Then I added 1/4 to 1/2 cup of boiling hot water and continued beating -- this melted the sugar and made the icing really fluffy, then I added an additional cup of confectioners sugar and a little vanilla and kept mixing for another 5 minutes. The result was AWESOME!!! I hope this helps! :)

Comment submitted: 8/16/2009 (#8556)



From stroked

Anything made with hydrogenated or partially hydrogenated shortening will cause a stroke eventually. Absolutely the worst fat to consume and banned in many European countries.

Comment submitted: 6/14/2009 (#8273)



From Sad Donut
| | |
| --- | --- |
| Rating (out of 5): | |

Very gritty with no good flavor!!!! Horrible. Wasted my ingredients...

Comment submitted: 5/19/2009 (#8136)





From lololo (Team Breakfast Member)
| | |
| --- | --- |
| Rating (out of 5): | |

I tried this recipe and mixed it for about 15 min on high in my kitchen aid mixer. It came out gritty and if you don't add flavorings it taste like sugary crisco. don't waste your time on this recipe.

Comment submitted: 5/26/2008 (#5378)



From Irate
| | |
| --- | --- |
| Rating (out of 5): | |

This recipe is BOGUS! That would explain why the granulated sugar issue was never replied to! I tried it twice using powdered sugar and granulated sugar and it turned out very gritty both times. The second time I even ground the granulated sugar to make it finer in a blender and it still turned out gritty. Unless you want to make something that is not fit to consume and has to be thrown out, I suggest using ALL powdered confectioners sugar if you attempt to use this recipe.

Comment submitted: 1/6/2008 (#4325)



From Question 4 U

How can three cups of ingredients make a cup and a half?

Comment submitted: 8/17/2007 (#3387)



From Laura

By white sugar, do you mean granulated? Because it comes out very gritty.

Comment submitted: 5/15/2007 (#2413)



From Filled With Ease
Wow that was easy! Thanks!

Comment submitted: 11/30/2006 (#847)




---
Connect With Mr Breakfast: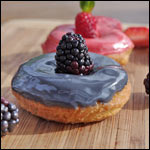 Berry Delicious Cake Donuts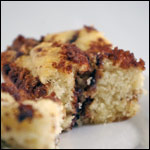 Cinnamon Flop (Coffee Cake)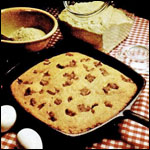 Bacon Spider Bread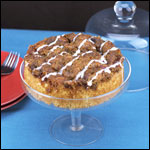 Strawberry Jam Coffee Cake

Just because it looks fancy and tastes great doesn't mean it's hard.
Click here
.