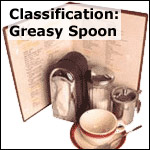 1002 Se Powell Blvd.
Portland, OR 97202
Average Overall Rating:

Average Expense Rating:

Review by:
TomeB
on 1/25/2014
| | |
| --- | --- |
| Coffee Refill Rating: | Doesn't Apply |
| | |
| --- | --- |
| Expense Rating: | |
Ok, call me anything but hip. I just have never seen all the negative stuff listed in the other reviews. Perhaps because I go there for breakfast. You know, IN THE MORNING, and not after being up all night. I've found the place to be relatively clean, the staff relatively friendly, and the hotcakes are the best thing this side of heaven. To paraphrase a famous saying, "If these hotcakes aren't in heaven, I want to go where they are." It's one of the few restaurants smart enough to heat the maple syrup! Oh, and the hashbrowns are not "greasy" as much as they are "buttery". There is a difference that you might detect if you aren't trying to see just "one plate at a time". Good stuff, and yes it really is heart attack on a plate.
Award Nomination:
Best Breakfast Ever
Review #24704
Review by:
Smiles
on 11/15/2011
| | |
| --- | --- |
| Coffee Refill Rating: | Doesn't Apply |
| | |
| --- | --- |
| Expense Rating: | |
Good place to eat when your drunk, everyone is friendly, food is extra greasy, large amount of food.
Review #22803
Review by:
altannuisance
on 12/10/2010
| | |
| --- | --- |
| Coffee Refill Rating: | Doesn't Apply |
| | |
| --- | --- |
| Expense Rating: | |
Looks questionable on the outside. Looks questionable on the inside. It's not until they deliver your heaping plate of greasy, delicious and well priced food that your fears of anything other than clogged arteries begin to vanish. Of course, I only ate here during the daytime amongst the hungry lepers, so I can't speak to their night vibe.
Review #21613
Review by:
gloki
on 10/6/2009
| | |
| --- | --- |
| Coffee Refill Rating: | Doesn't Apply |
| | |
| --- | --- |
| Expense Rating: | |
The 24 hour hotcake house is neither comfortable nor friendly. Its cafeteria style in the same way prisons are.
Its easy to navigate when wasted, and they don't judge... they just pop some more Oxycontin to take the edge off.
They make their own hashbrowns. The food is extra greasy. Grease (and this is a little known fact) becomes extra delicious the more inebriated you are. It becomes downright delectible when you have to close one eye to see just one plate. Go ahead an eat with your hands if you must... you won't remember and neither will most the patrons.
Its theoretically possible people eat here in the day. I'm sure theres some reason they do, and I'd avoid finding out what were I you. I imagine it to be the community center of a leper colony or something in daylight.
Review #18220
Review by: MrBreakfast.com Visitor on 2/8/2009
| | |
| --- | --- |
| Coffee Refill Rating: | Doesn't Apply |
| | |
| --- | --- |
| Expense Rating: | |
This place is a must for anyone looking for that Portland vibe. Come in after a night out at a bar and hang out with the hipsters and cramming college students for a huge plate of greasy spoon slop served cafeteria style. Order your food, take a number and fill your own (very bad) coffee. The pancakes are massive rib-stickers, and they keep getting larger after you eat them. The hashbrowns are just as massive, they are greasy and strangely addictive. You'll eat there, you'll like it. You'll complain when your friends want to go back, but then once you're there, you'll like it all over again.
It's the hugest dump at the end of the night after being crammed full of drunken hipsters on a Saturday night, but it just adds to the ambiance.
Award Nomination:
Hugest Dump
Review #16182
To write a review of your own for Original Hotcake House,
click here
.
Connect With Mr Breakfast:



Reviews submitted here are meant to pertain to breakfast only. While Mr Breakfast cannot vouch for the validity of each restaurant review, he feels pretty good vouching for the excellent character of the residents of Portland, Oregon - who are primarily responsible for the review(s) you see above for Original Hotcake House.

May the force of breakfast be with you.
Click here
.