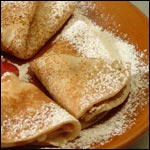 How To Make A Basic Crepe
1 cup all-purpose flour
2 eggs
1/2 cup low-fat milk
1/2 cup water
1/4 teaspoon salt
2 tablespoons melted butter
Whisk the flour and the eggs together in a large mixing bowl. Slowly stir in the milk and the water. Add the salt and butter, and beat the mixture until smooth.
If you have a crepe maker, you probably know what to do next. If you're not so lucky...
Heat a griddle or frying pan to medium. Give it a very light spray of cooking oil. Drop the crepe mixture onto the heated surface. Using about a 1/4 cup of batter for each crepe. Tilt the pan with a circular motion so that the batter coats the surface evenly. "Thin is in" when it comes to the layer of batter.
Cook each side until the golden brown brown (about 2 minutes for side one -- batter will bubble; and 1 minute for side 2). Gently remove and place on a plate. Place waxed paper between cooked crepes to prevent sticking.
This will make 8 crepes. 2 crepes make a serving.

One recipe and you can make a thousand different kinds of crepes. Use any filling or topping you can imagine. This is just a good basic, go-to crepe recipe.
Mr Breakfast would like to thank
Mr Breakfast
for this recipe.
Comments About This Recipe
What do you think of How To Make A Basic Crepe?
Overall Average Rating =

(out of 5)




From Kyle
Very good on a Saturday morning.

Comment submitted: 5/29/2015 (#19434)



From Night Owl
Brilliant. Also easier then I thought.

Comment submitted: 2/28/2015 (#19295)



From B.F.F.

Making them for my bff and myself tomorrow... fingers crossed they turn out right!

Comment submitted: 2/23/2015 (#19287)



From privie
Just made them and stuffed them with lettuce, fried egg, raw tomatoes and onions. Everyone loved it.

Comment submitted: 2/10/2015 (#19257)



From F.I.R.H.

AWESOME!

Comment submitted: 1/31/2015 (#19238)



From Robin
First time making crepes and these were awesome. Love how easy they are to make.

Comment submitted: 1/19/2015 (#19218)



From Y. Saks
This was fabulous!

Comment submitted: 1/4/2015 (#19188)



From Maria

I searched and found this. I will make them and comment again :)

Comment submitted: 11/26/2014 (#19126)



From Limey
Try with lemon juice and sugar (not too much of each), then roll up and eat. Great for breakfast... English style!

Comment submitted: 11/12/2014 (#19105)



From Olive

Had a strong taste of butter.

Comment submitted: 10/27/2014 (#19084)



From Sang-sang
Love this recipe. Definitely add the sugar and vanilla to it.

Comment submitted: 5/11/2014 (#18872)



From BK38
I keep coming back to this recipe over all others for crepes. The best!

Comment submitted: 3/8/2014 (#17349)



From Cinnamon
Hey... I am only 11 but I was searching how to make crepes because when I go to the theater they made such good ones so I really wanted my mom to make them and this recipe really really really rocks.

Comment submitted: 2/7/2014 (#17301)



From Kris
First time trying crepes and they turned out AWESOME!!! For presentation, we rolled 'em up and stuffed the with jelly and cool-whip. Thanks a million.

Comment submitted: 11/11/2013 (#17137)





From Corrinie (Team Breakfast Member)
Success!

Comment submitted: 9/20/2013 (#16567)



From C.J. Tasty
Experiment: I added a heaping teaspoon of chopped fresh thyme and basil to the batter so they would be savory and then I filled them with cheesy scrambled eggs. Results: Success!

Comment submitted: 9/9/2013 (#16437)



From davina
I've made this three times now! I'm finally getting perfect crepes each time. The trick is to tilt and turn the pan as you add the batter. I start with a 1/4 cup measuring cup, but usually only use about 3/4 of that. Stop adding batter when the bottom is coated and the crepes turn out each time. The amount of batter really depends on the size of your pan.

Comment submitted: 5/10/2013 (#15851)



From NutzyKookoo
Add 2 teaspoons sugar and 2 drops vanilla to the batter. Served with sliced strawberries and Nutella. Absolutely amazing! Thanks!

Comment submitted: 4/12/2013 (#15628)



From Jess38
They were delicious. I like them so much that I'm thinking of having them at my wedding!

Comment submitted: 3/14/2013 (#15385)



From Crazy-W
Yum! Delicious with Nutella!

Comment submitted: 1/12/2013 (#15073)



View all 290 comments for this recipe.



---
Connect With Mr Breakfast: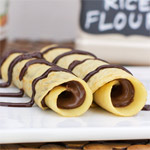 Gluten-Free Crepes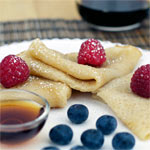 Egg-Free Crepes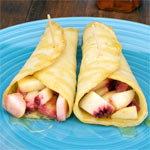 Low-Fat Honey Crepes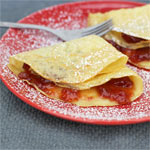 Jelly Crepes

Just because it looks fancy and tastes great doesn't mean it's hard.
Click here
.