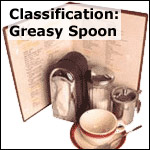 1333 Broadway and 2716 28th street.
Average Overall Rating:

Average Coffee Refill Rating:

Average Expense Rating:

Review by:
alpinebixby
on 1/1/2011


This is a dirty, disgusting restaurant. The only reason it has survived in Boulder for so long is that the dirty hippies of Boulder have no standards and don't demand better and lazy restaurants take advantage of that. Waitstaff was rude! I just blame the owners; if they had a problem with mentally ill servers, they would hire and train others to be friendly and helpful.
Yuck! There are a lot of great places to eat. Avoid.
Award Nomination:
Hugest Dump
Review #21719
Review by: MrBreakfast.com Visitor on 12/30/2008


| | |
| --- | --- |
| Coffee Refill Rating: | Doesn't Apply |
I went to Dot's for breakfast this morning. A friend of mine was already sitting and my 16 month old and I came in to join her. We were sitting near the main walkway by the kitchen and the waitress asked us if we would move to a corner booth as we needed a place to put the high chair and she thought that booth might not be the best choice to put a high chair. We did. As we sat down the waiter of that section said "I thought you guys were sitting back there", and pointed to the table we were at previously. I told him we were, but the waitress asked us to move to that table. He went on to say that the sections are split up by server, there were people waiting before us and we couldn't just sit where we wanted, (in an angry tone--almost yelling). I got up and told him he could go ahead and give our table away because we were leaving. He smiled and waived goodbye. Knowing his situation I might understand his frustration, but had he tried to resolve the situation for us and in a different tone, I would have stayed. Needless to say, I probably won't be going back.
Award Nomination:
Worst Service
Review #15727
Review by: MrBreakfast.com Visitor on 10/5/2008


Disgruntled long-time customer. Six people in our party. Four adults, an 18-month old and a
five year old.
Breakfast ordered. Breakfast delivered missing 5-year old's French Toast. Toast was finally delivered about the time everyone else was through eating. My cup of decaf, my veggie burrito, and my biscuits were cold.
Four adults and 2 children were identified as a 6-party group and the bill automatically was affixed with a 20% gratuity. In speaking to the
waiter I was told, "That is the way we do it."
Unacceptable. I would have given her a 10% tip
because of all of the problems we encountered.
That is all that she deserved. We won't go back for a while.
Review #15030
Review by:
underdogs39
on 6/26/2005


Best breakfast in Boulder!
Award Nomination:
Best Bargin Breakfast
Review #5312
Review by:
Scrambled
on 5/12/2003


The worst waitresses in the world!
Award Nomination:
Worst Service
Review #1738
Review by:
xenalionness
on 9/14/2002


One of Boulder's famous spots. Great food and even better smiles. Always a great place to wake up.
Award Nomination:
Best Service
Review #742
To write a review of your own for Dot's Diner,
click here
.
Connect With Mr Breakfast:



Reviews submitted here are meant to pertain to breakfast only. While Mr Breakfast cannot vouch for the validity of each restaurant review, he feels pretty good vouching for the excellent character of the residents of Boulder, Colorado - who are primarily responsible for the review(s) you see above for Dot's Diner.

May the force of breakfast be with you.
Click here
.