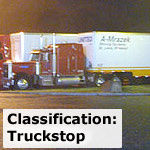 On Barbur Blvd. in Burlingame
Average Overall Rating:

Average Coffee Refill Rating:

Average Expense Rating:

Review by: MrBreakfast.com Visitor on 3/13/2007


One of the best homestyle breakfasts you'll find in Portland! Reasonable prices, hefty portions and great service. Old coffee shop motif! Capable of handling large groups.
Award Nomination:
Best Breakfast Ever
Review #9869
Review by:
Clayman
on 9/8/2006


This greasy spoon has solid food quality. Average+ service for a truck-stop style family breakfast joint. Typicaly yucky coffee and a chain resturant lay out. It's ok if you want nice proportions, no wait lists, and big old booths or swivel-stool counter seating. I find the ventalation hood from the kitchen is a bit loud, but if you sit far enough away from it, this is a viable breakfast hang-over treatment spot.
Review #8453
Review by: MrBreakfast.com Visitor on 1/19/2006


While the service is iffy(some days you get a great waitress, other days you get one in a bad mood) the food is wonderful. You will not find a better place for breakfast. The omelettes are amazing, and the hashbrowns are perfect and not day-old. Best kept secret on the west side.
Award Nomination:
Best Breakfast Ever
Review #6619
To write a review of your own for The Golden Touch,
click here
.
Connect With Mr Breakfast:



Reviews submitted here are meant to pertain to breakfast only. While Mr Breakfast cannot vouch for the validity of each restaurant review, he feels pretty good vouching for the excellent character of the residents of Portland, Oregon - who are primarily responsible for the review(s) you see above for The Golden Touch.