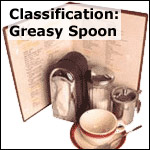 Located in the southwest quadrant of Casady Square at Penn and Britton Road
Average Overall Rating:

Average Coffee Refill Rating:

Average Expense Rating:

Review by:
gordon
on 6/8/2012


poached egg runney, but got one that was right.
our server was great. we will be back.
Award Nomination:
Best Service
Review #23382
Review by:
ftwtookc
on 4/25/2012


We had a very good breakfast,tasty, filling, great
bread too. My family thanks Jimmy's Egg. We ate at
Edmond, OK. 15th street. We'll be back each time
we visit our kids there.
Award Nomination:
Best Breakfast Ever
Review #23275
Review by: MrBreakfast.com Visitor on 9/18/2011


This applies to the location on I-35 Service Rd in Moore. The rating should not apply to this one incident that our family incountered this morning. We've always had great service. Word of advice, always, always check with your waiter/waitress on the pricing of specials and what all is in it, even if it's advertised right in front of their face and yours. When I questioned my bill, the mgr. rudely tells me that someone must have changed the pricing on the board. Not only that, the table turned on me with accusing eyes of "Did u do that?". Thank goodness it was just breakfast! And truthfully, if I were to try and scam a free meal, it will be DINNER, NOT BREAKFAST!!!!!!!! My kids and I love to go out for a sit-down breakfast and NEVER have I encountered such a thing. I was humiliated with how this mgr handled the situation and never have I ever been in a situation where I had to post a comment. This is my first comment ever!
Review #22650
Review by: MrBreakfast.com Visitor on 3/17/2011


Not the best of the breakfast resturants around
Award Nomination:
Worst Service
Review #22218
Review by:
BrunchMe
on 9/22/2010


Broadway location in Edmond to be avoided!! Three times in a row my to go order was completely wrong!!! Bad service, and rude Asian guy that's stoned or dumb??? What's so hard about getting a standard breakfast correct??? If you want the best breakfast in Okc or Dallas, Tx the go to Classen Grill in Okc and Breadwinners in Big D!!! You will know you have arrived at breakfast Nirvana once you eat at these to places!
Award Nomination:
Best Bargin Breakfast
Review #21097
Review by: MrBreakfast.com Visitor on 8/23/2009


| | |
| --- | --- |
| Coffee Refill Rating: | Doesn't Apply |
I went to the jimmys egg off of Broadway in edmond and it was the worst experience I've had at jimmys egg. My omelet was runny and nasty, the toast was burnt and gross, the sofa was even nasty and this creepy old guy stared into my eyes the entire time.
Review #17839
Review by: MrBreakfast.com Visitor on 4/16/2009


The E. 2nd St. Edmond location is by far the best Jimmy's Egg in the metro. All of the complaints written here by other reviewers just do not apply there. The store is clean, the wait staff is excellent, and the food is always well prepared. I hope the new one in Guthrie is as good as this location.
Award Nomination:
Best Bargin Breakfast
Review #16818
Review by:
egghead
on 11/19/2008


love jimmys the one on 77 and walker is great fast food fast service once you sit down the wait staff works as a team cooks could improve on apperance the service is great even on weekends when line is to the door. kudos to the management they do a great job. only wish for more than one restroom.
Award Nomination:
Best Service
Review #15404
Review by:
paulI
on 7/20/2008


On 7/20/08 my family and I went to your store at Portland and 39th expressway for breakfast. Terrible. My family waited 45 min for their breakfast and mine never did come. I opted to cancel my order and left your rest. Thanks for no breakfast. There was one waitress to serve an entire section. If you don't have enough wait staff to serve your customers, then don't open. Then there was the waitress that ran her fingers thru her hair in the middle of the rest.and made it into a bun, then waited on customers without washing her hands. The health department will be contacted.You lost a customer. Sad because the food is good,the service is terrible.
Review #14289
Review by:
jmhk33
on 1/5/2008


| | |
| --- | --- |
| Coffee Refill Rating: | Doesn't Apply |
A person i work with spoke very highly of Jimmy's Egg, so we stopped one morning and i tried it out. it was the store in Edmond just of broadway Ext. The service was decent for as busy as it was had people lined up just out the door. I orded a short stack ( HUGE ) pancakes and a side of biscuit and gravy, pancakes we're fluffy ( excellent ) B&G we're good as well althought wasnt able to finish it all, gravy could have been better but biscuit we're very large..I didnt have coffee did have milk, milk wasnt as cold as it should have been but hey sh*t happens right.. I will go back a second time and try something else... BUT FOR EVERYONE WHO LIKES JIMMY'S EGG...TRY SHERIS DINER ON SW 59TH JUST OFF WESTERN NOW THAT PLACE IS THE BEST. JUST TRY IT OUT AND SEE FOR YOURSELF..
as for the person speaking about hispanics, who care if there illegal or not, atleast they are out there trying to provide for there families and not on welfare..you want the best mexican food in town? goto las frontera carnecira on nw 19th and macarthur and order a Torta with everything costs 5 buxs will be the best sandwhich u will ever eat..
Jimmys egg here we come i saw a chicken fried steak from one guest it was hanging over the edges of the plate i wanna try it out see ya soon lol..
Award Nomination:
Most Comfortable
Review #12329
Review by:
T-Dogg
on 4/19/2006


The Jimmy's on NW 39th is great because it is larger and accommodates more people which means no wait!! The service is outstanding( endless coffee refills!) very clean and BEST of all --the GreenOnion+Potatoe+CreamCheese Omelet with the homemade white toast!!! It just doesn't get much better!!!!
Award Nomination:
Best Breakfast Ever
Review #7294
Review by:
Dufus99
on 12/16/2005


I live in Mustang, OK. I have been to the Yukon Jimmy's Egg numerous times. I always leave disappointed. The food is edible and the service is just okay or less. The place is always busy (located next to a major interstate highway I-40) and I think the reason must be all the people that pull off the highway to get breakfast. The wait staff seems distant and concerned more about numbers and potenetial tips than about service.
There are not many breakfast places around here so we go back every few months. We then realize why it has been a few months. Not a bad place, just not a really good place to eat.
Award Nomination:
Biggest Ripoff
Review #6438
Review by:
evalerio
on 7/26/2005


You can not get a better breakfast in Oklahoma than Jimmy's Egg. For the price you get more food then you could possiably stomach for breakfast and lunch combined. The service is excellent and the food FANTASTIC.
For those of you who are stuffy and snotty, this is not the place for you. The atmosphere is relaxed, casual, and just plain homey! Go eat at the Renissance if you need to feel important and leave hungry.
For those who want an great value with an even better taste...go to JIMMY's
Award Nomination:
Best Breakfast Ever
Review #5526
Review by:
gimmedawaffles
on 7/6/2003


I liked the food. The service wasn't that great, though. The restaurant was a little trashy.
Award Nomination:
Hugest Dump
Review #2063
Review by:
Blossoms
on 9/13/2002


A cross between a family restaurant and a greasy spoon, this family-based eatery has spread into a chain spread around the city and its suburbs.
Their omlettes are so big, you'd swear they were made from a dozen eggs! The cheese is real, not imitation.
The portions are great, service is good and it's worth the time to eat there. Lots of other people think so, too, because there's always a nice crowd there at breakfast and lunch. Never tried it for dinner, but I will soon!
Award Nomination:
Best Breakfast Ever
Review #361
To write a review of your own for Jimmy's Egg,
click here
.
Connect With Mr Breakfast:



Reviews submitted here are meant to pertain to breakfast only. While Mr Breakfast cannot vouch for the validity of each restaurant review, he feels pretty good vouching for the excellent character of the residents of Oklahoma City, Oklahoma - who are primarily responsible for the review(s) you see above for Jimmy's Egg.

I won't reveal #1, but I can tell you it's Gr-r-reat!
Click here
.