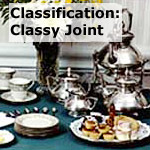 Jasper's Porch Lakeside Restaurant
I-95, exit 21.
1 block from the Interstate
Next to the Comfort Inn
Average Overall Rating:

Average Coffee Refill Rating:

Average Expense Rating:

Review by: MrBreakfast.com Visitor on 8/14/2013


| | |
| --- | --- |
| Coffee Refill Rating: | Doesn't Apply |
They have pretty good food once you get it. This place has gone down in customer service since last year. Met the owner and he's a real jackass! There's a beautiful pond behind the restaurant that has a lot of fish. Owner is pretty selfish when it comes to letting someone fish this pond. I'm a sport fisherman and believe in catch and release. It's a shame someone of this mans statue can be so rude. I feel sorry for today youth that can't enjoy a great sport like fishing because of people like this. I will not return to this mans restaurant and pond due to my last experience.
Award Nomination:
Worst Service
Review #24517
Review by: MrBreakfast.com Visitor on 2/27/2011


| | |
| --- | --- |
| Coffee Refill Rating: | Doesn't Apply |
service there is horrible. the waitress took our order, then 30 minutes later she came back again and took our order beacause she lost our order. it took an hour and a half just to get our meals. there were 5 of us but only 3 came out and half my meal was missing. 30 minutes later the other 2 meals came out but they were wrong too. if i were you i would not stop driving when you see jaspers porch on I-95! KEEP ON ROLLING IF YOU SEE THE SIGN!!!
Award Nomination:
Worst Service
Review #22121
Review by:
bigdog
on 2/21/2011


it was my worst dining experience ever. i hope you .have a better experience than mine. the food is horrible/.
Award Nomination:
Hugest Dump
Review #22073
Review by:
dcox1
on 9/2/2010


We stopped on the way home to Florida from our trip up to New Jersey. We stayed at the Comfort Inn and decided to try Jaspers. We were very pleased with the friendly staff and great food. Anyone who passes this restaurant and doesn't stop in is missing out on a wonderful restaurant and a refreshing change from the usual fare offered on Rt. 95. I'm here for my granddaughter's graduation from the Marines this weekend and have raved aboout the awesome experience we experienced in July at this restaurant. My extended family is going to Jaspers tomorrow after graduation for an a relaxing meal at a great location. Then we'll go south back to our homes in Florida and can't wait until we return again in October on or way up to New Jersey for two weeks and again when we visit Hilton Head in November. Jaspers will be on our stops on each of those trips as well. Want some good food, atmosphere and great service, come to Jaspers--you won't be disappointed.
Diane
Award Nomination:
Best Service
Review #20905
Review by:
fyrdad12
on 9/1/2010


We saw the billboard on I-95 while traveling from Virginia to Florida and decided to try it. This was something different from our usual stop at Cracker Barrel or Perkins. The atmosphere was very inviting and the staff was super nice. It was an older gentleman who immediately won over my kids ages 4 and 7 when he gave them bread and led them to the open portion of the screened in porch that over looked the lake. They had fun feeding the turtles and carp which meant that my wife and I were able to enjoy a very good cup of coffee. He even shared his lake gator story with them. The service was good, we got our drinks fast and placed our breakfast order. Everything from the bacon to the pancakes to the French toast was hot and smelled great when it was served. I was also pleased that my eggs were actually cooked just as I had ordered which is rare when you eat on the road.Our waitress came back several times to check on us and refill our drinks. It was nice sitting outside without having to deal with flies; the porch deffinately was a hit! While this stop added about an hour to our trip it was well worth it. I would reccomend this place to anyone who is looking for a good breakfast, the portions were generous and the price was reasonable. It was easy to get off and back on the Interstate and for the money it blows Cracker Barrel away!!
Award Nomination:
Best Breakfast Ever
Review #20884
Review by: MrBreakfast.com Visitor on 4/17/2010


Stayed at the in out front on the way home from FL. Looked good from outside, found looks very deceiving. I had Country fried steak with white gravy and mashed. I was taught to say nothing if you can't say anything nice. My lips are sealed. Stay away. Find a vending machine instead.
Award Nomination:
Hugest Dump
Review #19833
Review by:
ca2vagrma
on 3/13/2010


We discovered this fantastic place in Nov 2003 and have to stop there every time we go south at least once a year. No matter what time of day we stop the food is the best!
My Son thinks their Catfish dinners are to die for! My husband says "Delicious "SHE CRAB SOUP"
I even got my Sister & her husband to stop there when they came up to visit. They agreed with me it is super
Super People, Fantastic Cooks, the ideal casual family atmosphere. Love it!!!
Award Nomination:
Best Service
Review #19579
Review by: MrBreakfast.com Visitor on 6/22/2009


Best Coconut Cream Pie you'll ever have.
Review #17269
Review by:
jesswade
on 4/12/2009


I read the comments on here before visiting Jasper's Porch and it was better than I expected. The atmosphere makes this place wonderful. It is so cozy, clean and everyone was friendly. My kids were kept busy by the lake and ALL of the turtles. We even saw an alligator in the morning at breakfast. I ordered the Low Country Boil for dinner on our way down to Florida and it was AMAZING! So good that on our way back my husband and daughter ordered it too. I look forward to stopping there every time I travel south!!
Award Nomination:
Best Service
Review #16777
Review by:
Wisemansion
on 2/23/2009


I-95 restaurant - very easy to get to - 1 minute off I-95 - Great location, great food and wonderful view of lake. The children really enjoyed feeding the fish on the screen porch. Kids enjoyed the kids menu and turtles in the lake. Omelette was delicious - pancakes great and excellent coffee - imported!!!! Love their t-shirts. Walk your dog on the nature trail -beautiful trail around the lake - huge carp and turtles.
Award Nomination:
Best Breakfast Ever
Review #16320
Review by:
JasperFan4Lyfe
on 5/28/2008


| | |
| --- | --- |
| Coffee Refill Rating: | Doesn't Apply |
I saw the sign for Jasper's Porch and knew my lyfe would never be the same. Something inside me changed and I knew it was an unbelievable blessing. Several days later, I was fortunate enough to dine ON Jasper's Porch and that's when I knew it was true: I found my favorite restaurant.
Thanks, Jasper... you changed my lyfe.
Review #13823
Review by: MrBreakfast.com Visitor on 2/29/2008


We have family in the north so make 2 to three trips a year. We always stay in Ridgeland just so we can visit Jasper's for dinner AND breakfast. It's not just the food: it's watching and feeding the turtles in the pond from the back porch, watching other strollers make their liesurely way around the nature trail, and of course the happy and courtious service. Sometimes the chef even comes out to greet the diners. From petting the kitties to chasing the ducks or being chased by the geese (yikes!) we love to stop in Ridgeland and Jasper's and will for many years to come.
Award Nomination:
Most Comfortable
Review #12941
Review by: MrBreakfast.com Visitor on 11/11/2007


Ssssssshhhhhh! Don't tell anyone about this fabulous place, sitting on a small lake. Best food stop anywhere on the trip to Florida.
Award Nomination:
Best Breakfast Ever
Review #11853
Review by: MrBreakfast.com Visitor on 9/29/2007


We were traveling home from Hilton Head when we saw the sign for Jaspers Porch. We are not much on stopping at places we haven't heard the name of before, but this time we were so glad we did. We absolutely loved this place the food and service could not have been better. We ate on the porch and reccommend that anyone who has the chance do so also. The atmosphere was great we can't say enough good things about our visit, we intend to go back. William and Jan McMichael
Award Nomination:
Best Breakfast Ever
Review #11506
Review by: MrBreakfast.com Visitor on 3/4/2007


We found Jasper's Porch on out trip down I-95 to an Elderhostel in GA. What a lucky stop!
The Sunday buffet was wonderful! And the sweet potato soup was voted among "favorite soups ever" at our table. Three of us had more of it for our dessert! Mmmmm - mmmm.
The nature trail provided a nice leg stretch for the road weary and camera buffs in our car, too. I'd like to stop again to eat on the porch.
Jasper's Porch is now on our list of favorite I-95 stops.
Review #9780
Review by: MrBreakfast.com Visitor on 12/31/2006


Yesterday was our third visit to the restaurant... our first and last for dinner.
Expect a long wait for food if there is a party in the party room. Food service in the dining room came to a halt while the party was served. When our food finally arrived, the promised coleslaw was missing. When we asked about it, we were told they were out of coleslaw...we were offered no substitutions or reduction in the price. I asked for a lot of fried onions on my hamburger...three small pieces of onion is what I got. The pie for dessert had no bottom crust...not sure what happened to it. Smokers from the party congregated on a small area of the porch sending cigar/cigarette smoke to everyone eating on the porch. Some porch diners changed tables in an attempt to avoid the stench.
We've enjoyed the buffet lunch in the past with no problems. If you try the restaurant, leave if you see a party in the extra room.
Review #9250
Review by: MrBreakfast.com Visitor on 11/26/2006


| | |
| --- | --- |
| Coffee Refill Rating: | Doesn't Apply |
Astonishingly miserable food: for example, a "rib eye steak" was about 1/2 to 3/4" thick, impossible to cook medium rare. The "special crab stuffed grouper" was two wafer thin filets lumped with stringy canned something or another and alot of Old Bay. Clueless, chintzy bar service; completely unable service. I normally give my name, but in this case, I sign myself: if Jasper's is your only choice, or if you expect actual lunch or dinner food, keep on rollin'.
Review #9031
Review by: MrBreakfast.com Visitor on 11/6/2006


Great for lunch and dinner too. View is spectacular as the porch overlooks a lagoon and nature preserve. Spring colors outstanding.
And we haven't even bragged on the breakfast.
A great stop on the way down I-95 for you Florida bound vacationers.
Award Nomination:
Best Breakfast Ever
Review #8873
Review by: MrBreakfast.com Visitor on 9/8/2006


What a wonderful place to sit down and relax in the middle of our trip to Florida. We stop here every year and it keeps getting better. The chef they have is out of this world. This has to be the most friendliest place in the low country to eat.
Award Nomination:
Best Service
Review #8450
Review by: MrBreakfast.com Visitor on 5/26/2006


My family and I were heading to Hilton Head Island for mothers day w/e and stopped in after a long ride down I-95 from Virginia. Excellent place after a long trip to refresh ourselves before heading to HHI. Service was great, food was out of this world. We will be back. A special thanks to the owners, the Bentz family, for their hospitality. what a wonderful time we had.
Award Nomination:
Best Service
Review #7591
Review by: MrBreakfast.com Visitor on 4/28/2006


Just left yesterday. looked it up on the web and found this.. The best kept secert in Ridgeland SC. Found it on the way to Savannah GA. You have to stop in, people are friendly and it's a very relaxed atmosphere. Nice place to kick back..A+++
Award Nomination:
Most Comfortable
Review #7373
Review by: MrBreakfast.com Visitor on 4/21/2006


Enjoyed the relaxed atmosphere after a long road trip down I-95. Right off the exit and right back on with ease. I felt as if I were one of the family. The coffee was exceptionaly good, slight wait due to the popularity of this quaint lake front restaurant. We will be back again and again everytime we travel south. The she crab soup is a must!!!
Award Nomination:
Best Service
Review #7316
Review by:
falconbird
on 1/25/2004


Jasper's Porch has a beautiful view of Blue Heron Lake and nature trail. Breakfast is served Mon-Sat from 8 to 11. Inside are comfortable booths and tables with rattan chairs. The decor (wallpaper, table cloths, upholstery) are fish-oriented but it's clearly not a rustic fish camp.
Coffee mugs are large and hold the heat. How's this for a special - 2 eggs, 2 bacon or sausage, 2 pancakes -$2.99! Also omelets, croissant sandwiches and steak & eggs.
A great break from driving I-95.
Review #2858
To write a review of your own for Jasper's Porch Lakeside Restaurant,
click here
.
Connect With Mr Breakfast:



Reviews submitted here are meant to pertain to breakfast only. While Mr Breakfast cannot vouch for the validity of each restaurant review, he feels pretty good vouching for the excellent character of the residents of Ridgeland, South Carolina - who are primarily responsible for the review(s) you see above for Jasper's Porch Lakeside Restaurant.

When's the last time you had breakfast in a cup made of bacon?
Click here
.