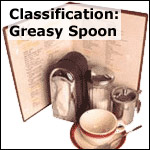 3323 N. High Street
Average Overall Rating:

Average Coffee Refill Rating:

Average Expense Rating:

Review by:
thedaltons6
on 5/18/2011


I really enjoyed this place. It reminds me of my grandads place when I was small. They are usually very busy but it was worth the wait. We had great service and enjoyed watching the conversations with the regulars :) WSe will be back!
Award Nomination:
Best Bargin Breakfast
Review #22447
Review by:
stryk3
on 9/17/2010


++++++++++++++++++++++++++++++++++++++++++++++++++++++++++++++++++++++++++++++++++++++++++++++++++++++++++++++++++++++++++++++++++++++++++++++++++++++++++++++++++++++++++++++++++++++++++++++++++++++++++++++++++++++++++++++++++++++++++++++++++++++++++++++++++++++++++++++++++++++++
Great place to go!!!!!!!!!!!!!
Best kept secret,even after many years!
Award Nomination:
Best Bargin Breakfast
Review #21063
Review by:
tonyburkhart
on 4/10/2009


Nancy's will be closing the end of May 2009. It will be missed!
Award Nomination:
Most Comfortable
Review #16755
Review by:
polarbearnhs
on 1/19/2008


Breakfasts are awesome for the price. You can watch them being made and be amazed at how quickly you are served great food, great service. If it is homemade comfort food you are looking for, Nancy's is the place to be. Go for lunch. Cindy King goes out of her way to make her restaurant friendly and comfortable. (ask Cindy why the name Nancy's). Go on Chicken and Noodle day and you will be amazed at the amount of food you get for the price. The chicken and noodles reminded me of when my grandmother used to make them at home. The mashed potatoes are real. Nancy's is small and you may have to wait in line if you arrive too late. They may run out of the special of the day if you arrive too late. The food is worth the wait if you can get it, but you if can go early. Out of courtesy, if there is a long line, waiting around after eating is not a great idea. Go and enjoy Nancy's.
Award Nomination:
Best Breakfast Ever
Review #12482
Review by:
etkjr
on 3/10/2007


Firstly, the grill cooktop is dry, and the comments on "greasy" in other reviews are out of place. MAYBE the bacon, which is precooked and kept warm next to the grill - when they get to the bottom might be a bit - but all else was fine.
The place is smaller than you might imagine. Eight people can sit at 4 small 2-person booths in the back. There are seven counter seats at two U-shaped counters (2-3-2) - but the 4 people sharing the corner are virtually sharing the same eating space - and the single 4-chair table is where the register is and the cook / owner sits as well. TINY...
Everyone there seemed to know everyone else. It was NOT jam packed, but last week during The Arnold there was a line I understand.
The food was great - almost instantaneous! When I said sausage and cheese omelet, even as I was deciding on toast or biscuit, the cook scattered a pile of ground sausage on the grill to start warming - whipped, poured and spread the eggs - the waitress put wheat bread went into the toaster when I decided on wheat toast - the eggs were pretty hard and the cook put a big handful of grated cheese on half to melt - scooped up the sausage onto the omelet, plated and served, and then here was the toast. MAYBE 2-1/2 minutes from ordering! AND it tasted as good and fresh - really good blend in the sausage and cheese.
Someone who followed ordered a Denver omelette, and when I saw the filling the cook spread to start heating as he whipped the eggs, I decided I might have to try that next.
Excellent sausage and cheese omelette, wheat toast, home fries, cup of coffee - $5.50 including tax. WOW.
But truly, not a place to hang-out for a second cuppa if there is a line out front - the only real draw-back. That is why the refill rating is average - not because of service - just courtesy to others waiting means not hanging out.
I'll be back...
Award Nomination:
Best Bargin Breakfast
Review #9833
Review by: MrBreakfast.com Visitor on 5/21/2006


While the eggs were a lot more greasy then Id like them to be, it was all the most tasty. But I hated the service
Award Nomination:
Worst Service
Review #7542
Review by:
hpgof
on 1/26/2006


it was okay but very greasy! gezz talk about that!
Award Nomination:
Most Comfortable
Review #6665
Review by:
tmann
on 11/16/2005


You just can not beat Nancy's price, quality of the food is great always freshly prepared in front of you and portion size quite generous.
Award Nomination:
Best Bargin Breakfast
Review #6243
Review by:
Crochety
on 7/19/2004


Parking can be difficult, as this is a storefront in an older neighborhood, and there is no parking lot. How well can you parallel park?
Nancy's is a long, narrow restaurant with one table and four chairs at the front, followed by a lengthy, serpentine bar, and then a few booths at the rear of the store. The menu is printed on signs on the wall. The rest of the wall is decorated with signed photos and memorabilia from football players--mostly Buckeyes, and a few Browns and Bengals. There is a large, mysterious pipe coming out of the rear wall, near the ceiling, that belched smoke from time to time (?). There is also a sign that states that, if you are done eating and there are people waiting, you may get thrown out. The menu consists of bacon and sausage cooked on the grill, along with eggs and hashbrowns. I think pancakes are available too, but don't even think about fruit or veggies or any foodstuff that doesn't come grilled. The oatmeal is the instant kind, and the waitress/cook did not recommend it. Coffee is by the cup, though the lady did refill it often. Free "alternative" newspapers are stacked at the door.
This place is locally famous. It is a stereotypical greasy spoon, and it has a loyal following because of its friendly atmosphere and tasty comfort food.
Review #3624
Review by:
grubstake
on 7/19/2004


Wonderful breakfast just like my father-in-law used to make, before he died of a heart attack.
Really friendly place, but not Atkins friendly.
It took two napkins to soak up some of the grease from the bacon and hash browns, but they sure tasted good.
Award Nomination:
Best Service
Review #3621
Review by:
asktheteach1
on 1/23/2003


The rose of all breakfasts. cheap, hot, great food. Prompt service. Best breakfast I've had in a long time. excellent choice, a locals favorite!
Award Nomination:
Best Breakfast Ever
Review #1206
Review by: MrBreakfast.com Visitor on 8/8/2002


This is a fun place to eat breakfast and lunch (occasional dinners). It's an easy place to start a conversation with strangers because the owner keeps it so casual--you can pour your own coffee, make your own change, and just generally be enveloped in a friendly atmosphere. It's really not in the greasy spoon category, but one might think so if they haven't tried it.
Award Nomination:
Best Bargin Breakfast
Review #196
To write a review of your own for Nancy's,
click here
.
Connect With Mr Breakfast:



Reviews submitted here are meant to pertain to breakfast only. While Mr Breakfast cannot vouch for the validity of each restaurant review, he feels pretty good vouching for the excellent character of the residents of Columbus, Ohio - who are primarily responsible for the review(s) you see above for Nancy's.

Just because it looks fancy and tastes great doesn't mean it's hard.
Click here
.