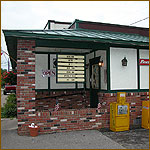 105 South State
517-724-7473
Average Overall Rating:

Average Coffee Refill Rating:

Average Expense Rating:

Review by:
BAIRNS
on 6/26/2012


I live in Livonia and have a house on N lakeshore drive, I frequent the Flower garden and love it.
The person who wrote the first review should take their sandwich down to the beach, this is up north, not a 5 star facility.
I like the waitress's and the grumpy old man.
Keep it up Flower Garden you are awesome.
Award Nomination:
Best Bargin Breakfast
Review #23413
Review by: MrBreakfast.com Visitor on 6/11/2011


I do not know what happened to this little restaurant but it just is not the same. The service has gone down hill. Jill is still there but her attentions are not of servicing the customer but complaining of her personal life. Service is slow and the food half cooked. their new staff has no clue on how to treat customers, and attention to all they let Liz one of the best waitresses I ever had the pleasure of meeting go. What were they thinking.... I rather pack on peanut butter sandwich and eat in on the beach than spend one more of my hard earned money in a place that does not care for the customers. And watch out for the grumpy old man running the place, his words are not for young ears.
Award Nomination:
Worst Service
Review #22546
Review by:
tototoo
on 6/27/2010


Very friendly and cozy atmosphere. The food is fantastic & the service excellent. They also have a little store with gourmet items, coffee & tea, beer & wine, and a case of bakery items made there. The owner and servers make you feel at home!
A must in Northern Michigan!
Award Nomination:
Best Breakfast Ever
Review #20410
Review by:
bushelbasket
on 11/7/2009


My favorite place for breakfast; excellent food, clean, service is #1 and Jill is the best waitress in the world!
Award Nomination:
Best Service
Review #18490
Review by:
ElleG
on 3/3/2009


This is a nice place and the setting is tasteful and comfortable. The specialty grocery store is so much fun to look at, then you walk back into the seating area and immediately feel welcome. The food is tasty. We like the names of the breakfasts like the Arnold Ziffle (remember the pig from Green Acres?) which has lots of pork in it.
We suggest the Mexican breakfast dishes. Very tasty. Gosh I'm getting hungry just thinking about them.
Award Nomination:
Best Breakfast Ever
Review #16396
Review by:
bodkin
on 9/6/2003


The Flour Garden is great!
Award Nomination:
Most Comfortable
Review #2311
Review by:
Mr Breakfast
on 7/23/2003


Michigan breakfasts are like Michigan women. They wear less make-up and have lots of substance. The Flour Garden is a great place to get a good Michigan breakfast.

You get exactly what you order and you get it fairly quick. The staff is friendly and you'll rarely see the bottom of your coffee cup. I had a simple cheese omelet with a side of bacon. The omelet was a golden brown and the bacon was well-done, just as I requested.
I enjoyed a bite of my buddy's French toast. I highly recommend it.
The prices were very reasonable. I'll definitely go back the next time I'm in Harrisville.
Award Nomination:
Best Breakfast Ever
Review #2131
To write a review of your own for The Flour Garden,
click here
.
Connect With Mr Breakfast:



Reviews submitted here are meant to pertain to breakfast only. While Mr Breakfast cannot vouch for the validity of each restaurant review, he feels pretty good vouching for the excellent character of the residents of Harrisville, Michigan - who are primarily responsible for the review(s) you see above for The Flour Garden.

Just because it looks fancy and tastes great doesn't mean it's hard.
Click here
.