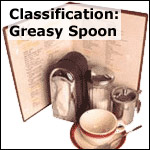 22 S. 4th Street
Columbia, MO 65203
875-1173
Average Overall Rating:

Average Coffee Refill Rating:

Average Expense Rating:

Review by:
moberly
on 1/19/2013


One of my favorite places for breakfast. Great old diner - a little like a small version of the one in American Graffiti. The omelets are big and delicious. Their biscuits and gravy are the best around. Service is good even when they're busy. Thumbs up from me!
Review #24165
Review by: MrBreakfast.com Visitor on 2/1/2010


I am a student in Como and I have been to the diner many times this year alone. There have been many weekends that I have went up there multiple times to eat. Matt's Dilema and The stretch are two great foods to get. My friends also just get regular breakfast food and they love it as well. Very Highly Reccomended
Award Nomination:
Best Breakfast Ever
Review #19200
Review by: MrBreakfast.com Visitor on 5/13/2009


I am 22, and I have been going to the diner since I was a little girl. The place may not be the cleanest, but come on did your grandmother ever lick the spoon then stick it back in the jelly jar? You know she did, and this is the type of homecooked loved food you will be served. I go to the diner just to remember what my grandmothers cooking was like, it really is a great place. If you go in the morning... when the drunks have cleared out it really is a beautiful place to relax and just have a cup of joe. Love the diner, the people, the food, the donut breakfast sandwiches... greatest place ever. Its sad diners are a disappearing rareity.
Award Nomination:
Most Comfortable
Review #16987
Review by:
anderson.phil
on 1/22/2009


I have eaten at the Broadway Diner over 200 times in my life. You can't bet the food was always hot. It's always been like mom's cooking if she was here. I have live the Columbia area since I was 18 years old. The people who run it are on top of there games. Good people. Great food. That's my Broadway diner. - Phillip Anderson (Fulton)
Review #16016
Review by: MrBreakfast.com Visitor on 4/14/2008


I have been going to the Broadway Diner for over 10 years. It is by far the greatest diner I have ever eaten at. The owners and waitresses are very pleasant and seasoned veterans and the food is exactly what one should expect from a diner.
The signature dish, the Stretch, is absolutely delicious. A healthy plate of hashbrowns, topped with 2 eggs done your way, topped with chili, cheese, green peppers and onions. Add condiments to your own delight and viola, the greatest late night/hangover meal you'll ever have!! An all time classic!! See you there!
Award Nomination:
Best Breakfast Ever
Review #13352
Review by: MrBreakfast.com Visitor on 7/3/2007


The food was very good. The service and friendliness of the owners and associates was over the top! We had such a great experience, our kids commented that they missed the Diner for weeks after we returned from vacation.
Award Nomination:
Best Service
Review #10737
Review by:
alphasqix
on 2/28/2007


I have NO idea how a diner can make an egg, some bacon, a pancake, and a pile of hash browns so consistently, mouthwateringly delicious time after time after time. But, with at least a dozen trips under my belt (ha ha), they have never failed me.
Neither the food nor the ambiance are to be missed, so go! Get there early so you don't have to wait for a table. (And by 'early', I mean 'as close to 11 PM as possible', because that is when they open.) Bring all your friends; lay claim to the only corner booth (or really get into the spirit of things by squashing everyone into a regular one.)
The Stretch is quite good also (even when sober, in my opinion!) And a huge breakfast plus coffee for $5.25? Heck yes.
Award Nomination:
Best Breakfast Ever
Review #9753
Review by:
skeeloiii
on 1/4/2007


This landmark is a mid-Missouri jewel. Its famous dish is The Stretch, which is chili and onions served on top of eggs that rest on a bed of delicious shoe string hashbrowns.
This place has gained national recognition and is frequented by celebrities who pass through the mid Missouri area. When the building was located on Broadway, its walls were decorated pictures from decades of guests. At this time, it allowed smoking; however, in 2001 it moved to its new location and was forced to be a non-smoking establishment due to new Columbia ordinances. For anyone who went to college in Columbia, the Diner is a piece of nostalgia that everyone must go to at least once during their academic stay in Columbia.
The food is your usual diner menu, with the exception of The Stretch. The place is a lot cleaner in its new location and is more air friendly. If you are expecting a nice place to bring your yuppie family where you recieve 100% attention from your waitress, then this is not the place to go. If you want to each classic diner cuisine and really experience a true diner atmosphere, then this is the place is right up your alley.
Award Nomination:
Best Bargin Breakfast
Review #9293
Review by: MrBreakfast.com Visitor on 5/21/2006


The kitchen is filthy, the bathroom is never cleaned, The dishes have dried eggs and food is always crusted on the bnttom of the plates. The only good thing about the place is Adrienne Ganz, the waitress.
Award Nomination:
Biggest Ripoff
Review #7536
Review by: MrBreakfast.com Visitor on 4/1/2005


I think im in love with the waitress there she is a hottie and that alone is going to make me come back again and again. Hopefuly I will get the nerve to get her name and phone number. lets hope she doesnt have a husband or a boy friend lol. Oh and the food isnt half bad either ive only been there 3 times so far. thats about it so see ya all later bye.
Award Nomination:
Best Breakfast Ever
Review #4765
Review by: MrBreakfast.com Visitor on 11/12/2004


The main attraction here is the Stretch. You've got your hash browns, your eggs, your, uh, I think there's chili on there, and ... anyway, I've never eaten it sober, but I know it's good. This place has a lot of history as well.
Review #4082
Review by:
kaszeta
on 7/12/2002


An important aspect of eating well while travelling is knowing where the nearest diner is.
In Columbia, MO, one source of a good breakfast is to be had downtown, at the Broadway Diner. They serve breakfast all day, and a decent lunch, too.
Like any respectable diner, hashbrowns are a specialty here, and they do a damn fine job of it, with freshly shredded mountains of potatoes, cooked extra crispy.
This place is cheap, too, one can eat heartily for under $5.
Review #175
To write a review of your own for Broadway Diner,
click here
.
Connect With Mr Breakfast:



Reviews submitted here are meant to pertain to breakfast only. While Mr Breakfast cannot vouch for the validity of each restaurant review, he feels pretty good vouching for the excellent character of the residents of Columbia, Missouri - who are primarily responsible for the review(s) you see above for Broadway Diner.

I won't reveal #1, but I can tell you it's Gr-r-reat!
Click here
.