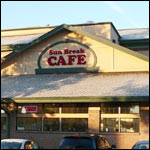 22 A Southwest - Across from the train station
Average Overall Rating:

Average Coffee Refill Rating:

Average Expense Rating:

Review by: MrBreakfast.com Visitor on 8/27/2013


....accidently I was led to SunBreakCafe by employees of a Fred's (?) supermarket in Auburn - it was sunday 8:30 and I was hungry for a good breakfast.
What I expirienced there was one of the most outstanding breakfasts I ever had.
I'm german and was by business matters in Auburn - I crossed the US and Canada lets say some 50,000 km or 31,000 mls in the last years.
When I staple high (!) I think there was only one breakfast place like this on all my trips.
I was alone there but didnt feel so, the waitresses ask every 2 minutes for giving help and it was a pleasure to watch all the happy people around me.
It was an amazing time and I enjoyed every minute.
Like others I couldnt eat everything up (and I am tall) so this funny entertainer with the boxes gave me one for take away. I had it next day in a motel, cold but still yummi.
And in the end, when I ask for a business card to remember and find this place again in the future, I got a new menu card with all the tasty meals they offer and I sit here looking in the gray german sky @ 07:15 and would like to be there for another hour...
Ok, dont read - eat.
Helge, Munich/Germany
Award Nomination:
Best Breakfast Ever
Review #24542
Review by:
karik61
on 3/12/2012


FREAKING AMAZING!!!! I LOVE the unique meals. I had the half scramble with smoked turkey, jack cheese, broccoli--I subbed tomatoes for the green pepper, and cottage cheese for the red potato hash browns (OH that temptation was tough however!!) with NO problems. :)
I also had the whole wheat toast (very tasty actually!) but I was soooo tempted with the banana bread. Maybe next time! ;)
I also really want to try the apple cider with berry juices (Strawberry? Raspberry? Blackberry?) added to it. Sounds wonderful!!
VERY VERY BUSY on a weekend, but well worth the wait. Even though busy the staff was really attentive and friendly.
I'm so glad a friend finally took me! :)
Review #23146
Review by:
jlane052010
on 1/21/2011


I am a former employee at Sunbreak Cafe. It is the most amazing cafe,within the brick structure holds the greatest crew ready to serve you the most incredible food. It is a place where great memories are made, where customers and servers build long lasting friendships. Your server is your friend,they tell you the best kept food secrets that Sunbreak cafe holds. The owner is a one of a kind man,intelligent,hard working and very kind. He is always willing to help his servers,cooks,dish boys,in anyway that will further the restaurants appearance and overall success.
As to the incredibly crude comment left by a woman about the server Jordanne, I will put any rumors to rest;I am Jordanne and I would never give any man personally my email or number unless I am great friends with you and your wife, then the number and email are given to you both, only as a curteous way to stay in touch given that I have moved with my husband to better our future,for education purposes. My email and phone number did make their rounds to different customers,many of the waitresses and waiter had my information and did give it to those who asked for it. I am sorry if there was any confusion. I am a happily married woman. The woman who did leave that comment did contact me, and appologize after learning who I really was and what intentions I had. She has yet to erase her comment on here but that shouldn't lead you away from Sunbreak cafe. It is an amazing family-oriented place, you walk in with a smile and walk out with a full tummy, grin and intentions to come again soon. I look back on my memories as a customer and then employee and now friend of the Sunbreak cafe and it's crew, they are the best memories that I have. Bruce, you and Jill have built an amazing restaurant, a legacy,a beautiful Sunbrak family. Thank you for letting me be apart of your lives and working crew!
jorge
Award Nomination:
Best Service
Review #21852
Review by:
turtle
on 1/14/2011


Who ever the woman is that has talked badly about the waitress needs to check her husband. If I find out who you are I promise to expose his name and yours. she is a wonderful young lady and you obviously do not know her or her intentions nor do you know your husbands. You are slandering an individual by your incorrect and demeaning statments. You are obviously insecure, irrational, and in a terrible relationship. Sorry for your sad little life.
Award Nomination:
Best Service
Review #21814
Review by:
rocky33
on 11/15/2010


I always love eating at the Sunbreak! the portions are huge and the service and food is great.
I was very appalled when I read the comment about Jordanne, she is a wonderful sweet girl and she gave her email to many customers including me when she was moving to keep in touch. She had worked there for many years and became great friends with alot of customers. She is married and very much in Love with her husband and was only trying to be nice because she is genuinely a wonderful girl. She is in a happy marriage and obviously you are not, your own trust issues with your husband are your own problem and you should not spread rumors and try to ruin a wonderful girls name because it only makes you look bad and insecure.
And Bruce treats his employees well, as long as you are a good worker and doing your job. He is running a very busy business and if you are not up to par you will be fired. There are many people who work there who have for along time, they are all good workers and seem very happy at work.
They might be a little pushy sometimes, but if there is a line to the door and you are done eating breakfast and want to catch up with old friends for hours, Sunbreaks not the place. Most people would realize that there are people waiting so the polite thing to do would be to take your conversation to starbucks.
But other than that if you want great food, large portions and friendly atmosphere and smiles Sunbreak is the place!
Award Nomination:
Best Breakfast Ever
Review #21487
Review by:
novemberstorms
on 11/5/2010


Our family LOVES the Sun Break! Great place to come as a family or with a group of friends. We have shown up with a party as big as ten, and the staff was very accomadating. Sometimes there is a line, but definitely worth the wait!
The wait staff is amazing and very professional, attentive and friendly.
The porions of food are HUGE! Single sized portions are served on platters...they do offer half sized portions which are very generous.
We love the chicken frieed steak and also the blueberry pancakes. Warm, buttered banana bread is offered with every breakfast. You can't go wrong!
Award Nomination:
Best Breakfast Ever
Review #21439
Review by:
cathgard1957
on 4/5/2010


| | |
| --- | --- |
| Coffee Refill Rating: | Doesn't Apply |
When I come to Seattle two times a year I look forward to Sun Break Cafe experience more than any other. The waiter is superb and friendly and cheerful. When I was there this week he was waiting every table and made friends with everyone in the restaurant. I had my parents with me this trip and they said this experience was the highlight of thier vacation because of the happy atmosphere and the delicious food - - esp. the oatmeal and banana bread. The owner came out to offer refills on coffee which we don't drink but made happy comments all the way around each table. The food is the most delicious morning food of anywhere I have ever eaten. The corner sunshine pours in through the windows and it's just a happy place. Love the Sun Break Cafe. Thank you for the experience.
Award Nomination:
Best Bargin Breakfast
Review #19745
Review by:
clinder
on 10/27/2009


The food is delicious, the service is great, well worth the wait. I have never had anything less than fabulous, and never met anybody who didn't thoroughly enjoy their meal.
I don't have any first-hand knowledge of the way Bruce treats his employees, but I did see a note a couple years hanging in the kitchen that said something to the effect of anybody who requests time off during prom weekend will be terminated, which I thought was worded unnecessarily harsh and unpleasant.
Award Nomination:
Best Breakfast Ever
Review #18397
Review by:
lange
on 10/12/2008


Love the Sun Break Cafe! The staff is great.
The food even better!
Award Nomination:
Best Breakfast Ever
Review #15079
Review by:
lenwoeck
on 9/18/2008


you do serve a good breakfast but because of the service i nor my family will come enjoy breakfast at place of business anymore. reason:you push people out the door. if i had relatives in town and wanted to go have breakfast i wouldnt take them to you. you hurry people. and sometimes when people have breakfast they want to visit. last time i was there with a friend i hadnt seen for awhile the waitress came over 9 times asking if there was anything else. then the waiter came over i finally had to say if i need something i will put my hand in the air. constantly being interupted by the staff. if i needed something i would have asked for it the first 2 times she asked. i wouldnt recommend you to anyone. being pushed out the door i am sure i am not the only one that feels this way.
Award Nomination:
Worst Service
Review #14869
Review by:
KathyinGraham
on 1/1/2008


The hashbrowns and the banana bread alone are worth the time it takes to drive here. The food is fantastic and plentiful, and the waitstaff friendly.
Award Nomination:
Best Breakfast Ever
Review #12286
Review by:
babybear2006
on 1/10/2006


| | |
| --- | --- |
| Coffee Refill Rating: | Doesn't Apply |
I, give this resturant 2 thumb's up!!
Award Nomination:
Best Breakfast Ever
Review #6573
Review by:
KGaritano
on 10/1/2005


As a first timer the food was excellent, service was great, and the leftovers delicious! You have to order half orders and even then you have enough for breakfast the next day!!
Award Nomination:
Best Breakfast Ever
Review #5983
Review by:
wubbies
on 1/25/2004


I just moved to Connecticut from Seattle and find myself missing the Sun Break regularly. I used to go here a few times a week and I can honestly say it's one of the best places to eat breakfast I've ever come across. all the french toast combinations are very yummy, the bacon is nice and thick, the hashbrowns (made of red potatoes) are very good and the oatmeal combinations are also highly recommended. This may be the best place I've ever had breakfast at.
Review #2846
Review by:
Got limu?
on 6/2/2003


The Sun Break Cafe is one of the best Northwest restaurants, winning awards regularly. They specialize in omelets and the banana bread is a must!! Caution - order a half meal, the fulls are huge!
Award Nomination:
Best Breakfast Ever
Review #1947
To write a review of your own for The Sun Break Cafe,
click here
.
Connect With Mr Breakfast:



Reviews submitted here are meant to pertain to breakfast only. While Mr Breakfast cannot vouch for the validity of each restaurant review, he feels pretty good vouching for the excellent character of the residents of Auburn, Washington - who are primarily responsible for the review(s) you see above for The Sun Break Cafe.

When's the last time you had breakfast in a cup made of bacon?
Click here
.