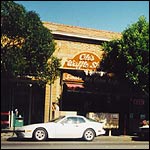 1507 Park Street
Average Overall Rating:

Average Coffee Refill Rating:

Average Expense Rating:

Review by:
flaco
on 12/1/2010


hi i when to taking a lunch last week.everything was good. the service its not so good the waiter was with bad bad acctitud was a latin lady curly hear she try to speak spanish but we not understen to much spanish she looking to much to my husbend.we try to be nice to her can you please doing somenthing obout it i don"t want to stop going to that restaurant we dont want that happening again thank you its my comments
Review #21569
Review by: MrBreakfast.com Visitor on 3/8/2010


I would recommend olies to everyone. I've going to olies for the past 5 years. The waiters are very nice the owner is always there( she might be even taking your order). They truly have the best pancakes and waffles i've ever had!! What's so intresting about olies is that is well known by football and beisball players. You might even see them dining there. There's pictures over the wall autographed. So if your looking for a economical and good breakfast, I would reccomend olies.
Award Nomination:
Best Bargin Breakfast
Review #19517
Review by:
haitian510
on 6/9/2009


So I did a random google seach this morning for breakfast in a city I've never had breakfast in, alameda. Me and my main squeeze found ole`s on mr. Breakfast. The overall service is quick & the people were friendly. They had no problems making special accommodations despite being a small diner. However, not very vegeterian friendly although they made special accomodations like making a delicious veggie omelete. Our order had to be returned for cooking errors, but other than that no complaints. The food was delicious!
Award Nomination:
Best Service
Review #17163
Review by: MrBreakfast.com Visitor on 8/15/2008


You may have to stand in line before you can
get a seat, but once your in, the service is
warm and welcoming. The food is great.
Good grits, great pork sausage patties, great
turkey sausages, eggs prepared any way you like them. Fresh fruit. Hash browns are great also. Waffles to die for. They even bring you hot syrup for your waffles. It is definately a family restaurant. The staff work their butts off to bring the customers good service.
Award Nomination:
Best Service
Review #14561
Review by: MrBreakfast.com Visitor on 5/23/2008


el mejor para enpesar el dia excelente
Award Nomination:
Best Breakfast Ever
Review #13773
Review by: MrBreakfast.com Visitor on 12/26/2007


I no longer live in the bay area, but whenever I get the chance I go to Ole's. They have the best waffles I have ever tasted. Most of the other food is good too, great coffee. The service is okay... but the food definitely makes up for it. I love Ole's, and would recommend it to anyone.
Award Nomination:
Best Breakfast Ever
Review #12245
Review by:
Sammee
on 10/17/2007


We have been eating at Ole's frequently, breakfast only, during the past eighteen years. Service is an 8 out of 10. Food quality, however, has been deteriorating over the past year. Pork sausage is now of poor quality. Pork gravy as in bisquit's 'n gravy was, at one time, consistantly outstanding but now is consistantly inconsistant in taste and quality. Try school paste.
This morning, 10-18-07, the cook did not have his head covered as required by CCR, Title 17, Public Health. When brought to Manager's attention, he argued that it wasn't necessary. Above cited code says otherwise. This restaurant was once cited in Sunset Magazine as an outstanding example of good old fashioned American cuisin. I don't think it would make the grade anymore. Damn shame!
Review #11646
Review by: MrBreakfast.com Visitor on 10/9/2007


| | |
| --- | --- |
| Coffee Refill Rating: | Doesn't Apply |
Ole is the best breakfast place ever. Every person I have taken there has loved it and always want to go back. The pancakes are my favorite and they taste so good. They are also really big and take up almost all of the plate. This places is really inexpensive compared to so many many places even fast food restaurants. OLE's ROCKS
Award Nomination:
Best Breakfast Ever
Review #11584
Review by:
uncledavey
on 8/25/2007


One of the best waffles period: crisp on the outside, tender on the inside, and served with a heroic amount of whipped butter. Also open until something like 8 at night, so you can have breakfast for dinner; one of life's true pleasures.
Review #11199
Review by:
acutie13
on 7/7/2007


| | |
| --- | --- |
| Coffee Refill Rating: | Doesn't Apply |
Oles is the best breakfast place to go to in Alameda, great service and the best pancakes I have ever had in my life. I highly recommend oles.
Award Nomination:
Best Breakfast Ever
Review #10776
Review by:
Jimbeam
on 3/20/2007


| | |
| --- | --- |
| Coffee Refill Rating: | Doesn't Apply |
Do not under any circumstance eat at Ole's. This place is literally infested with rats. This is no joke. I walked by Oles this weekend after they closed and there were eight rats climbing all over the cabinets and even one on the place setting left out for the next day. I called the health department and they seem to thing that Oles is doing all they can; I beg to differ.
Review #9932
Review by: MrBreakfast.com Visitor on 2/17/2007


Great place for breakfast. Just to respond to the spanish omlette complaint- a spanish omlette is a cheese omlette with spanish sauce on it. There are no veggies in the omlette, just in the sauce. Not that that excuses the attitude, but it was the customer's mistake- not the cook's or server's. Coffee is great, food is always fresh and delish... I definitely recommend Ole's!
Review #9658
Review by:
slavanaway
on 1/14/2007


Order a spanish omlette with salsa on the side. Got a cheese omlette (none of the peppers, meat, etc. in the omlette) with sauce on the side. Waitress tells me what I ordered like its my fault she ordered a cheese omlette. Then I ask to speak to a manager. He tells me asking for the salsa on the side is why I got a cheese omlette. When I asked him what about all the stuff that comes in the Spanish omlette he goes into how the world is imperfect and mistakes happen. He did offer an apology but continued to act like it was my fault the Spanish omlette turned into a cheese omlette. I guess they have enough business doing it mediocre at best but they won't see me there again. Go to Jim's a block down the street. Better service, more for your money, and the wait staff and manager seem to think they are in business because of the customers.
Award Nomination:
Worst Service
Review #9365
Review by: MrBreakfast.com Visitor on 4/6/2006


I've lived in Oakland for 31 years, and Ole's is where I go to for breakfast. The line outside the restaurant is definitely worth the wait. All of the waitresses are fabulous, always smiling and call me by my name "Betty". Everyone is courteous and makes you feel like you are having breakfast at home. The prices are very reasonable and YES they do have fresh fruit. The grits are delicious and a great option for the hash browns. Keep up the good work, you are excellent.
Award Nomination:
Most Comfortable
Review #7196
Review by:
Sailor
on 2/19/2006


If you happen to need breakfast in Alameda, this is an OK oldfashioned diner with fast service. The waffles were thin, soggy and disappointingly small. No fresh fruit. My reference point: Stacks Restaurant in Redwood City. I had to order additional eggs to fill the hole in my stomach.
Don't go out of your way to eat there. Not sure why others rate it so highly.
Review #6813
Review by: MrBreakfast.com Visitor on 3/8/2004


| | |
| --- | --- |
| Coffee Refill Rating: | Doesn't Apply |
I live in Alameda, and a couple of years ago was traveling in the UK.
When I most acutely felt homesick, the place I imagined being was Ole's. To me, Ole's IS Alameda.
Note to vegetarians: they do have a veggie burger, but you have to ask for it.
Award Nomination:
Most Comfortable
Review #3051
Review by:
ccann
on 3/5/2004


| | |
| --- | --- |
| Coffee Refill Rating: | Doesn't Apply |
This place is actually worth going to Alameda for! The service is fabulous (the waitresses - yes, they are all women - actually call you, "Hon." The waffles are incredible. I don't know why anyone would order anything else. I, too, consider myself a Bay Area breakfast place expert, and I place Ole's in my top 10 breakfast places of all time!
Award Nomination:
Best Bargin Breakfast
Review #3038
Review by:
winky9656
on 2/21/2004


This is the best breakfast place I've ever been to!! (And I like to think of myself as a food/breakfast connoiseur.) There's always a line outside, but once you get in, it's worth it!! The waffles are the best I've ever tasted..and the cofee refills are awesome. A great place to fit into your regular breakfast jaunt.
Award Nomination:
Best Breakfast Ever
Review #2987
Review by: MrBreakfast.com Visitor on 1/21/2004


I was looking for some place to stop in on the way to the OAK airport and Ole's was recommended, hands down, by a friend. This place is a hoot. The waitresses have probably all been there since they opened oh so many years ago. For a vegetarian, thier menu is a challenge. It's more traditional, I agree with the prior reviewer. But we successfully cobbled something together; I think it was pancakes, homefries smothered in cheese and a bowl of cottage cheese with peaches, and I found myself thinking: I'd actually go back!
I nominate Ole's for "most hilarious".
Review #2835
Review by:
stxphish
on 5/13/2003


Ole's is a traditional diner that looks like it might fit in better on the bustling streets of New York City rather than in sunny Northern California. This locals favorite is a comfortable place to eat, but enough about the atmosphere. This place has great breakfasts at a decent price. The biscuits and gravy are unmatched in California and the house specialty omelettes will have your taste buds sending you thank you notes.
Award Nomination:
Best Service
Review #1775
To write a review of your own for Ole's Waffle Shop,
click here
.
Connect With Mr Breakfast:



Reviews submitted here are meant to pertain to breakfast only. While Mr Breakfast cannot vouch for the validity of each restaurant review, he feels pretty good vouching for the excellent character of the residents of Alameda, California - who are primarily responsible for the review(s) you see above for Ole's Waffle Shop.

All you need to know. The basics and beyond!
Click here
.