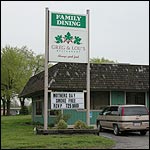 1460 North M 52
(1/4 mile north of North St.)
Average Overall Rating:

Average Coffee Refill Rating:

Average Expense Rating:

Review by:
donnavejcik
on 1/28/2011


Pete and I have been going to your restruant for 3 yrs now, have taken all our family and friends also. in fact they are now fans of yours. I'm surprised to see what some have written. but we have always had the BEST service, wonderful help and they don't stand around doing nothing, They are friendly and very efficent. you just can't do better GREG
Award Nomination:
Best Breakfast Ever
Review #21912
Review by:
rebelgirl
on 7/14/2009


The day we went in it was hot and stuffy. It took forever to get waited on and to get our food. The plate of food tasted like it came out of a can of dog food. Yuck!!!! I had the salisbury dinner and it was suppose to be homemade-Ya right! The waitress hands smelled like smoke really bad. It was bad all around. I thought they were having a bad day and I went in another day since I live almost next door and give them another chance but no such luck so I been there 2x and never been there since and it has been six years now, I keep going to Romas never had a problem there yet and I've been going there for 8 or 9 years now since I moved from Corunna to Owosso. At least you can't say I didn't give them a try.
Award Nomination:
Hugest Dump
Review #17457
Review by:
irdf01
on 7/9/2009


My experience is that everytime I go there, there are alway a group of waitress standing around and talking,being loud and forgetting that they are at work,I always have to wait a few 10-15 minutes before out waitress come to out table and then she is in such a hurry that she makes you feel 2 feet tall when you ask a question.They charge you extra for every little thing,and they do make you feel like they are doing you a favor by waiting on you.Its good to eat when your sick of Mcdonald's at least at the fast food restraunts they are nicer.
Award Nomination:
Worst Service
Review #17403
Review by:
rtaylor
on 4/3/2009


I think Greg and Lou's is a great place to eat. The boss does need to lay off the workers a little bit but overall I would recommend Greg and Lou's to anyone. They should hire Rachael Taylor.
Award Nomination:
Best Breakfast Ever
Review #16692
Review by:
KingCurwood
on 10/2/2008


Great for weekday breakfast - fast and friendly service. It can get very busy on the weekends and the service gets a little slower, but it's still better than a lot of restaurants.
You can rarely go wrong with whatever breakfast special they have listed on the marker board.
Review #14999
Review by:
sadxwaitress
on 8/31/2007


I worked at Greg & Lou's for 4 years. And I must say I loved my job. We all worked together as a team and were proud to be Greg & Lou's Girls. I miss many of my customers who are all wonderful. I built close relationships with many of them.
I'm here to say that it's the cleanest place to eat in town. And up until this past April, I thought Greg (
last name removed
) was the best boss I'd ever had. We had a very good relationship or so I thought... until I got fired without notice. Not because of work problems or customer complaints, but because of "personal issues". As a single mom with three kids, this hit pretty hard.
I've run into many customers who ask why I quit which is what he tells everyone when they told him what a good waitress I was and they were sad to see me go. I realize now that the man I respected and looked up to didn't deserve the hard work I put into his company. This Christian family man and his strong family values are all just a cover for his heartless acts.
Award Nomination:
Best Service
Review #11260
Review by:
KevinMBdeOwosso
on 11/27/2006


11AM on Sunday I wanted BREAKFAST! Since Greg & Lou's is SMOKE-FREE and I am an obnoxious ex-smoker...
Had an omelette, LG OJ (about SIX ?? oz!) home fries (they had been sittin' around TOO LONG - some burnt, too crunchy n kinda greasy! Next time I'll try the hash BROWNS!) and white toast (I think ALSO had been sittin' around too long!)
They got real busy, so I didn't take the time to bother Greg... and I WILL go back!
Review #9038
Review by:
omthu
on 2/22/2006


The place is a total rip off the employees and OWNER are rude. the food was awful and the service was just as bad.
Award Nomination:
Biggest Ripoff
Review #6844
Review by:
dabush
on 1/18/2006


Ive been to all resturants in owosso,nothing compares to Greg & Lou's.
Food is top quality, service is second to none, and the place is spotless. The owner Greg Kanan will take anyone through his kitchen at anytime to show off how clean his kitchen is. If you want a treat you'll make a trip to Greg and Lou's for the best breakfast,lunch, or dinner in Owosso.
Award Nomination:
Best Breakfast Ever
Review #6615
Review by:
Heather20
on 10/26/2005


This Greg & lou's restaurant is the WORST one to eat at in Owosso, I would not go there again if my life depended on it, The owner Greg is a big jerk to his employees, you have to wait the longest time for your food and when you do get it, it is cold, the employee's aren't really that good at what they do... I wouldn't tell my worst enemy to eat at that place!
Award Nomination:
Biggest Ripoff
Review #6137
Review by:
kt_5885
on 4/27/2005


My parents and I used to go to Greg&Lou's every Thursday back in 2001-2002, and I still go there to this day. It's my favorite family restaurant.The staff is friendly and the food is the best.
Award Nomination:
Most Comfortable
Review #4908
Review by:
KenMo48642
on 6/2/2003


We had our Preacher's Breakfast there every week. The food was great! The waitress would wait for the late-comer so we could all have our food at the same time. I wish I still lived close enough to go there for Breakfast. I started going there in 1973 and it had only become better and better! You can't help but get all you need to eat.
Award Nomination:
Best Breakfast Ever
Review #1952
Review by:
LRKanan2005
on 4/29/2003


Greg & Lou's has the best food ever!
There waiting staff is also incredibly awsome!
It's a shame that there best waiter Louie Kanan don't work there anymore.
Overall this restaurant is the best in the Owosso township.
Award Nomination:
Best Service
Review #1654
Review by:
carson
on 6/20/2002


Whenever I'm in Owosso, I make a definate point to have breakfast at Greg and Lou's. They've never let me down -- great food and big portions. I also like to kick back and take in the community atmosphere. When you enter, there's a hat rack and people actually hang up their baseball caps before they eat.
I've had both pancakes and omelettes there and I can safely say they were both out of sight. They're doing great work at Greg & Lou's. You should check it out.
Award Nomination:
Most Comfortable
Review #108
To write a review of your own for Greg & Lou's,
click here
.
Connect With Mr Breakfast:



Reviews submitted here are meant to pertain to breakfast only. While Mr Breakfast cannot vouch for the validity of each restaurant review, he feels pretty good vouching for the excellent character of the residents of Owosso, Michigan - who are primarily responsible for the review(s) you see above for Greg & Lou's.

Check out our favorite vintage recipes from old magazine ads and recipe cards.
Click here
.