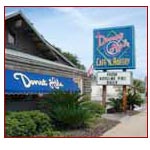 635 Highway 98 East
(850) 837.8824
Average Overall Rating:

Average Coffee Refill Rating:

Average Expense Rating:

Review by:
M0nica7873
on 4/19/2013


We just left the Donut Hole a few moments ago. I ordered the eggs, chicken fried steak with cheese grits, hashbrowns and bisquits. My daughter ordered the grilled steak ceasar salad. This is the second time we have tried to eat this horrible food. The eggs were cold and rubbery, cooked medium to hard, and were ordered over easy. The bisquits were cold and burned. The steak or ground fried meat patty supposed to resemble a chicken fried steak was cold, hard and inedible. The hashbrowns tasted like paste and the grits had large chunks of unmelted cheese floating in them. The Grilled Steak Salad was supposed to be medium rare, however cooked med to med well, it was cold, full of grisle and fat. The coffee tasted like it had been sitting all day and burned. Two meals, both of which were inedible were around $40, and $2.49 for the worst cup of coffee I have ever had. I WILL NEVER TRY this place again. This is garbage crap food and the cook should be fired.
Award Nomination:
Hugest Dump
Review #24338
Review by: MrBreakfast.com Visitor on 2/25/2013


Because we live in the panhandle,we have always loved their doughnuts. One morning we decided to have breakfast as well. It was not good. We were seated in the back near the kitchen, waited a long time for our scrambled eggs, potatoes, bacon and toast. Most of the food was cold, rubbery or underdone. We left the food on the table, paid our bill and left. We still stop for doughnuts, but eat at the Waffle House instead.
Review #24239
Review by: MrBreakfast.com Visitor on 5/3/2012


I have to visit the Donut Hole each time I go to Destin. I visited the Donut Hole in Santa Rosa on 04/29/2012 and as always it was great!! After ordering breakfast, I ordered some cupcakes and a slice of Strawberry Cake for me and German Chocolate for my mom. Strawberry Cake was out of this world!! I was told the German Chocolate was also. All the sweets was gone (eaten) by that evening......lol...... O.k. back to breakfast. Six people= 52.53......Not bad for a great breakfast!! Service is usually better but I understand that sometimes there is going to be a 'flop'. Always a great experience there..... Get there early or you want get any of your fav donut or sweets.... :)
Award Nomination:
Best Breakfast Ever
Review #23297
Review by:
ttunbob
on 1/20/2012


There is another Donut Hole a couple miles east of Sandestin. Both have the same quality menu/food. I can't remember a better 1) biscuit, or 2) pancake. Along with those are wonderful sausage, thick bacon, gravy, coffee, pastries. Breakfast here is as good as can reasonably be expected, anywhere!
Review #22968
Review by:
lorieric
on 9/18/2011


The Donut Hole is the best breakfast I have ever had. The service is great. They also have one in Santa Rosa Beach on 98 near 30 A. They have this awsome waiter name Rene, he has been there for years. The best waiter ever and the best food ever. Everyone there is so nice.
YUMMY YUMMY!
Award Nomination:
Best Breakfast Ever
Review #22651
Review by:
mdreve
on 6/8/2011


Destin has alot of good eating places! But they have some of the best breakfast restaurants in the country. The donut hole is My favorite in Destin. It is a tradition that my wife and have enjoyed for 33 years and will continue to enjoy every time we come back. I've never had a bad meal, all have been on the good to awesome level. I traditionally get the basics, eggs over medium, crispy hashbrowns, super toast and sauage links. I think they have the best coffee in the country. They serve so much of it, it's always fresh, never an afterbeat.
GO UofM TIGERS!
Award Nomination:
Best Breakfast Ever
Review #22536
Review by:
Eat To Live
on 12/3/2010


I'm a former Florida Panhandle resident who has always loved the Donut Hole. Always eat there several times when I vacation in the area; at both the Destin and Sandestin locations.
Their baked goods are out-of-this-world wonderful.
Award Nomination:
Best Breakfast Ever
Review #21576
Review by:
Overstuffed
on 8/4/2009


One of our favorite Destin attractions. The trip's not complete without a stop here! Yep, if you're on vacation you've got to sacrifice a morning in to get the donuts of your choice but there's none better! Great service and wonderful food!
Award Nomination:
Best Breakfast Ever
Review #17654
Review by:
keylimejunkie
on 6/7/2009


I absolutely love Destin and I adore the Donut Hole's key lime pie!!!! It is so light, but decadent all at the same time. The staff is friendly and service was efficient. We will be back every summer!!!!
Award Nomination:
Most Comfortable
Review #17144
Review by:
eddie h
on 7/21/2008


Awesome as heck. A regular stop whenever in destin.
Award Nomination:
Best Breakfast Ever
Review #14300
Review by:
jjohnson
on 6/4/2008


My family and I recently ate at the Doughnut Hole on our family vacation. It was the last morning we were there but I had wished we had tried it a week ealier and we would have eaten there everyday. The breakfast was awsome!! The French toast special was like taking a bite of Heaven.... but seriously, it was great. The portions are HUGENORMAS!!! I wish we would have gotten to try all of the baked goods, lunch and dinner! Two thumbs UP!
Award Nomination:
Best Breakfast Ever
Review #13875
Review by:
totalcap
on 3/23/2008


While vacationing, we stopped by the Donut Hole one evening to find -gasp- NO DONUTS. Granted, it was around 9pm, but come on, the place is called THE DONUT HOLE! We walked in and saw the racks were empty all except a couple dozen sour cream donuts of questionable freshness. Basically walked in, walked out.
Fast forward to two days later. We decide to give it another try for breakfast, during actual breakfast time. The line was out the door; luckily the weather was beautiful. Everyone in our group was extremely happy with their food. I had the huevos con chorizo breakfast, which was on special. They didn't have avocodos, so the lovely waitress with the British accent offered me a choice of sides, and I chose the cheese grits, which were very yummy. The coffee was terrific and very fresh. We saw them grinding it fresh in front of us.
Our waitress was less than perky, and overhearing her discussion about having worked the night before, and planning on working that same evening, I understood why. She did crack a joke once, so I'll let it slide. There was one waitress who really showed the stress of a busy breakfast hour on her face and in her actions. Choose a new profession, perhaps? The British gal more than made up for the grouches, and the cashier was very sweet and helpful.
I enjoyed the atmosphere and the food. We grabbed a sour cream donut and a loaf of cinnamon rasin bread to go. The donut was wonderful, but the bread has yet to be sliced.
All in all, a good experience.
Review #13136
Review by:
skarwood
on 3/18/2008


My family and I went to The Donut Hole while on vacation this week during Spring Break 2008. After reading the reviews on this site, I was pretty excited about going. There was a line and the wait was not bad, but the service was horrible. The waitress was in such a rush that she didn't get everyone's drink order. We constantly had to call for her to get coffee and drink refills. I and 3 others in my family ordered the french toast and it wasn't any better than the french toast from IHOP. My 6 year old ordered a donut and it was dry and crumbly. As I was sitting there, I could not believe that this place had actually gotten rave reviews. When we left, we went 1 mile down the road and ordered a dozen of HOT KRISPY KREMES! We should have gone there first.
Award Nomination:
Worst Service
Review #13094
Review by:
krickelm
on 10/8/2007


We live in southern Indiana and vacation in Destin almost yearly. I kid you not, when planning where to visit each year the Doughnut Hole becomes a huge factor. We will always end up deciding on Destin. When we do come for our yearly visit we make sure to frequent the Donut Hole at least 3 times during the week for breakfast. The atmosphere is fun, sometimes loud, but not excessively. The short wait is worth, the best french toast, made from home baked breads...not to mention the oatmeal. I'm not sure how they make plain old oatmeal taste so wonderful, but they do. The doughnuts are amazing of course. The staff is friendly and they will begin to reconize you if you become a frequent. I could not be anymore happy with the Donut Hole, well maybe if it were free!!! Five Stars!
Award Nomination:
Best Breakfast Ever
Review #11576
Review by:
moomoo
on 9/11/2007


| | |
| --- | --- |
| Coffee Refill Rating: | Doesn't Apply |
My husband and I stopped by to get donuts on the way home at the Sandestin location and we ordered 4 original glazed donuts. The cashier told us if we order 6 the 6th donut would be free. So we order 4 original glazed and 1 chocolate glazed and 1 cinnamon donut. We had to each eat one on our way home and they are the best donuts I have ever tasted. I know now when we go back to Destin this will be a stop I have to take. They were also reasonably priced too.
Award Nomination:
Best Service
Review #11348
Review by:
scunning74
on 3/24/2007


I have been coming to the Donut Hole for years when we visit. It's been closed the past 2 times when we vacationed and I was SO upset! This time however it was up and running!!! We visited mid day and the place was empty - quite the surprise from the usually long wait. The Reuben was WONDERFUL - but the food usually is fabulous!!!
Review #9968
Review by:
john b
on 12/30/2006


Not busy went in today (12/2006) and we ordered french toast and bisquits with tomato gravy. bisquits/gravy good. Service almost non existent. No refill on coffee, no one asked how my meal was. We live in Destin and we won't go back.
Review #9245
Review by: MrBreakfast.com Visitor on 3/26/2006


Tuesday, March 21, my two granddaughters, my daughter in law and I had breakfast at the Highway 98 location. Every year our family visits Destin at least two times. We always have visited this location two or three times a week.NOT AGAIN
The service was horrible; the order was not "turned in". When the waitress realized she had not completed the order, she "THREW" a plate of holes on our table and said something to the effect," here these should hold you for now".
When the eggs finally arrived, they were too cold to eat and "rubbery".By this time all we wanted to do was leave.
Now the worst! We were presented a bill for ninty plus dollars for four horrible breakfasts and two T-shirts.The bill was adjusted down to seventy plus dollars without any explanation.
I asked to see the manager and was told I could not.
I paid the bill just so I could leave and share this very bad experience with anyone that will listen in Nashville (and Birmingham.)
Emily Little
6546 Cornwall Drive
Nashville, Tn 37205
615/352-4290
manning1934@yahoo.com
Review #7112
Review by:
MrJekyll
on 3/6/2006


Food is good, although the wait to get in can be extremely long it is well worth it.
Award Nomination:
Most Comfortable
Review #6949
Review by:
Cheryll
on 7/10/2004


Fast friendly service. Delicious, freshly prepared breakfast and delectable BIG pastries. The chocolate angels are the best and their key lime pies fly out the door. Can't wait to visit again.
Award Nomination:
Best Service
Review #3595
Review by:
oldgram1
on 4/8/2004


We had breakfast several times at the Donut Hole that is west of Destin on 98. Breakfasts were great. Loved the raisin toast. Service
was very good.
Review #3194
Review by:
ILOVEJOEY
on 3/22/2004


| | |
| --- | --- |
| Coffee Refill Rating: | Doesn't Apply |
Best doghnuts in town! Even better than krispy kreme!!
Award Nomination:
Best Breakfast Ever
Review #3109
Review by:
Mary Catherine
on 1/23/2003


Breakfast is everybody's favorite meal at the Donut Hole. It's offered all day. The fresh baked goods are on display at the entrance to the restaurant making breakfast-to-go an easy option if you're on the way to the beach.
But sit down at the counter or in a booth if you like you like those frequent coffee refills. Waitstaff will call you "honey". Fabulous omelets, including a local favorite: crabmeat. Best restaurant in Destin.
Review #1202
To write a review of your own for Donut Hole,
click here
.
Connect With Mr Breakfast:



Reviews submitted here are meant to pertain to breakfast only. While Mr Breakfast cannot vouch for the validity of each restaurant review, he feels pretty good vouching for the excellent character of the residents of Destin, Florida - who are primarily responsible for the review(s) you see above for Donut Hole.

When's the last time you had breakfast in a cup made of bacon?
Click here
.