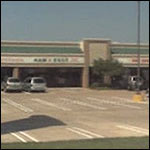 297 West Round Grove Road
Round Grove between 121 and Deer Run
Average Overall Rating:

Average Coffee Refill Rating:

Average Expense Rating:

Review by: MrBreakfast.com Visitor on 3/20/2015


The pancakes and biscuits were too dry to eat. The eggs were runny. The sausages were good though. Prices are too high. Coffee never gets low
Review #25100
Review by: MrBreakfast.com Visitor on 1/24/2013


| | |
| --- | --- |
| Coffee Refill Rating: | Doesn't Apply |
Wow! I really thought my friend was lying to me, but it was amazing! The pancakes were as big as Texas, no kidding. Gotta take some of my southern friends there real soon, but next time I will split the pancakes with 4 or 5 people. I was shocked regarding the story of the original owner, took the article off the wall to read it all. She was a prisoner of war in the Philippines during the invasion of Japan 1942. She was a teenager. Read it to find out the rest. A must go place to eat and support the establishment.
Award Nomination:
Best Breakfast Ever
Review #24183
Review by:
chefk
on 6/1/2011


Very pedestrian food that is HIGHLY overpriced. The food is not exceptional and the cost is two to three times as much as the typical diner breakfast.
Award Nomination:
Biggest Ripoff
Review #22509
Review by:
fresy
on 1/11/2010


You can find more about this restaurant at www.myspace.com/jackieshamneggs.
Award Nomination:
Best Breakfast Ever
Review #18996
Review by:
The Palate
on 11/24/2009


The food is still great and the portions are still huge. However, it's not the same without Jackie. She was one of a kind.
Award Nomination:
Best Breakfast Ever
Review #18653
Review by:
DDDFAN
on 10/18/2009


| | |
| --- | --- |
| Coffee Refill Rating: | Doesn't Apply |
Haven't been here in about 12 years because of the owner that was rude. I see that she no longer is there so I may try it again. Liked the food but when the staff detested her it was time to go elsewhere.
Review #18319
Review by:
scoobyp
on 5/23/2009


Everyone who goes here has to get a biscuit at least once. They are approximately 8"x8"x4" and can easily be cut into 8 servings. I've never seen anyone not take some home. The 3 pancakes hang over the plate and everything else is served in huge portions. The food is good but pricey. I would recommend splitting a plate or you will be miserable. The neat thing about this restaurant is the story of why the portions are so huge. Although Miss Jackie is gone now, I will always remember her telling us of her internment in a World War II Japanese POW Camp and how she vowed once she got out, she would never go hungry again. She may have been a crusty old lady but her memory lives on in the fine food at Ham and Eggs!
Award Nomination:
Best Breakfast Ever
Review #17041
Review by:
stripes
on 2/11/2009


Not many places are worth my time fo fill out a review. Great food! Be ready to take what you can't eat home....... its too good to waste.
Award Nomination:
Best Breakfast Ever
Review #16199
Review by:
careycs
on 1/16/2009


The portions are huge, in fact ridiculous. We left more than 1/2 of what was given to us and felt very wasteful. It was pricey -- $12 to $15 a person for breakfast plus drinks. Nothing really stood out, average potatoes, greasy eggs, Alpo corn beef, mix gravy, and odd biscuits.
Save your money and find another establishment!
Award Nomination:
Biggest Ripoff
Review #15902
Review by:
BeBop
on 8/28/2008


My family and I go to breakfast at Ham and Eggs fairly often, and we take visiting guests with us. All of us are impressed with the food and service. I always have to carry out pancakes and bisquit but that means I can enjoy leftovers the next morning.
We've met Ms. Jackie and she adds to the ambiance of the place. Please don't park in her parking spot or you will surely regret it. I might add, that if you can't control your kids in Ham n' Eggs take 'em to McDonalds because the adults who each breakfast there don't think they are cute as you do. You might also see a Dallas Cowboy with family on occasion.
Review #14680
Review by:
msrana00
on 11/27/2007


This place is definitely expensive. My boyfriend and I were flat out shocked to see one biscuit for 3 dollars and a scoop of gravy for another 3 dollars. The waitress we had was fantastic. The food was at best "okay". I wasn't impressed for the price we paid. No substitutions per the owner.
Award Nomination:
Biggest Ripoff
Review #12011
Review by:
The Gastropod
on 10/8/2007


You people knocking this restaurant are idiots. First of all, Jackie Shields has been through a lot in her life, beaten by Japanese soldiers when they invaded the Philippines, while her father was taken on the Bataan Death March. She still has scars. She, unlike some of the writers on this page, has class, a backbone, and personal pride. Your friend must have been looking pretty slouchy to earn a tongue lashing. Don't come back. Us fellow patrons don't like disrespectful slobs in there anyway.
OK, now that I have vented, I do have to say the food is very good. My first breakfast there that got me hooked was a breakfast with two perfectly cooked eggs over easy, incredible potatoes, a plump and juicy pork chop, perfectly seasoned, and of course, the HUGE biscuit with gravy. That thing has its own gravitational field, it's so big! The mammoth biscuit was perfectly baked and was at just the right amount of softness and crumbliness. The coffee is nice and strong, also. We've always gone for breakfast, but I'm doing lunch next week to see what that's like. Word of warning - it's cash or check only.
I highly recommend this restaurant, and Jackie is a trip. Wonderful lady. We actually talked with her after we ate, and my wife made a new best friend.
Award Nomination:
Best Breakfast Ever
Review #11575
Review by:
moogie
on 4/15/2007


| | |
| --- | --- |
| Coffee Refill Rating: | Doesn't Apply |
We went to Ham and Eggs the first time and were so impressed with the food that we went back and took my sister, her husband and daughter.
All went well until the bill was presented. We'd asked for separate checks but the server had put them all on one - and it totaled over $97! Since my husband and I had split an order of pancakes and the others had ordered only one entree each, we began to go over the bill. In addition to some duplicate charges, the waitress had included a 22% "tip" and the "tax" was 12%. My husband tried to go over the bill with her but she just handed it back to him and told him to correct it (I don't think she was capable of doing the math)
Anyway - enjoy the food, but be sure to check your bill - and don't expect any help from your server!
Review #10164
Review by:
Mariko
on 9/17/2006


| | |
| --- | --- |
| Coffee Refill Rating: | Doesn't Apply |
So after reading the reviews on this website and others, we decided to give Ham and Eggs a try. Everything was great.... until we got there. We walked in and this guy rudely pointed to a table, so I guess that meant, "Hi, welcome to Ham and Eggs. Please make yourself comfortable at this table over here." We sat down and looked at the menu and were informed that we needed to make a decision on what items we would be ordering because the kitchen would be closing in 30 minutes. The food we ordered showed up, and right away the waitress brought the check and told us that we needed to take care of it right at that moment because they were closing. So we paid the bill and then started eating. Then one of the employees started vaccuuming around us, which was quite annoying. A different waitress came up to our table and said, "We're vaccumming, and we're closed, so...." and motioned her hands around to wrap things up and walked off. Since we already had paid our bill, we immediately lost our appetites and walked out.
The food was decent, and a little attitude with your service is not always bad. But after you've paid and then you're being rushed out of the restaurant without finishing your meal is just ROTTEN! All of this happened before closing time, and there were still other customers there as well, even a couple who had come in after us. Mom and Pop restaurants do not always mean better. Back to Le Peep!
Award Nomination:
Worst Service
Review #8516
Review by:
jimadams28
on 8/7/2005


Best Damn pancakes I ever put in my mouth and that includes Mom's. Glad I didn't get the long stack cause I didn't finish the short one. Great food and good atmosphere. Good Friendly southern style eatery. Will definitely go back
Award Nomination:
Best Bargin Breakfast
Review #5649
Review by:
starquest88
on 12/16/2004


I'm originally from Cincinnati Ohio which is also known as the Pig Captial of the World. They used to shuffle more pigs down to the Ohio River barges than any other place in the world! We have a park downtown that features Flying Pig statues atop 4 gigantic poles as an entrance to the park. We know pigs. Everything about pigs. Including favorite menus and fix-n's n such. But...much to my surprise...this little place knows all about pigs too! Big has been redefined here to the point where you may want to consider a 4 day food "fast & abstinance program" before your visit. Wham. Bang. Boom. The portions here are Gigantic, Great tasting and Gravitational ! (webster's definition: natural phenomenon of attraction between massive bodies!) WOAH!
Award Nomination:
Best Breakfast Ever
Review #4194
Review by:
lissa_98
on 5/19/2003


To say you get large servings here, is an understatement. It seems as though the more you eat, the bigger the mound on the plate gets. I've never seen pancakes and biscuits so huge! My doggie bag practically required a wheelbarrel that left me with enough food to snack on for the rest of the day. It all tasted like it was made from scratch and priced the same as you would expect for a minimal portion at any other location. Don't know if its true or not, but I've been told that the Dallas Cowboys like to go there and load up before games. True or not, this is a wonderful place to eat, and I'll be stampeeding back that way the next time I'm in town.
Award Nomination:
Best Bargin Breakfast
Review #1851
Review by:
kellyblue1970
on 12/25/2002


very large portions, 1 pancake fills a plate. wear baggy clothes! good, homecooked breakfast ranging from plate sized pancakes ( you get three of the monsters) to huge omelets and biscuits and gravy. wonderful atmosphere. Even has pigs along the walls and on the tables. I guess to remind you of how much you are eating. Havent tried the lunch menu, scared to see how big a burger would be.
Award Nomination:
Best Bargin Breakfast
Review #1147
To write a review of your own for Ham And Eggs,
click here
.
Connect With Mr Breakfast:



Reviews submitted here are meant to pertain to breakfast only. While Mr Breakfast cannot vouch for the validity of each restaurant review, he feels pretty good vouching for the excellent character of the residents of Lewisville, Texas - who are primarily responsible for the review(s) you see above for Ham And Eggs.

I won't reveal #1, but I can tell you it's Gr-r-reat!
Click here
.