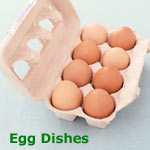 After-Church Eggs
1 can cheddar cheese soup
milk (enough to fill can after soup is removed)
eggs (as many as you want to serve)
English muffins (as many as there are eggs)
butter or margarine
Canadian bacon (optional)
Preheat oven to 350 degrees.
Wash hands well.
Set out ingredients (see above), and the following: mixing bowl, spatula, big spoon, as many custard cups as you plan to prepare eggs, a rimmed baking sheet, potholders, the toaster, and a frying pan (if you are going to use Canadian bacon).
Spray just a little nonstick preparation in the bottom of each custard cup.
Open can (one end only) and, using a spatula, scrape cheese soup out and into a large mixing bowl.
Pour milk into the empty can, swish around a little with the spatula, and pour into the bowl. Stir the soup and milk together.
With a spoon or small measuring cup - or an ice cream scoop - put some of the cheese mixture into the bottom of each custard cup.
Break the eggs (one at a time) into a small bowl or cup, then slide into the custard cup on top of the sauce.
Place the cups on a baking sheet, and slide it into the preheated 350 degree oven, setting the timer for 12 minutes. Or better, set the timer for 10 minutes, so you can check the eggs at that point, then give them another couple of minutes to finish.
While the eggs are in the oven, separate each English muffin into halves. Toast in the toaster, then butter.
If you are planning to serve Canadian bacon, place it in the skillet over low heat until it is browned, turning once.
Now, assemble:
Place one half of each English muffin on a baking sheet (you can use the same one if you like, but be extra careful if it's still hot!).
Place a slice of Canadian bacon on each English muffin, "cup-side up." Place the other half of the English Muffin on top.
Turn out a baked egg onto the bacon.
Put another spoonful of the cheese sauce over each egg. (Either use it all up here, or heat the rest to serve alongside the eggs.
Using potholders, slide the baking sheet back into the oven for two or three minutes.

Serve and expect applause! My secret ingredient is Campbell's Cheddar Cheese soup which works great in a lot of recipes.
Mr Breakfast would like to thank
taintfair
for this recipe.
Comments About This Recipe
What do you think of After-Church Eggs?
Overall Average Rating =
(out of 5)

From jzgplj (Team Breakfast Member)

How is using any kind of canned soup healthy?

Comment submitted: 5/14/2018 (#20566)





From rofax (Team Breakfast Member)
| | |
| --- | --- |
| Rating (out of 5): | |

It SOUNDS fantastic and interesting, but after all the work and time you put into it, coupled with directions that don't always make sense AND are wrong (the egg whites weren't even a little cooked once the time was up and had to be stuck in there for ten more minutes at 400)... it's just a fried egg sandwich. I could have saved myself a lot of trouble if I'd just put eggs and cheese on some bread.

Comment submitted: 3/22/2010 (#10119)



From msp

I haven't tried this yet, but I'm confused by where the egg goes. I'm thinking the half of muffin with the bacon is placed on the egg cup and the egg is then turned onto that half of the muffin. Either way it sounds healthy.

Comment submitted: 2/17/2009 (#7601)



From fel
I tried the recipe this morning, few issues with it:

Despite preheating the oven, the whites of the eggs were still totally raw at 12 minutes. It took me another 10 minutes with turning the oven up to 450 to get them done (I was in a hurry, my husband needed to eat before heading out to work and couldn't be late, fortunately I started early)

Browning Canadian bacon makes it kind of tough.

In general, I think there are probably easier ways to make an egg mcmuffin, really. It's not bad taste-wise, it's just kind of involved.

Comment submitted: 6/3/2008 (#5452)





From JAH-man (Team Breakfast Member)

This sounds great. One thing, though. The recipe says to place bacon on the English muffin and then place the other half of muffin on top (over the bacon?). Then it says to turn out the egg on top of the bacon. I don't know if it makes too much difference, but is the egg supposed to go on top of the bacon or on the top of the muffin?

JAH-man

Comment submitted: 8/11/2007 (#3361)



From D.lish

This is Healthy???

Comment submitted: 4/1/2007 (#2029)




---
Connect With Mr Breakfast: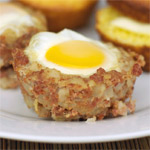 Meal In A Muffin Pan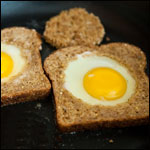 Egg In The Hole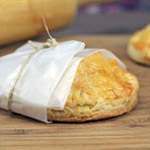 Breakfast Hand Pies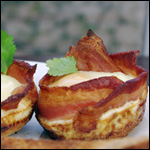 Bacon Breakfast Cups

Just because it looks fancy and tastes great doesn't mean it's hard.
Click here
.