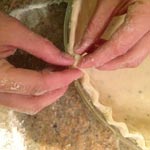 Flaky Herb Crust For Quiche
2 cups + 2 Tablespoons all-purpose flour
1 teaspoon dried parsley
1 teaspoon dried thyme
6 Tablespoons chilled salted butter - cut into small cubes
3/4 cup solid vegetable shortening - chilled in refrigerator for at least 1 hour
1/3 to 1/2 cup ice water
This recipe makes enough dough for 2 quiche crusts.
In a large bowl, mix together the flour and seasonings.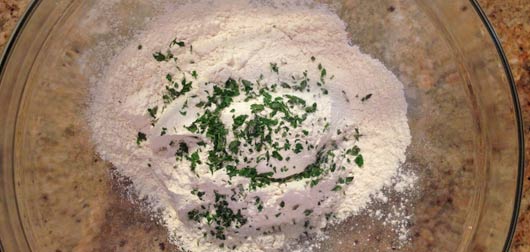 Add the butter cubes. Using a pastry cutter, 2 knives or your fingertips, cut the butter into the flour until mixture resembles coarse crumbs. (Expect this to take a few minutes.)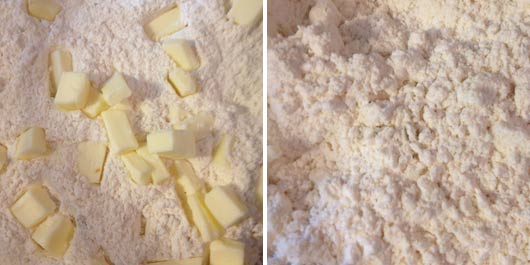 Break the chilled shortening into small bits and treat it just like the butter - cutting it in gradually until it's all incorporated and the the texture in the bowl is like a clumpy cookie dough.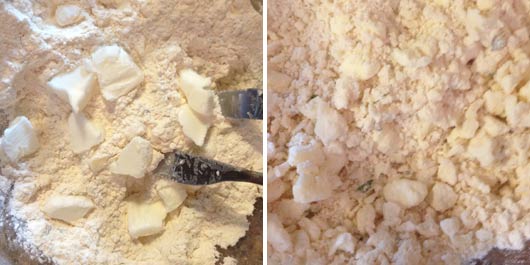 Using a fork to stir, slowly stream in 1/3 cup water.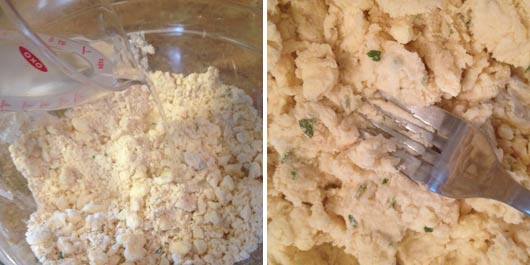 Test consistency by squeezing 2 clumps of dough together with your fingers. If they stick together, you're ready to move on. If not, add additional water a Tablespoon at a time until dough reacts correctly.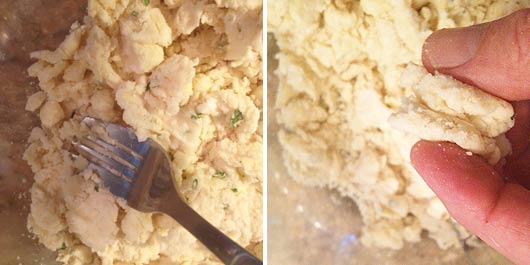 Turn the dough out to a lightly floured surface. Form it into a ball and flatten it to a disk.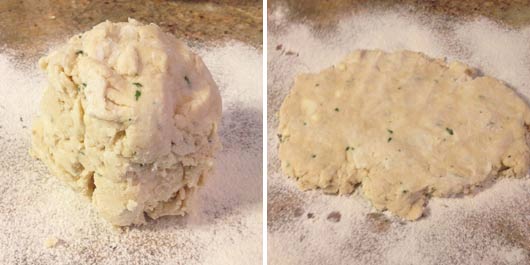 Fold it over on itself and flatten it once more. Do this once or twice more until the dough is in the shape of a rectangle.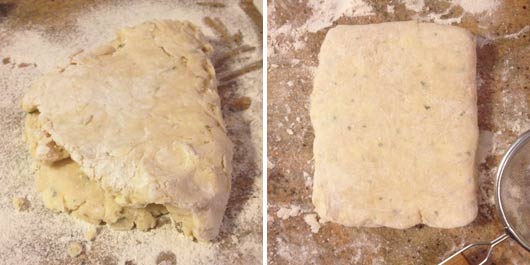 Divide the dough in half and wrap each portion in plastic plastic wrap. Refrigerate for at least 1 hour, preferably 2.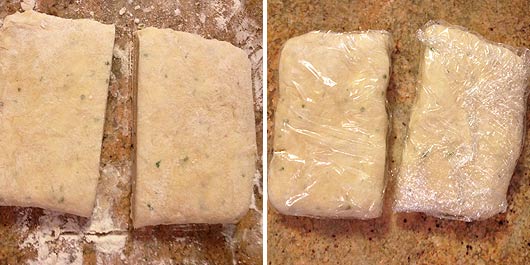 When ready to use:
Take one of the pieces of dough (should be sufficiency for one quiche crust), unwrap it and place it on a floured surface. Dust the surface of the dough with flour. Use a rolling pin to roll the dough to a diameter 1-inch larger than the pie pan you're using. As you roll, lift and turn the dough often - adding more flour to the working surface and dough as needed - so the dough won't stick.

Roll the dough around your rolling pin and unwind it over the pie pan.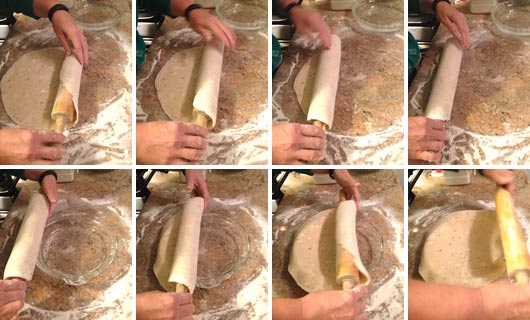 Press the dough gently into to the bottom and sides of the pan to form the crust. Trim off excess, overhanging dough.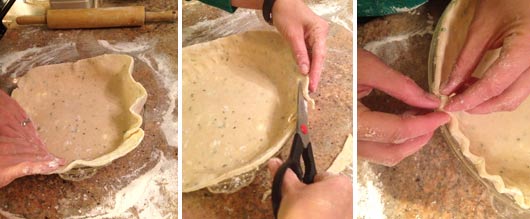 Chill the formed pie crust for at least 30 minutes (to prevent the sides from sinking down while baking).
Fill the bottom of the crust with pie weights or beans to prevent the bottom from warping.
Par-bake crust in a 375 degree oven for 15 to 20 minutes - until just starting to brown.

Make quiche according to recipe directions. The crust will be cooked thoroughly in 30 more minutes at 350 to 375 degrees, but can withstand 40 to 50 minutes of extra cooking time if you cover exposed edges of crust with foil after 30 minutes.
Cooking Notes:


Normally, I always opt for fresh herbs. For this recipe, the concentrated flavor of the dried herbs have a little more impact and their texture doesn't interfere with formation of the dough. However, you can definitely use fresh herbs. Just increase the amount of the parsley and and thyme to 1 Tablespoon each and chop them up very fine.

Speaking of dry herbs, what I like to do is to make my own. Just tear of the leaves of your herb and put them on a paper towel. Microwave them on high for 30 second to dry them out. Then, pulverize the heck out of them in a food processor... homemade dry herbs!

The dough can be stored in the refrigerator for up to 4 days before using. It can also be frozen for an entire month. When you want to use frozen dough, let it defrost by placing it in the refrigerator overnight.

As you wrap your dough in plastic, you might worry that it's overly soft. It's cool. It will get firmer as it chills.

To chill the shortening, I find it easiest to scoop out three 1/4 cup disks onto plastic wrap. I also like to re-chill my butter cubes after they're cut. Preparing the dough goes a lot smoother when the butter and shortening are completely chilled.

During all phases of flattening and rolling, it's alright to dust the dough little flour to keep your hands and the rolling pin from sticking to the dough. But try to use a very minimal amount so you don't incorporate too much extra flour and upset the balance of the ingredients.

When a quiche recipe doesn't specify instructions for the crust or asks you to use a store-bought crust, this is the best way to go.
Mr Breakfast would like to thank
Mr Breakfast
for this recipe.
Comments About This Recipe
What do you think of Flaky Herb Crust For Quiche?
Overall Average Rating =
(out of 5)

From Chapps (Team Breakfast Member)
That was super helpful and easy to follow! The crust turned out flaky as promised. The only thing is that it didn't have a lot of herb flavor. I'm going to double the amount of herbs next time. Other than that, it was perfect. Nice article / recipe.

Comment submitted: 9/10/2013 (#16442)




---
Connect With Mr Breakfast: