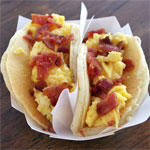 Pancake Tacos
4 pancakes (see below)
4 slices bacon - cooked crisp and crumbled
4 large eggs
1 Tablespoon milk
salt and pepper - to taste
2 Tablespoons butter
maple syrup - for topping
This is more of a concept than a recipe. If you know how to make pancakes, bacon and scrambled eggs, you can just look at the pictures and make these easily. The instructions below are meant to help you make all the components so they're done at the same time. This recipe make 4 tasty pancake tacos.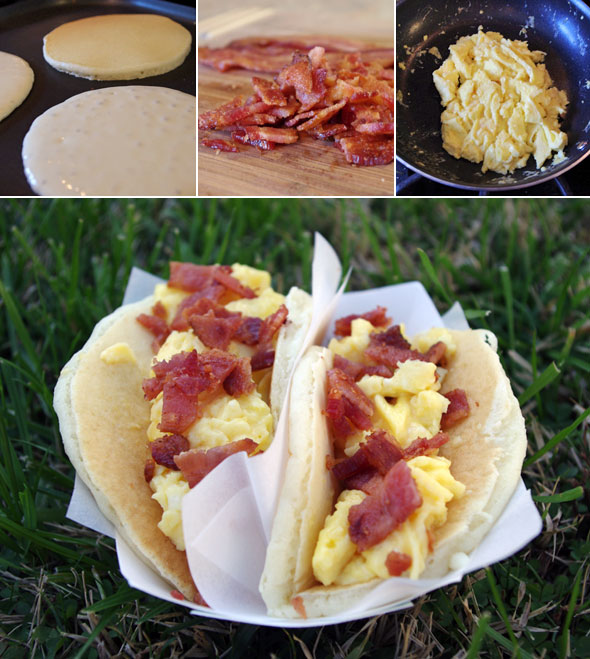 How To Make Pancake Tacos
Preheat the oven to 400 degrees.
Prepare 1 cup pancake batter. You could use a mix or
try this recipe
(we halved the recipe and omitted the vanilla).
Place the bacon on a rimmed baking sheet. Bake at 400 for 12 to 15 minutes, watching it carefully after 10 minutes so it doesn't get too well done.
In a medium bowl, beat the eggs with the milk and salt and pepper to taste. Set aside.
Place two large frying pans over medium heat and melt a Tablespoon of butter in each one. (You could use a skillet for the pancakes if desired.)
To make the pancakes, dollop 1/4 cup batter per pancake into the frying pan. Once bubbles form and burst on the top (about 2 minutes), flip the pancakes and cook the other side to a golden brown (about 1 minute). Transfer completed pancakes to plate to cool slightly.
Simultaneously, make the scrambled eggs. Pour the beaten egg mixture into the other frying pan. Let it set 20 seconds, then start pushing cooked egg toward the center of the pan with a spatula allowing uncooked egg to flow to the edges. If large curds form, break them up with the spatula. When almost completely set, flip the entire mass of eggs and turn off the heat (cover the pan if you're still waiting for the bacon or the final pancake).
Remove the bacon from the oven and transfer the slices to stacked paper towels. Chop or crumble the bacon into small pieces.
To make each pancake taco, cup a pancake in your hand in a taco shape. Down the middle, fill with 2 heaping Tablespoons scrambled eggs and top with a generous amount of crumbled bacon. Serve with warm maple syrup to act as your pancake taco sauce.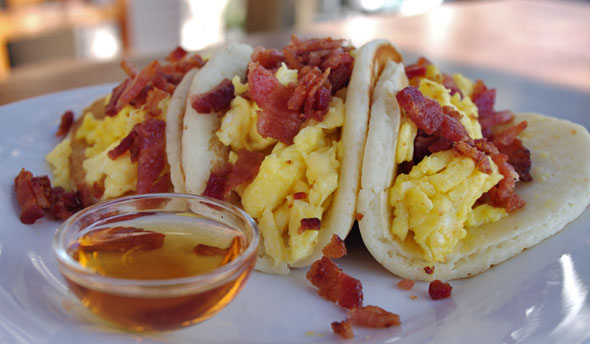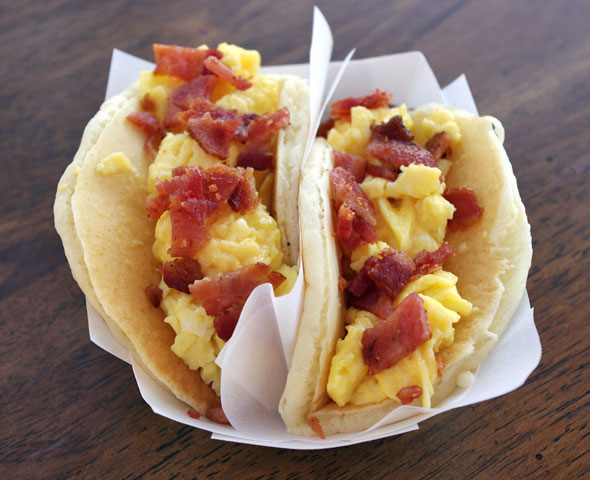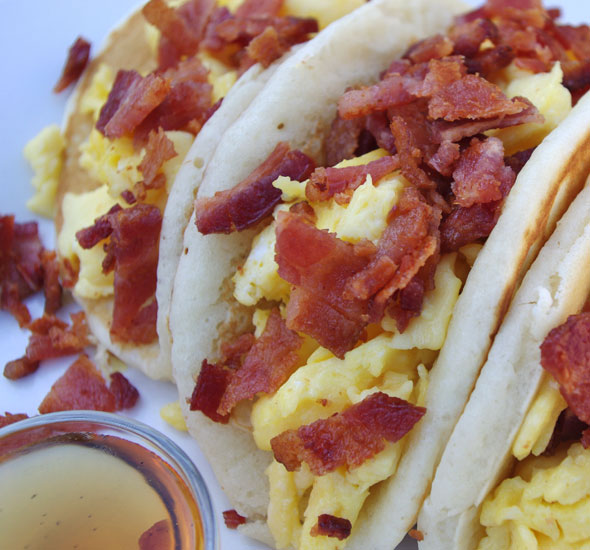 Recipe Notes:

For crisping the bacon, we liked using the oven. This freed up the stove top to make the pancakes and scrambled eggs and it was just the right amount of time to have everything done at the same time. There's no need to flip the slices. If you have room and prefer to fry the bacon on the stove top, more power to you... it'll be just as good. Once done, transfer bacon to stacked paper towels. When cool enough to touch, chop or crumble the slices.

If making a large batch of pancake tacos, you can place completed pancakes in the hot oven (as the bacon finishes cooking) to re-warm them - but only for a couple minutes. 400 degrees is very hot.

For presentation and ease of eating, cut out small squares of parchment paper and use them to cup the pancakes as you construct each taco. Place the completed pancake tacos side-by-side on a plate so the the center two tacos really hold their taco shape. The parchment is handy in lifting the tacos and assures they won't fall apart in your hand.

Resist any compulsion to overfill your pancake tacos. Too much filling makes them difficult to eat and can be messy.

A delightful way to enjoy pancakes, eggs and bacon... an inventive twist on a traditional breakfast.
Mr Breakfast would like to thank
Mr Breakfast
for this recipe.
Comments About This Recipe
What do you think of Pancake Tacos?
Overall Average Rating =

(out of 5)

From Josh-2
Great recipe. Very good.

Comment submitted: 3/29/2018 (#20540)



From Craig B.

Your pictures are making me hungry!

Comment submitted: 9/17/2017 (#20407)



From Lisa D.
Can't even begin to say how good it is. The BEST.

Comment submitted: 6/21/2017 (#20338)



From Newlywed DJ
Good stuff! Had it for breakfast-for-dinner.

Comment submitted: 12/24/2016 (#20155)



From DJ Wonder
I make two and I top one with maple syrup and I top the other one with salsa. One of my favorite breakfast treats!

Comment submitted: 5/2/2016 (#19903)



From Gia-5
Better with 2 crispy strips of bacon (not chopped) in each taco. I've been making these for years.

Comment submitted: 4/9/2016 (#19867)



From dahlia
This is how I always eat my pancake and eggs when I go to Denny's or other restaurants for breakfast. The best!

Comment submitted: 11/12/2015 (#19645)



From tacolover17
So creative and so yummy!

Comment submitted: 8/23/2015 (#19517)





From shodges (Team Breakfast Member)

Looks good. Gonna try it.

Comment submitted: 10/20/2014 (#19066)



From bigboy567
I can tell this is great even even before I've made it! :-)

Comment submitted: 2/17/2014 (#17315)



From Adam K.
I make these myself every time I go to Denny's.

Comment submitted: 10/21/2013 (#16932)





From J. Lundgren (Team Breakfast Member)
I did this once, had no tortillas and but had leftover pancakes. Boom, pancake tacos!

Comment submitted: 8/23/2013 (#16282)



From FindMe@Norms
I've been making 'pancake tacos' for years without even knowing. Whenever I get a breakfast special from a restaurant with 3 pancakes, eggs and bacon, I always reserve 1 pancake and make a sandwich out of it. It's my favorite part of breakfast! Try it if you never have.

Comment submitted: 6/24/2013 (#16068)



From Elle B.

Fun! I can't wait to make these this weekend. My kids are going to love it!

Comment submitted: 8/7/2012 (#14276)



From Lemon
Brilliant! One of those "how did I not think of that" recipes. The kids loved it, although we all found it just a little sloppy. The eggs slide out of the pancakes much easier than they would have a tortilla. But the bottom line is that this was fun and easy. So thanks!

Comment submitted: 3/30/2012 (#13730)





From pjsplace (Team Breakfast Member)
I did this for Valentine's Day for my husband - breakfast is bed! He was impressed. So thanks!

Comment submitted: 2/17/2012 (#13550)





From chick1267 (Team Breakfast Member)

Will try this this week. I just want to make 'good old fashion pancakes' nice and thin (with a side of fruit!)

Comment submitted: 1/30/2012 (#13493)




---
Connect With Mr Breakfast: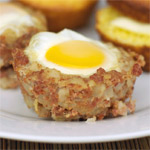 Meal In A Muffin Pan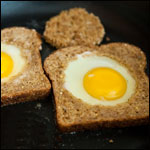 Egg In The Hole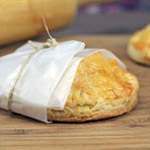 Breakfast Hand Pies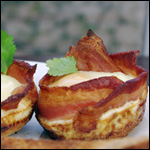 Bacon Breakfast Cups

Just because it looks fancy and tastes great doesn't mean it's hard.
Click here
.